March Madness: Top 25 Iconic Moments Of The Last 25 Years
10. Princeton backdoors UCLA (1996)
Who said that they can't ball in the Ivy League? In 1996, the No. 13 Princeton Tigers upset the defending champion and No. 4 seeded UCLA Bruins in a classic matchup. Princeton utilized their signature offensive set to lead to an easy backdoor game-winning layup.
09. Lehigh stuns Duke and Norfolk State upsets Missouri on the same day (2012)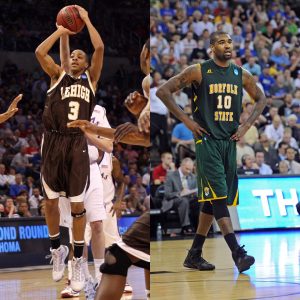 You should always expect the unexpected in the NCAA Tournament, no day proved that statement truer than March 16, 2012 when two No. 15 seeds upset two No. 2 seeds in the first round of the NCAA Tournament. First a fast Lehigh squad (led by CJ McCollum) beat perennial power Duke, then a determined Norfolk State (led by Kyle O'Quinn) shocked Missouri. These two upsets ensured that many a bracket would be busted in 2012.
08. Luke Hancock wins Most Outstanding Player (2013)
The Louisville Cardinals easily made it to the Final Four in 2013. As the school captured its third NCAA Championship it got a lot of help from an unlikely source. Sixth Man Luke Hancock proved to be the spark the Cardinals needed, his impressive 21.5 PPG, 2.0 SPG and .800 3P% stat line earned him the Most Outstanding Player award.
07. Bryce Drew lifts Valparaiso over Ole Miss (1998)
Every fan of March Madness has seen the Bryce Drew game winner before, but it never gets old. Valparaiso coach Homer Drew designed the perfect final play for his son, Bryce, in the first round of the NCAA tournament against Ole Miss. Drew caught the ball, stopped on a dime, rose up for three and then madness ensued.
06. George Mason makes improbable run to the Final Four (2006)
We all love a good Cinderella story in March, there may not be a better Cinderella story than that of the 2006 George Mason Patriots. The Patriots staged four consecutive upsets over Michigan State, UNC, Wichita State and UCONN en route to the first and only Final Four in school history. This run from George Mason set the stage for the mid-major powers (Butler, VCU, Wichita State) we know and love today.
Read Next