The Greatest adidas Lyrical References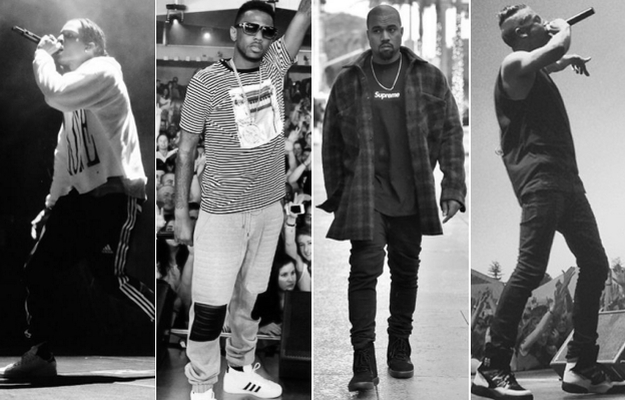 adidas has been as staple in hip hop for as long as I can remember. The authentic roots in the streets coupled with the rise of marketing will ensure that as long as rap is around, adidas can be tied to the genre.
Because adidas didn't make basketball sneakers until 1964, the success of the German sportswear company is directly tied to US sales. Light research into the adidas history brought me to delving into the archives of sneaker OG Garry Warnett's blog, he had scans of catalogs from the 1960s that showed the shoe we know as the Superstar actually coming from a new toe option for the lowtop version of the adidas Supergrip.
When released in the US during the late 70s, Kareem Abdul-Jabbar and George 'Iceman' Gervin was wearing the Superstar and the "shell toe" nickname is said to have come around the time that the adidas Half Shell & adidas Promodel Half Shell debuted. These days, the "shell top"-ed adidas Superstar is a worn for ballin' of a different variety.
While compiling a list of songs to widdle down to 15 for this feature, I did notice that in most cases when an artist would have one song name-dropping adidas, that wouldn't be their only track to shoutout the Stripes.  So to keep things fresh, each artist/group will only be featured once.
All that said, thumb thru this list featuring 15 of the best adidas references heard in rap lyrics.
Read Next