Good Things Come in Threes: Air Jordan 5 Retro 'Top 3'
We've all heard the phrase "the best of both worlds." Never to be outdone Jordan Brand is upping the ante with their latest release, the Air Jordan 5 Retro 'Top 3.' In celebration of the AJ5's 30th Anniversary, the 'Top 3' takes elements from three of the model's most iconic colorways. The tongue was lifted from the Air Jordan 5 'Grape,' while the upper was taken from the Air Jordan 5 'Black Metallic.' The red midsole and '23' are a play from the Air Jordan 5 'Fire Red.' In case you need a reminder of what colorways you're reppin,' they're printed on the inside tongue of each shoe.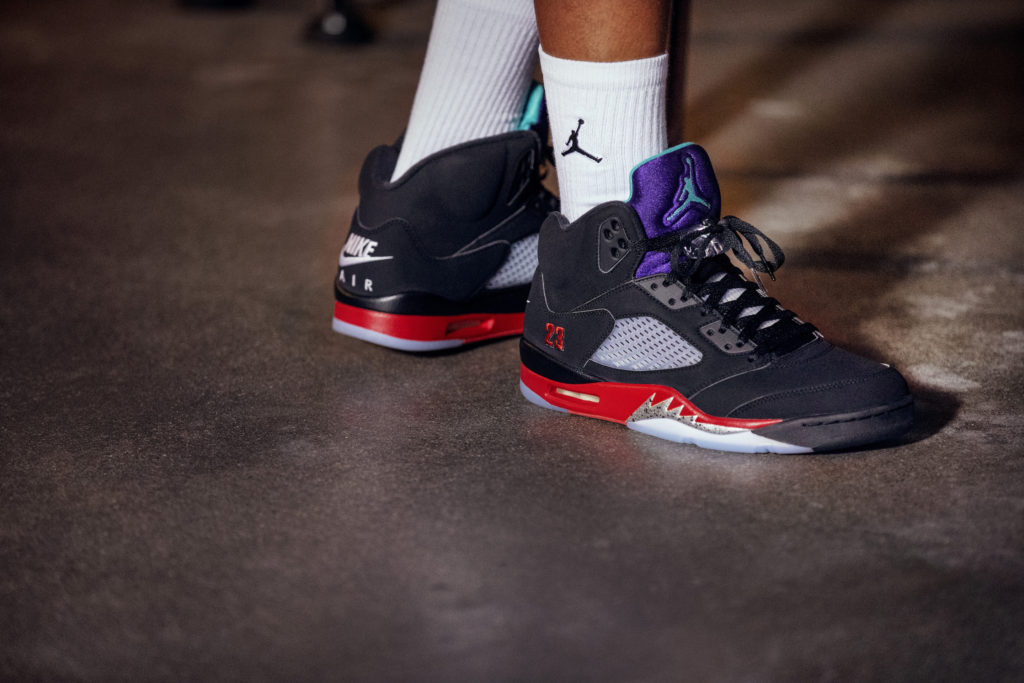 Inspired by World War II fighter planes, the Air Jordan 5 was a massive hit on and off the court when it released in 1990. Michael Jordan dropped his career-high of 69 points in the 'Fire Red' AJ5. While Will Smith rocked the 'Grape' AJ5 during an episode of the Fresh Prince of Bel-Air. That combo had the Air Jordan 5 at the center of pop culture and at the top of many a Christmas/birthday wishlist.
How to Purchase
– Available at FinishLine.com or in select stores via mobile app reservation on 5/30.
– To enter for a reservation of the size of the Air Jordan 5 Retro 'Top 3' (Men's or Kids' Grade School) head to our mobile app on Monday, 6/15 at 10am EST. Reservations will close on Tuesday 6/16 at 3pm EST.
*Status Members, use your Status Points to redeem extra entries to increase your chances of winning.
*Purchase limit of 1 per customer
– Reserved pairs can be picked up in store
– To adhere to local social distancing guidelines, we suggest picking up your shoes during designated windows of time:
11am-1pm (last names beginning with A – G)
1pm-3pm (last names beginning with H – M)
3pm-5pm (last names beginning with N – T)
5pm-7pm (last names beginning with U – Z)
We've recently partnered with Afterpay. Giving you the option to cop now and pay over time. Take advantage and build the closet of your dreams.
Read Next