Electrify Your Step w/ the Nike Adapt Auto Max 'Pure Platinum'
Nike Air Mag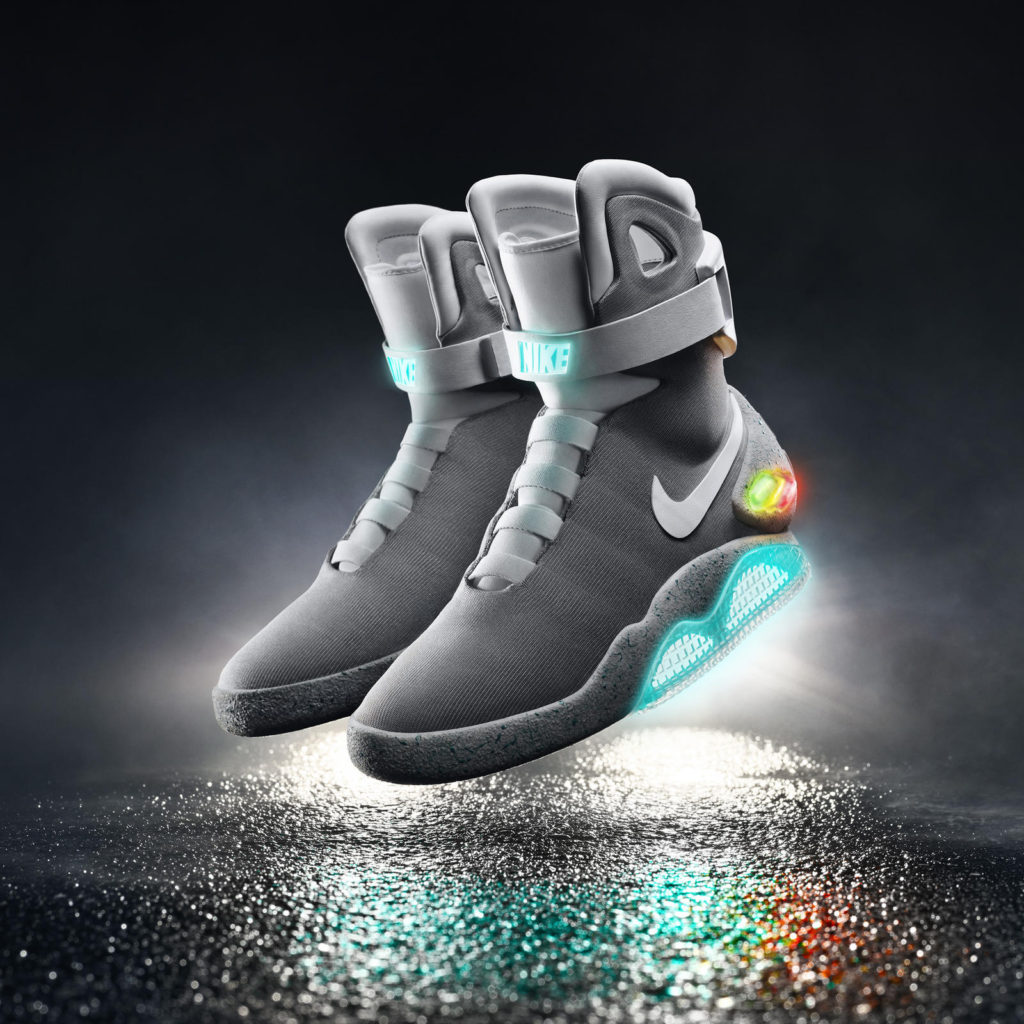 When Michael J. Fox (as Marty McFly) rocked the Nike Air Mag in the 1989 film "Back to the Future Part II," sneakerheads immediately put Nike on the clock to release power-lacing sneakers. Fast forward to 2015 and the dream became a reality thanks to a letter Tinker Hatfield penned to Fox confirming that a power-lacing edition of the Air Mag was on the way. Only 89 pairs of the shoe were created (in sizes 7,9,11,13). To get your hands on a pair you had to make a $10 donation in support of the Michael J. Fox Foundation which fights to eliminate Parkinson's Disease. 100 percent of the proceeds went directly to the honorable fight against Parkinson's. 
Nike Air Max 90
Just a year after the Air Mag made its film debut. Nike unveiled the latest addition to their Air collection, the Nike Air Max 90. A Hatfield brainchild, the AM90 was designed to evoke forward motion. Wearers couldn't get enough of the AM90 thanks to the fluid aesthetic and the comfort (which was courtesy to the larger volume Air unit ). Much like the Air Mag, the AM90 was fresh, brash, and indicative of where Nike was headed. 
Nike Adapt Auto Max
Now, in 2020, these two shoes are on a collision course. A crash known as the Nike Adapt Auto Max. This futuristic model channels Hatfield's signature design aesthetic and samples elements of both aforementioned kicks. The icnoic cassette of the AM90 is more profound on the Adapt Auto Max, as it was built to highlight the Air Max unit and the FitAdapt engine. The latter of which is an evolution of the power-lacing originally seen on the Air Mag. A true marvel, the technology allows wearers to have a continuously personalized fit and is controllable through the Adapt app. Meaning that the perfect fit is at your fingertips or at the sound of your voice (the Adapt Auto Max can respond to five customizable Siri shortcuts). Combining the revolutionary potential of FitAdapt with the reverent look and feel of Air is a true stroke of genius.
Read Next