Written by Drew Hammell 
images courtesy or Sole Collector, Getty Images, and Sports Illustrated. 
The '90s were a weird and wild time for footwear in college basketball. There were plenty of technological advances with some crazy designs to go along with them. Some college teams matched their shoes perfectly with each other and their uniforms. Others went more rogue as players wore different sneakers to make their own statements on the court. With the 2018-'19 college basketball season well under way, I thought it would be fun to look back at the 10 best shoes worn by 10 of the greatest college players of all time. Of course, there were so many memorable styles back then, so to narrow it down, I made up some criteria:
Nike only – for obvious reasons (I run @nikestories, after all), the 10 greatest sneakers are all Nikes. Apologies in advance to the other brands. Yes, Reebok, Converse, Adidas and a few others had some nice moments, but Nike was the sneaker trailblazer by far.
10 different teams – for balance and diversity's sake, I chose 10 different shoes for 10 different teams. Some of the big schools and players obviously have had plenty of heat over the years, but I wanted to make sure 10 schools and players got a shoutout.
So, go ahead and disagree if you want, but here are the 10 greatest '90s basketball sneakers (in my opinion, of course):
Rasheed Wallace (UNC) – Nike Air Strong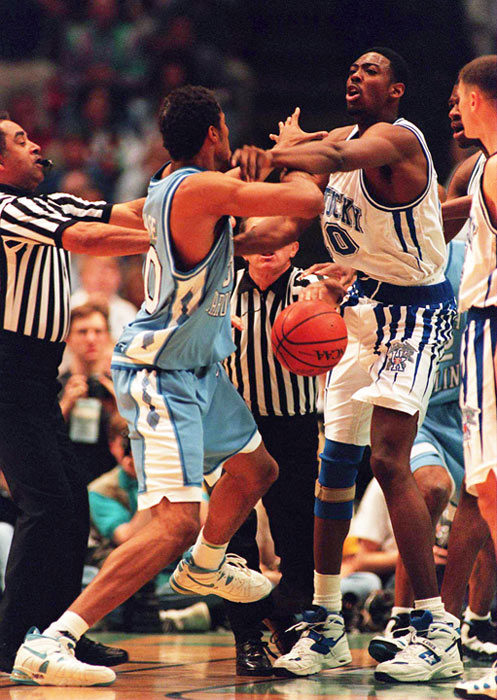 "Sheeeeeeed!" During Wallace's short time at UNC, he and Jerry Stackhouse led the Tar Heels to the Final Four in '95. Sheed wore some memorable sneakers during his short stint – most notably the white/Carolina Air Strong mid. With the massive Air Max heel bubble, those kicks stood out a mile away.