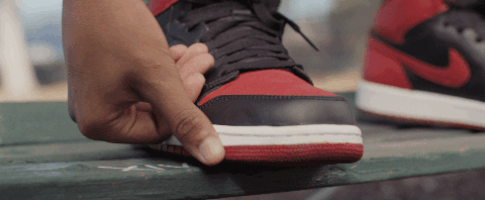 Written By: Mark Wilkins
In 1984, designer, Peter Moore, sat down with a young Michael Jordan and designed a shoe that would become the grail of grails amongst sneakerheads decades later. Moore took the concept from the Nike Dunk basketball shoe and combined them with the greatness and style of Michael Jordan, a young rising NBA star for the Chicago Bulls, and created a masterpiece. This masterpiece is what we all know as the Air Jordan 1, which features a premium leather upper in a black and red color to match the Chicago Bulls uniforms. On the ankle of the shoe sat an "Air Jordan" wing logo, something that was new and has never been seen on any Nike model prior to this. People were only used to seeing the Nike Swoosh. Interestingly enough, word on the street is that Peter Moore sketched the wing logo on a napkin while flight hopping after getting inspiration from a children's shoe. Who knew something so simple would have revolutionized the sports shoe and fashion industry for many years to come? Peter Moore had designed shoes before but this would be labeled by most as the best yet.
As a young Michael suited up for his first NBA preseason game in Peoria, he prepared to take the league by storm, scoring 18 points in only 29 minutes of play. It was evident that he would be a problem for his opponents. Jordan's play was above the level of any other average NBA rookie. It was during that preseason when Jordan would break out this newly engineered signature Nike sneaker. He created a marketing craze and media buzz that the NBA did not like.
On February 15th 1985, the NBA submitted a letter to Nike's Vice President, Rob Strasse, stating that the red and black shoe that Michael Jordan was wearing on or around October 18th, 1984 was against league policy. The policy requires each player to wear shoes that matches his teammates and also matches the team colors, which for the Chicago Bulls is black, red, and white. Because he did not follow league guidelines he was fined $5,000. But Jordan was Jordan, the fine didn't phase him; so he would occasionally wear his own kicks and he was fined each and every time.
Due to the league's infamous letter the Jordan 1 was deemed as "Banned". Many of Jordan's older fans were already aware of the history of this shoe, but Nike really shed light on it in 2011 when they released the buttery soft OG retro 1 "Banned" model that didn't have much hype on it until months and months after the release. This shoe really puts things into perspective for the "new class" sneakerheads. It gave them a piece of history.