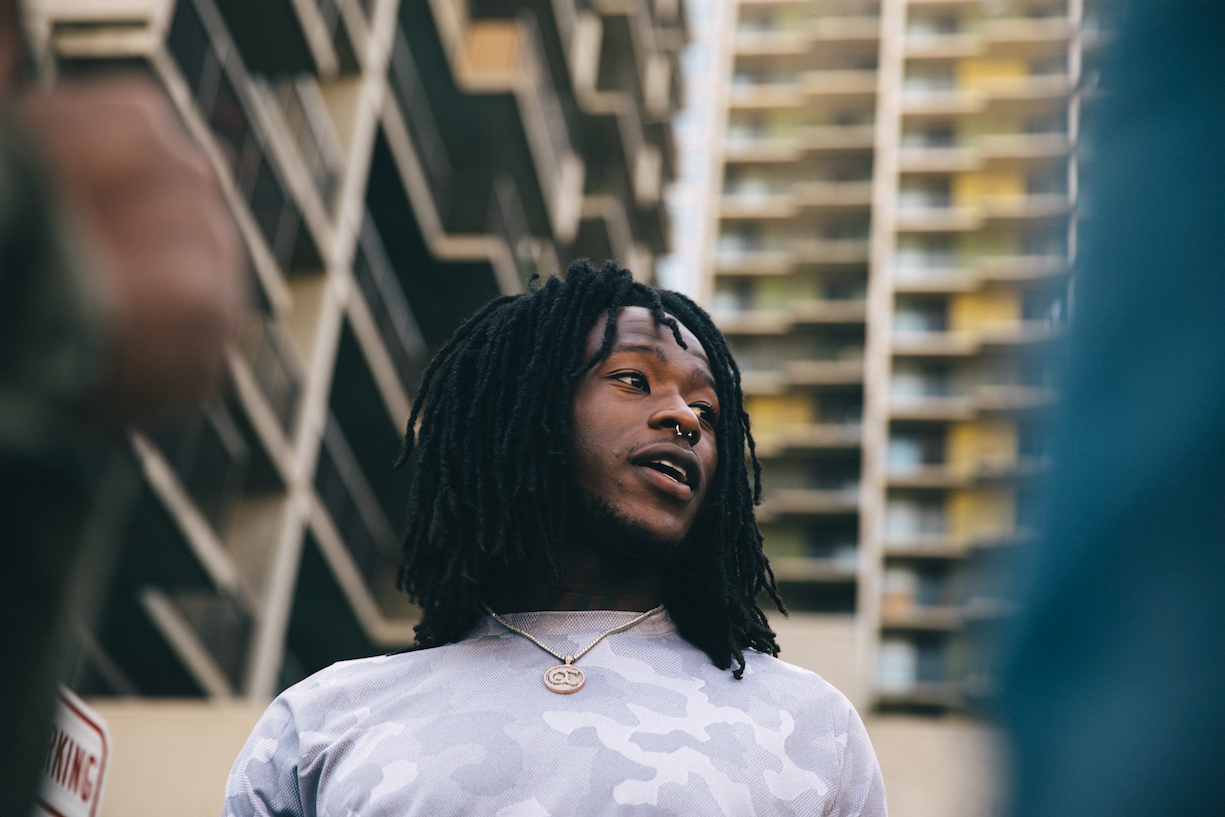 They say your first year in the league is always the toughest, but for Alvin Kamara that wasn't the case. The third-round pick for the New Orleans Saints came into the season as a newly minted 21-year-old, but he was clearly mature beyond his years. No other NFL player in the league is doing quite what he's doing, and no other player looks quite like him either. In addition to wearing his hair in twists, he rocks two nose rings and a shiny gold grill in his mouth on the field. His unique style and unbeatable mindset in everything he does makes him two steps ahead of everyone on and off the field. Lining up in the Saints backfield, the opposing defense is sure to have all eyes on Kamara's gold nose ring and grill as he grins under the stadium lights and figures out his route to the end zone before the play even starts. Alvin didn't come up like most guys in the NFL, he went to Alabama with hopes of being the next big thing to play the game. Unfortunately, life didn't play out that way and he ended up at Hutchinson Community College in Kansas before he eventually transferred to Tennessee and found his groove. He also keeps the same circle of homies that he had in high school. And those high school homies? They're now known around the world by their rap names; Quavo, Offset and Takeoff, aka the No. 1 hit-making, Migos.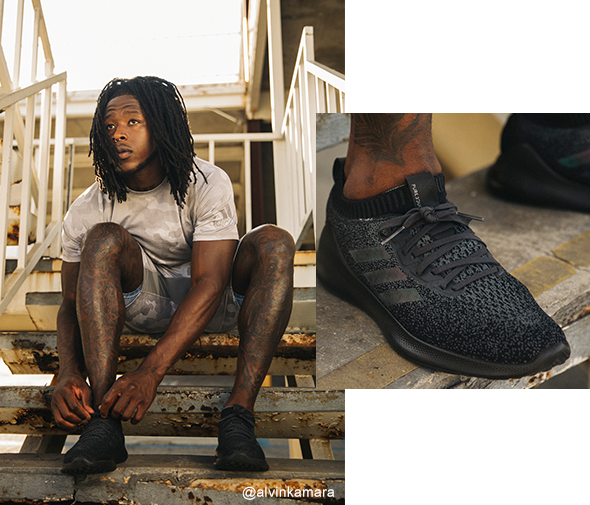 His creative look of the gold grill had some teams hesitant to pick Kamara but the Saints ultimately won out on other teams losses. The look is only a small part of Alvin, he is his own person who is determined to excel in everything that he does. Like his game on the gridiron, his style is rare in ways that he may step out some days and people might not notice him and sometimes he might step out to turn heads. He wears his stripes proud no matter what he's doing on or off the field but the adidas PureBOUNCE has Alvin feeling comfortable. It's perfect for putting in work or casual wear when he steps out.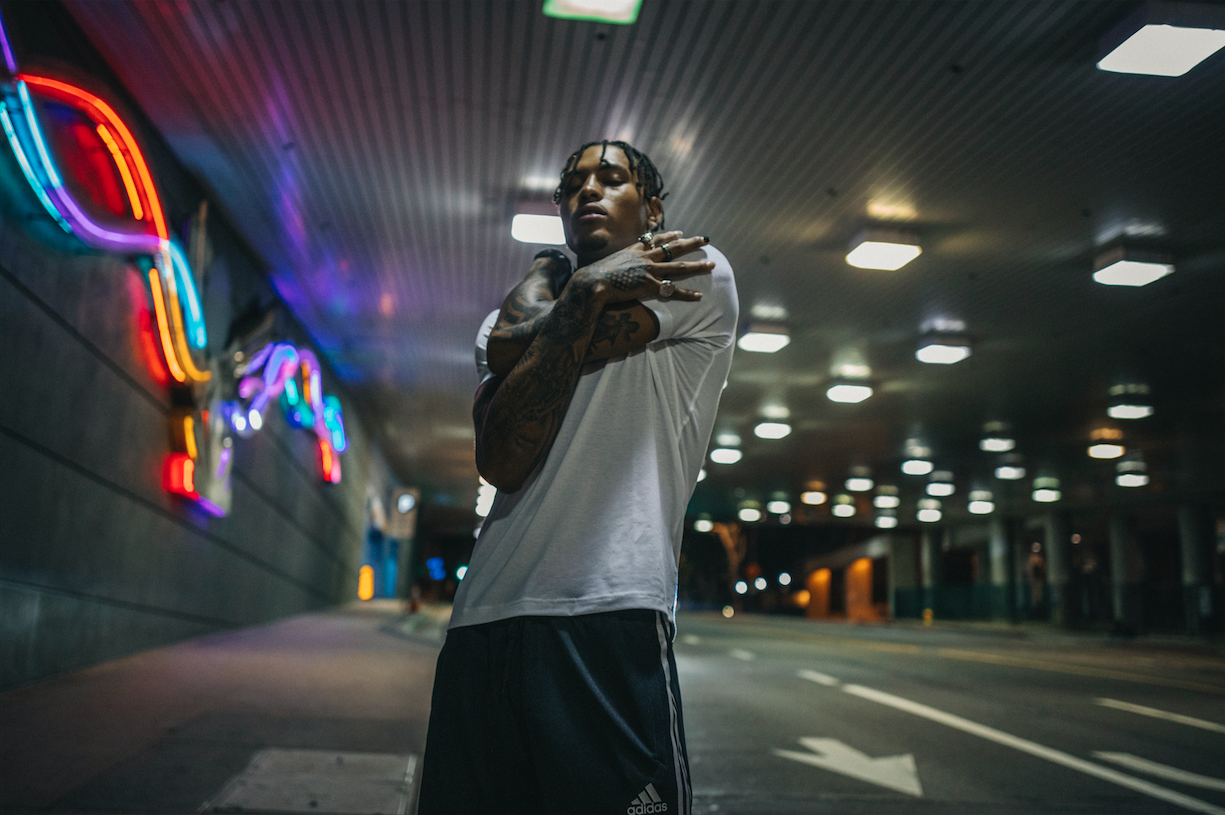 Creating is always top of mind for Kelly Oubre Jr. aka Wave Papi aka Tsunami Papi. That mentality combined with his one of a kind style made him a perfect fit with the three-stripes. Most people don't know but Kellys obsession with fashion goes deeper than pre-game catwalks and social media, as he spent a few days interning in Esquire's fashion editorial department last year. Oubre started making waves back in high school with his game which led him to the University of Kansas where he then left for the NBA and was drafted 15th over all by the Washington Wizards. He introduced himself to the NBA wearing a red suit and gold spiky shoes during the 2015 draft and made sure people would remember him. His love for attention off the court didn't disappoint when he hit the hardwood where he was as gritty on the court as he is flashy away from the game.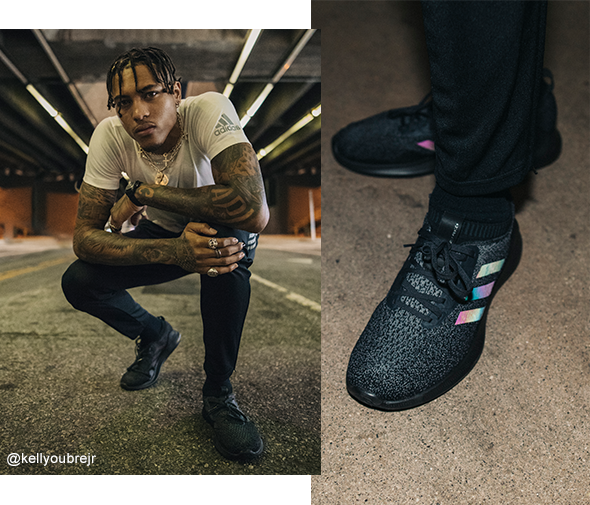 At only 22 years old, Kelly is still evolving everyday as a player on the court and as a person off the court. Last season, Kelly introduced the world to 'Wave Papi', his alter ego who spreads positivity throughout the world and inspires people to do anything they put their mind to, because everyone is destined for greatness. His motivation is to prove people wrong that tell him he can't do something, so he gets a 'fit off at every chance he gets to let them know he can't be stopped. With it being the offseason right now, Oubre Jr. is in grind mode and spending countless hours in the gym to elevate his game and the adidas PureBOUNCE keeps him comfortable going to and from the gym.
Thanks to the perfect blend of performance and aesthetics, these two superstars can rock them all day every day. Grab your pair of the adidas PureBOUNCE and start hitting the streets with maximum comfort.