The History of All adidas Damian Lillard Shoes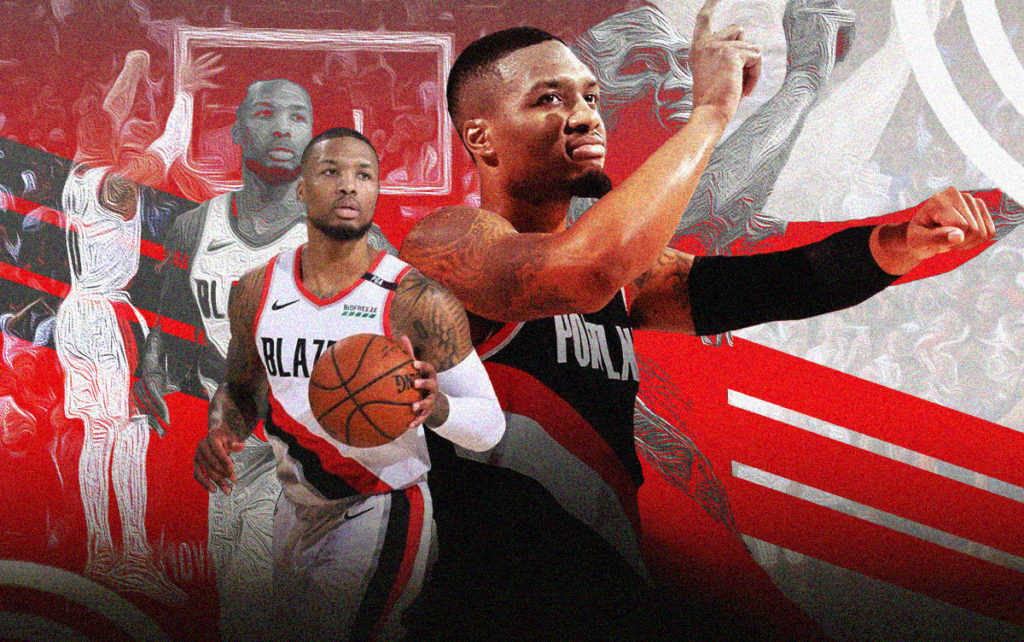 Since being the sixth overall draft pick in the 2012 NBA Draft, the Oakland, California-born basketball player, Damian Lillard, has been playing as a point guard for the Portland Trail Blazers.
On the courts, he's known by his nickname "Dame Time" for making big shots at clutch moments. That substantial prowess has earned Lillard plenty of accolades on the court, including being named the 2013 "Rookie of the Year" and becoming one of two players to ever be a six-time NBA All-Star.
Being a local to Portland, where adidas has its U.S. headquarters, Lillard is able to collaborate closely with the adidas design team, resulting in shoes that are not only comfortable and functional but also stylish and accessible.
D Lillard 1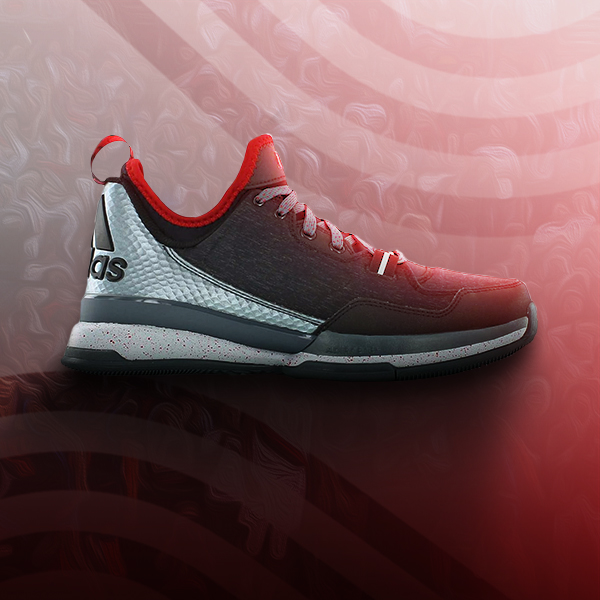 The D Lillard 1 was released in early 2015 during Lillard's third season in the NBA. His first signature basketball shoe with adidas featured a signature low-cut model designed to give the guard the flexible support he needed when playing.
The shoe used adidas' Techfit material and Sprintframe to construct the body of the shoe for stable responsiveness. To give the shoe some breathability, the toe box and side panels were perforated.
D Lillard 2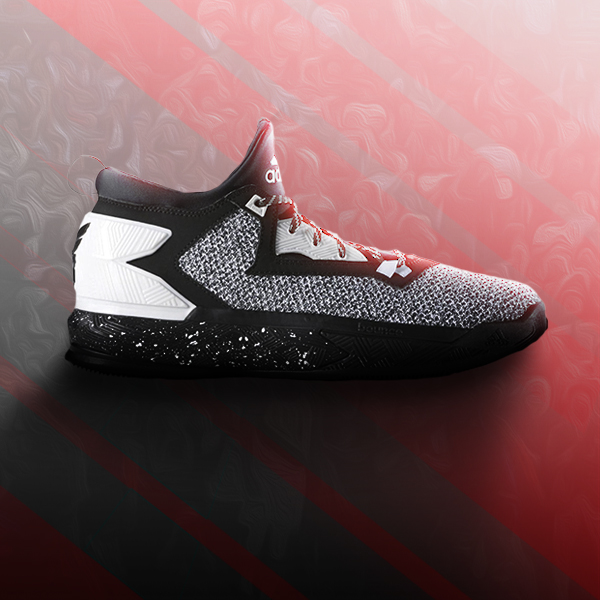 The second iteration of Damian Lillard shoes came in December 2015 when adidas unveiled the D Lillard 2. For this iteration, Lillard wanted to communicate more about his personal background in the design and worked closely with the design team pitching and communicating concepts to bring personal touches to the shoe.
This iteration featured a lot of details inspired by Lillard's upbringing in Oakland, California, including "Oak" and "Land" hits on the sneaker's outsole. The shoe wasn't all style, however. It also featured a Techfit bootie and Bounce midsole cushioning that was lightweight and responsive. The D Lillard 2 was released in two colorways called "Home" and "Road," each dropping two weeks apart.
Dame 3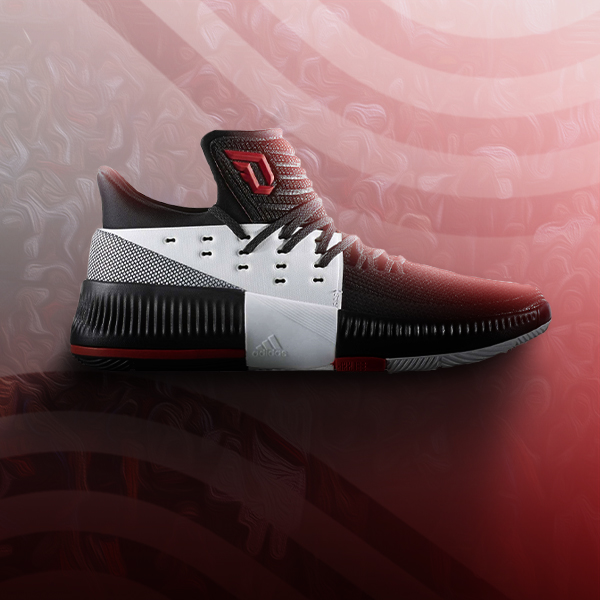 In 2016, the Dame 3 basketball shoe was released. For the Dame 3, Jesse Rademacher, adidas' Basketball Design Director, focused on Lillard's humble beginnings. They kept his connection to his community in mind, and they were able to keep the price of the shoes down so that they would be accessible to people from a variety of different backgrounds. Lillard was also conscious of how different people have different foot shapes and worked with the design team to design a shoe that would be customizable to offer maximum levels of individual comfort. The Dame 3 launch also included a colorway called "Bricks" that was inspired by a story from Lillard's youth that involved a basketball coach having him carry two bricks during practice.
Dame 4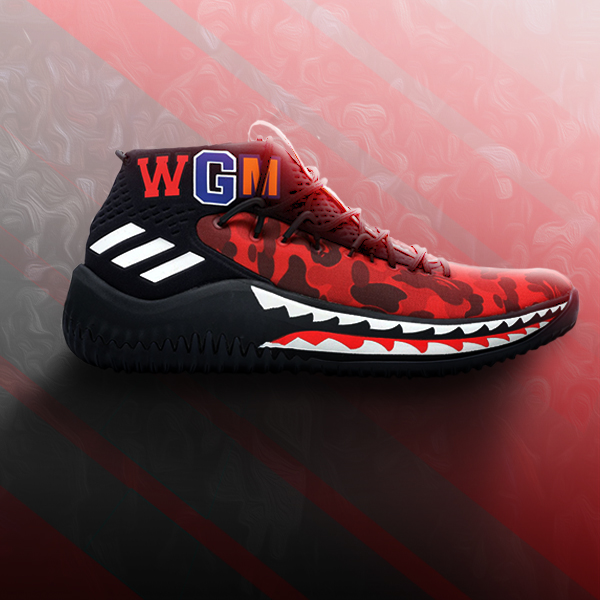 The Dame 4 was designed with form and function in mind with a breathable upper and supportive mesh cables. The track pattern also featured unique grooves and an evolved traction pattern. It was initially released in a red, white, and black colorway called "R.I.P. City," followed by a "Legacy" colorway, which was mostly white with gum soles.
Dame 4 x BAPE
The Dame 4 x Bape collaboration infused the Dame 4 with a touch of design from a Japanese streetwear brand that Lillard had been fond of for years. This shoe was more expensive than previous iterations, but it was also a strategy that Lillard thought was necessary to bring attention to the brand. The limited release was a nod to Lillard's background as a musician as well as a basketball player.
Dame 5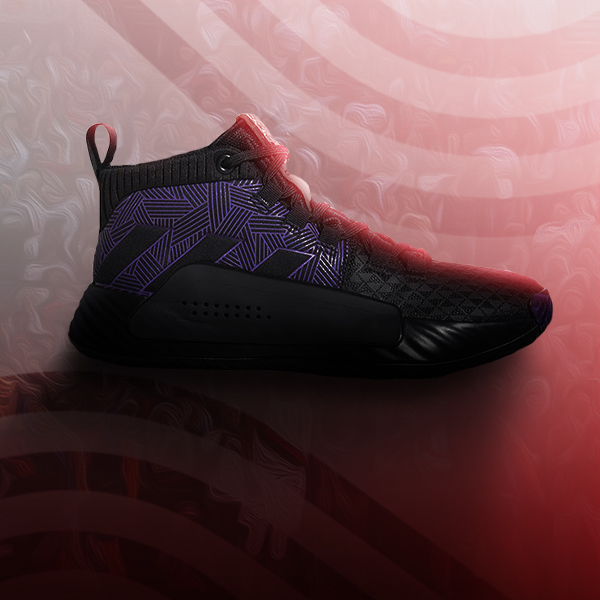 The Dame 5 dropped in 2019, featuring full-length Bounce cushioning and a lateral banking barrier for on-court stability. It was designed with lightweight materials with a padded collar and internal pod system for comfort and support. A zonal herringbone traction pattern offered an enhanced grip.
The Dame 5 was also released in a variety of colorways that celebrated the mosaic of Damian Lillard's life. The shoe's initial launch was available in three colorways, with three more released in the months to follow. The designs featured nods to Oakland, his passion for boxing, his mom, his favorite childhood bike, and a childhood nickname.
Dame 5 "Heroes Among Us"
Dame 5 was also featured in the adidas "Heroes Among Us" Collection alongside five other signature shoes that were each transformed into a different character from the Marvel universe. This version of the Dame 5 was inspired by the "Black Panther" movie. The collaboration capitalized on a previous partnership between adidas and Disney, which allowed executives to take a look at the design details from the movie to create a shoe that gave close nods to Chadwick Bosman's character T'Challa.
Dame 6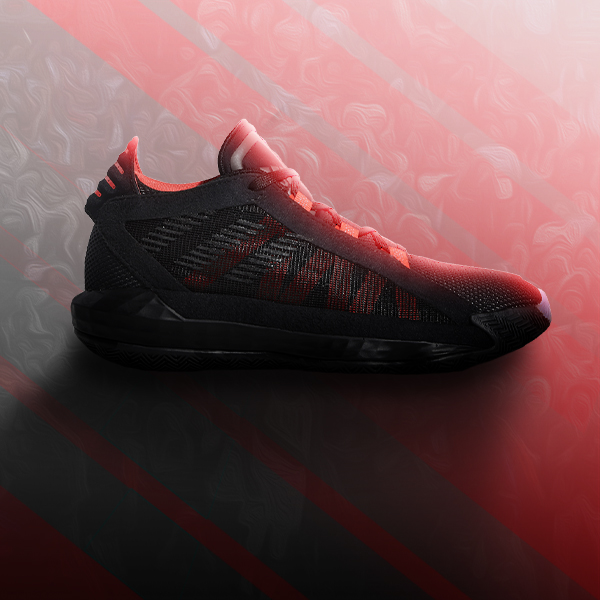 In January 2020, the adidas Dame 6 dropped. This version was released in two colors and was the first version of the shoe to feature LIGHTSTRIKE technology for a midsole. This new midsole provided the perfect balance of lightweight cushioning and responsiveness. It also featured an anatomical webbed lacing system and breathable upper. A translucent outsole also emphasized the new traction pattern and included a dynamic heel edge ideal for multi-directional movements.
Dame 7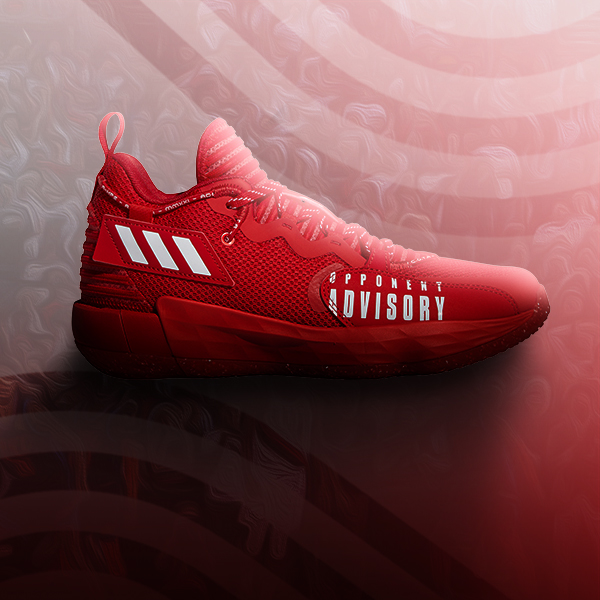 The 2021 version of Damian Lillard basketball shoes honed the previous designs even further. Originally launched in six colors, the shoe itself features a breathable textile upper with a reinforced heel. The heel piece and the padded throat are coated in a repeating text graphic to ensure that the theme of this collection, "I Am My Own Fan," is on full display. The branding on the shoe was kept to a minimum.
The sole of the shoe features LIGHTSTRIKE midsoles and a midfoot shank that states "Never Follow" to increase stability. The outsoles have a herringbone grip detail. The Dame 7 also features a collaboration with Ric Flair, a pro-wrestler that Lillard has been a fan of since the '90s. The special collaboration paid homage to the robe Flair used to wear before his matches and became one of Lillard's favorite characteristics of the shoe.
Dame 8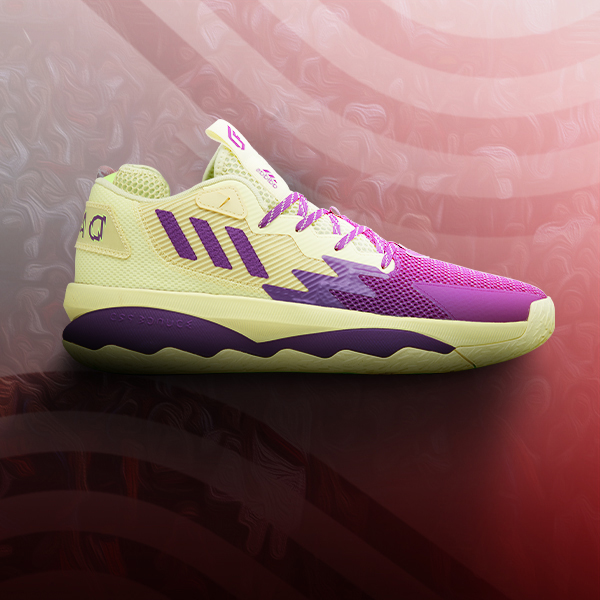 The Dame 8 is a lightweight basketball sneaker designed for explosive play. Built with the Dual-Density Bounce Pro cushioning for dynamic responsiveness and speed. A snug textile upper provides a secure fit while the unique pattern on the outsole delivers grip when you need to slam on the brakes to pull up for a deep three or change direction with a nasty crossover.
What's Next for Damian Lillard Basketball Shoes?
After seven iterations, Damian Lillard's basketball shoes have proven time and time again that they can blend performance and function while delivering stylish personal details that his fans crave. There is plenty more to come since adidas announced a multi-year deal extension earlier this year.
Read Next