Apply Now to the Louder Than Words Grant Cycle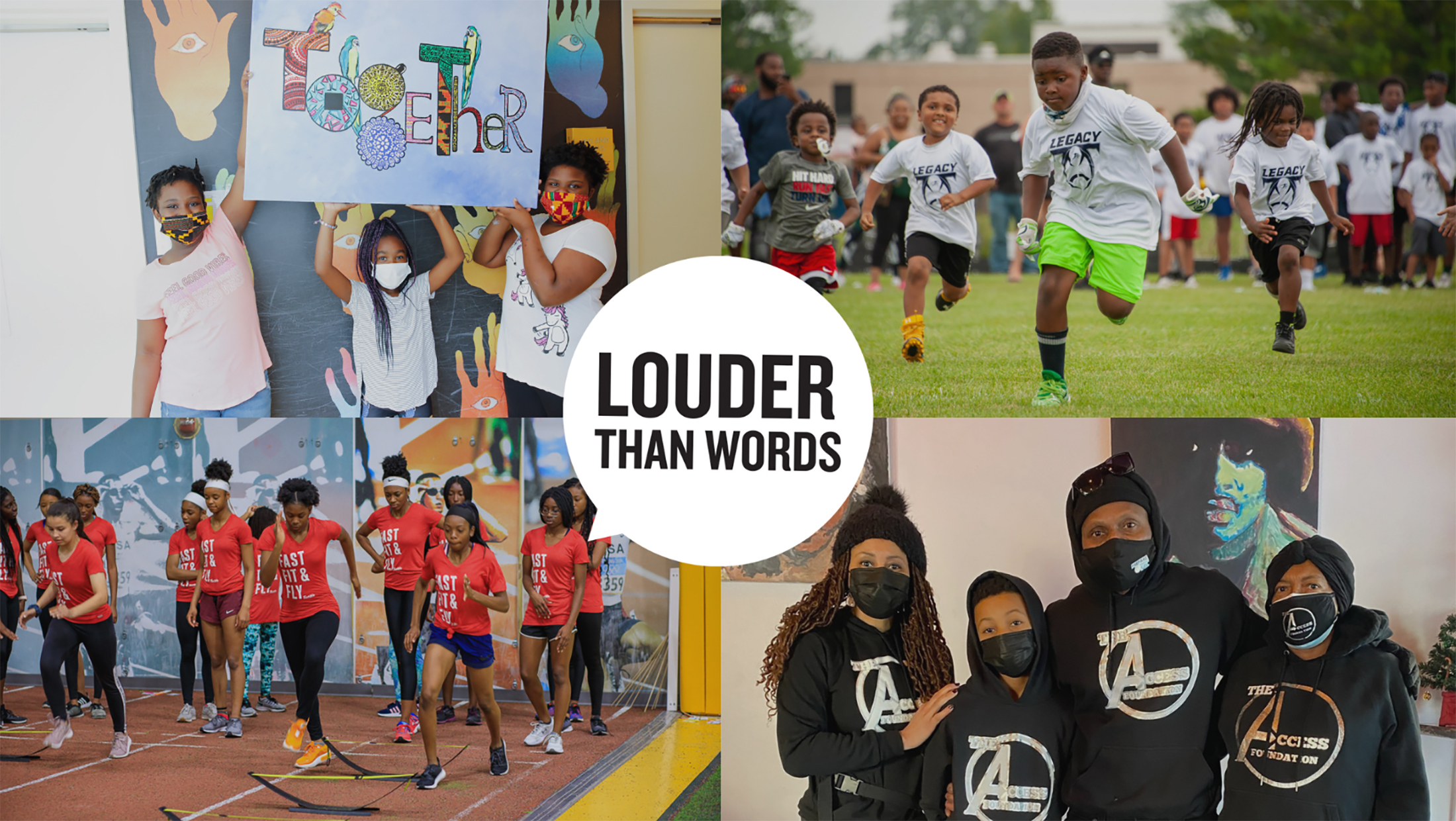 As part of JD Finish Line's Louder Than Words platform and our continued goal to support diverse and underserved communities, the JD Finish Line Foundation is launching a nationwide grant cycle. These grants will be awarded throughout 2022 to nonprofit organizations that make a difference in communities around the country.
Please see the outline of the program below and encourage nonprofits you think qualify to apply for a grant! Qualifying nonprofits can apply here.
The Louder Than Words grants will be utilized to amplify nonprofit organizations that make a difference in diverse and underserved communities.
Qualifying organizations will have the opportunity to apply for grants up to $25,000.
| | | |
| --- | --- | --- |
| APPLICATION PERIOD | REVIEW PERIOD | GRANT AWARDED BY |
| July 5 – August 8, 2022 | August 2022 | End of September 2022 |
| September 6 – October 10, 2022 | October 2022 | End of November 2022 |
What type of projects qualify for funding?

Programming or activities for participation in youth programs that place an importance on youth development, an active and healthy lifestyle or education
Improvements and/or renovations to existing buildings, grounds, and property or for new facilities and/or grounds
Emergency needs that would somehow be keeping the organization from providing current services such as natural disasters or other unforeseen circumstances that require special funding to help
Scholarships that provide full or partial funding to participate in programs provided by organization
Must be currently filed under section 501(c)3 of the Internal Revenue Code
Must create positive impact specifically on diverse communities

51% or more of the population/participants are people of color
Have demonstrated commitment and capacity to deliver culturally competent services
Support efforts to alleviate the impact of race-based discrimination and disparities
If organization is operating near JD, Finish Line and/or Finish Line at Macy's stores
FOUNDATION WILL NOT GRANT
Political campaigns, or attempts to influence public officials
Organizations that unlawfully discriminate as to race, religion, income, gender, disability or national origin
Projects or programs aimed at promoting the teachings of a particular church or religious denomination, or construction projects of churches and other religious institutions
Fraternal, veterans or labor organizations
Foundations affiliated with a for-profit entity
Endowments
Beauty or talent contests
Individuals
Medical, scientific or academic research
Pay for travel or trips
For questions or comments, please email youthfoundation@finishilne.com.
Read Next