Last Day: Looking back at 'Life After Death,' 24 years after The Notorious B.I.G.'s death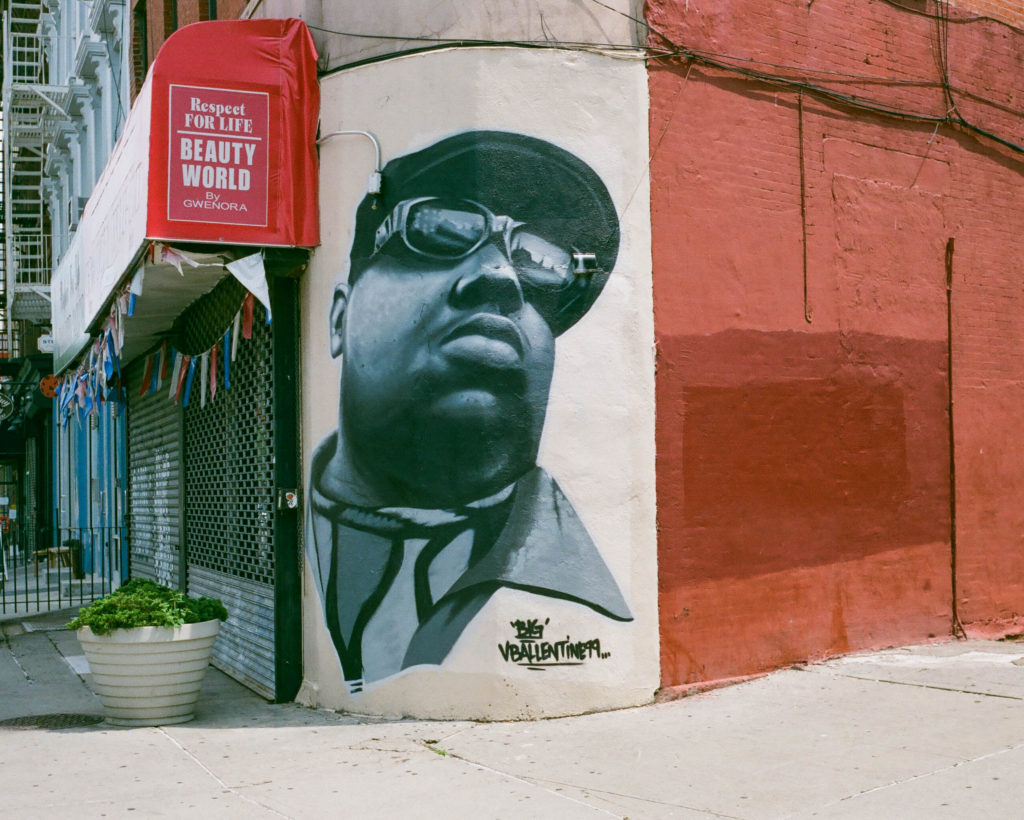 On March 9th, 1997, The Notorious B.I.G. was murdered in Los Angeles. A few days prior, he had been in San Francisco, appearing on KYLD's The Dog House and saying he was fearing for his life. After being booed by the Soul Train Awards crowd while presenting an award for Toni Braxton, he headed for an afterparty hosted by Vibe Magazine.
Around 12:45am, with his friends Lil Cease and Damion "D-Roc" Butler in his truck, a Chevy Impala pulled up alongside it and opened fire. Four shots hit Biggie, but only the last would be fatal. It entered through his hip, then stopped in his lungs. It was over. He was 24 years old. It's a heartbreaking ending for someone who had the world at his feet. His life was a rags to riches story; Robin Hood to rap's Hendrix.
His debut album, 1994's Ready To Die, for how great it is, is very raw and straightforward. It's a minimalist crime story. Life After Death, his posthumous sophomore effort, never lets you maintain a certain equilibrium. One song is being interrupted by a doorbell at 3:52, the next is sicker than your average emcee.
A lot of this is because it is a double album. Double albums are data dumps with ambition. It's what happens when the artist has so much on their mind that 12 tracks just won't cut it. Whether that's Tupac Shakur after coming out of Clinton Correctional Facility or Biggie after realizing that fame wasn't what it was cracked up to be, double albums happened when the artists went through a creative binge.
Because of the complexities of his emotions, B.I.G. keeps upping the ante every after song. After being sicker than your average emcee, Christopher "Biggie Smalls" Wallace is recounting how he went from $10,000 for cocaine to $30,000 for every show that he does, whether it was in Brooklyn or at Howard University.
It isn't Ready To Die, which is a portrait of a New York that doesn't exist anymore. There are no more Robin Hoods that sell on Utica, Bedford, or Fulton Street next to the C train. Giuliani got rid of all of those. By the time Life After Death was being made, New York was making the decision to become an overpoliced city, if it wasn't already. Gone are the days where you could hang out at your spot counting your money; now bike messengers dressed as pizza delivery boys deliver pre-rolled joints to your apartment.
Sometimes this album reads like Puff Daddy knew that was coming. Not even Juicy is something that would belong on some parts of this album. Instead of soul sample flips and boom-bap drums, you have gloss production that sounds like something you would hear at a strip club like I Love the Dough. You have pure New Jack pop production like Mo Money Mo Problems.
Puffy knew what he had in B.I.G.: An emcee with both appeal to the streets and one that can appeal to a wide audience. He wouldn't appeal to wide an audience with the way that Death Row and Tupac did either; they would do it in a way that was accessible while also friendly. People feared Suge and Tupac; but they wanted to party with Poppa and Puff. If Pac was the bad cousin in and out of jail, B.I.G. was the bright hustler that escaped and was enjoying his riches.
Still, Life After Death is a showcase of B.I.G.'s talents and Puffy's production genius. Hypnotize is a song that is covered at karaoke, but it doesn't get enough credit for how great it is rapping-wise and how accessible its dance beat is. B.I.G. uses a flow that he never uses before: It's like he is using the beat as a source, but not actually riding it. His voice is over it like he is punching at it. It's a weird flow, one that is used as percussion and one that personifies cool.
Kick in the Door imagines B.I.G. as a pro wrestler – dipping and diving around enemies and beating them in the head with a folding chair. There isn't a song that kills the competition quite like this one. "Your reign on the top was short like leprechauns" is a famous sentence in rap history – so much so that Jay-Z would use it on The Ruler's Back. It's the best rapper alive staking his claims after two years of doing Bad Boy features.
A lot of time went between Ready To Die and Life After Death that people forgot who had the belt – even if albums released in that gap like Illmatic, It Was Written, Purple Tape, and All Eyez On Me were huge deals. I Got a Story to Tell lays out a raunchy story of the time B.I.G. picked up a girl that ended up being the girlfriend of a New York Knicks player (RIP Anthony Mason). If the story seems rooted in Edgar Wright meets Guy Ritchie realism, it's because the story is true. It's a moment of dark comedy meets history that rarely happens in art forms.
Finally, there is, Long Kiss Goodnight, a song that features B.I.G. and Puffy bragging about the assassination of Tupac Shakur. To celebrate your enemy's death is to dance on their grave while everyone else is mourning. It's a song with biting anger; one that wonders if Puffy has regrets. It was only a matter of time before the life of a rap star caught up to B.I.G as well. That's unfortunate, because when he was on earth, there wasn't anyone better.
Jayson Buford is a lifelong rap fan and New York based music writer who writes for Passion of the Weiss and others. He co-hosts New Music Tuesdays on the Spotify room app every Tuesday. He misses sitting up top at Madison Square Garden.
Read Next