From Marcy to mansions: Jay-Z's rise from 'Reasonable Doubt' to 'The Blueprint'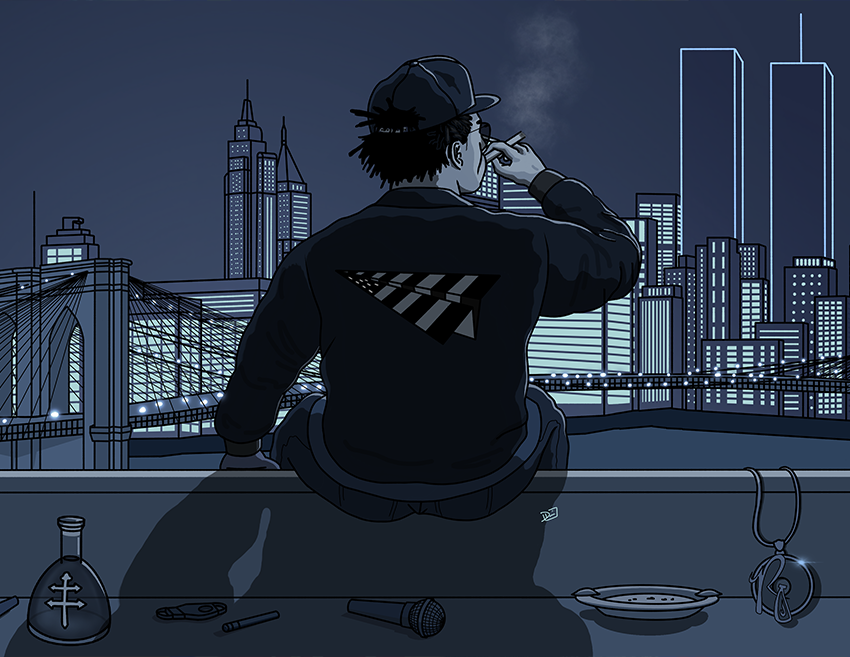 Editor's note: Friday, Sept. 11, 2020 marks the 19th anniversary of the release of Jay-Z's seminal album The Blueprint, which initially was overshadowed by the tragic events of that day in the United States. The following is Jayson Buford's look at Shawn Carter's body of work from 1998 to 2001.
Vol. 2 and Vol. 3
In 1998, Jay-Z's career was at a critical crossroads. He had followed up the strong 1996 debut album Reasonable Doubt with 1997's In My Lifetime, Vol. 1 and it was not received as well. Critics and rap fans alike didn't like the fact that the Brooklyn hustler that had gone from asking if he could live and talking to his friend's dead soul to claiming he knew what girls like with Puffy and Kim. In fairness, this should not have been the reaction to Vol. 1. It is every bit as good as Reasonable Doubt. If Reasonable Doubt feels like a crime movie protagonist writing his tales and his street politics, Vol. 1 is the first album of what was to come of Jay-Z as a great rapper. 
Jay himself has stated his regrets putting some of the radio singles on the album. I understand why he thinks that – rappers tend to listen to what conventional wisdom and criticism would say, and conventional opinions tell us that Jay lost some of his edge on the second album, but I disagree: I'll defend "Sunshine" every day (he does look goofy in the video though), "The City Is Mine" is fire and was needed after the death of B.I.G., and if you only wanted to hear what was on Reasonable Doubt, you should listen to that. Rappers can progress with their music without losing themselves. 
Vol. 1 accomplishes that well. It doesn't have the look of a serious debut album like Doubt has but the best songs on it are some of the most emotionally resonant songs in Jay-Z's career. It has visions of God and guilt over seeing his hustling partners locked up on "Streets Is Watching;" wearing your bulletproof vest, feeling isolated, and lost of faith in "Where I'm From;" and tragically recounts the violent fight he had with his brother on "You Must Love Me." Needless to say, despite what I retrospectively know, Jay-Z needed to do something big for the third album. It had to be a novelty and it had to be something everyone could get down with. It would have to catapult him to stardom. 
The first thing you notice about "Hard Knock Life" is the drums: Nipsey Hussle would sample them for his song "Hussle & Motivate" on his album Victory Lap. They're distinct and placed perfectly: Jay says to check the bassline out. He knows what he has. A song from the Broadway show Annie is sampled. "It's a hard-knock life for us, it's a hard-knock life – instead of treated, we get tricked/Instead of kisses, we get kicked, it's a hard-knock life." It can be corny when people compare rap to things that have nothing to do it. After all, rap music is prolific enough to stand on its own. With that being said, this sample choice always struck me as properly rated. 
In his memoir Decoded, Jay said "We might not all have literally been orphans, but a whole generation of us had basically raised ourselves in the streets." This is true. Black people who grow up in the hood grow up quickly and grow up by themselves. They only really have their neighborhood if they're lucky, and even then, it is brought down by the education system, housing discrimination, and racist police. The parallels between Jay and Annie stop there, but it is significant enough for the song to work. That song would be a hit that gave Jay the superstardom that he wanted to achieve. He became a MTV staple with that and "Can I Get A", his two best commercial singles. With those two songs in its tracklist, 1998's Vol. 2… Hard Knock Life made waves. 
The rest of the album is good – full of Swizz Beatz scratches that are hitting you. It is a significant step back from Vol. 1 but "Reservoir Dogs" is a posse cut with Sauce Money, LOX, and new signee Beanie Sigel that has Jay-Z bragging about owning E-ZPass in case you were wondering how old he is, and Jadakiss comparing himself to gangsters in Miami. "A Week Ago" is a song about a friend that ended up trying to betray Jay from behind bars. "I'm from Marcy, Marcy don't raise no rats, you know the consequences of your act, you can't be serious." Jay-Z might have become a superstar, but he still kept it street. He was a rap superstar that was good at the art of rapping; a guy who was becoming a symbol of all the good parts of entrepreneurship. He had gone from being a hustler to owning his own label. 
It is tough to imagine this now, when he gets personal with Presidents and princesses, and has essentially become a mogul and member of the one percent, but Jay-Z was once considered someone from the underground. It was a slow burn for him. People wondered why he wasn't releasing music when he was out hustling. He had seen what the industry did to his then-mentor, Jaz-O, making him release the failed hit "Hawaiian Sophie" and then not answering him back. This inspired him to, when he stopped hustling for good after some friends got indicted, get into the industry while still maintaining his independence and autonomy. Outkast was more critically acclaimed and DMX was even harder on the street but still, Jay-Z's was a huge problem in the rap game: He ended up winning a Grammy for Vol. 2, his first, but he didn't attend, out of respect to his peer and frenemy, DMX, who was not given a nomination. 
Jay-Z's third album, 1999's Vol. 3… Life and Times of S. Carter, is more of a callback to the first volume than the second one: In the second one, Jay attempts to make raps that are digestible and songs that can be danced to and sung to. Here, he does that, but he does not lose his lyricism. In fact, it improves. He is backed by DJ Premier scratches on "So Ghetto" and signature Timbaland bounce on  "Big Pimpin" (Pimp killed him), "Come and Get Me" and "It's Hot." Jay is a dangerous MC on this album. Razor sharp with his flow and dark with his humor. He finds pockets that he basically stopped doing later on in his superstardom. Reasonable Doubt is brilliant, it is the album he was born to make and spent his whole life trying to make. But it certainly knows that it is great, and is one of Jay's more "serious" albums. (I have a theory, as does my friend Al Shipley, that people judge Jay albums based off if the title sounds serious or not. "The Black Album" is like his 8th best album, but it sounds like it should be a classic). 
Vol. 2 is a good album, but it certainly wants to be an album that a superstar makes. It is trying to be an album that sells a lot of records. Vol. 3 is the sweet spot between those two. He combines being a superstar with also being the best rapper alive. There aren't any huge statements on this album, he's just making the best rap music he has ever made. It On "Come and Get Me", he takes it to his foes for not respecting his moves enough: "Went on MTV with do-rags, I made them love you/You know normally them people wouldn't be f***in' witchu/Till I made 'em understand why you do what you do/I expected to hear Jay, if it wasn't for you/But instead, all I hear is buzzin' from your crew." Sometimes it feels like he is rapping as if the beat doesn't exist: "It's Hot" is one of the more madcap songs on Jay's discography, talking about a myriad of things such as oral sex, a rapper name 50 Cent, his days hanging out with cousin Briant, and comparisons to from Noah from the bible. Jay's voice sometimes overrides the beat, as if he is attacking it. We don't usually see him like this. Shortly before Vol. 3, Jay caught an assault charge after allegedly stabbing executive Lance "Un" Rivera over an argument about why the album had leaked to the streets. Things were getting hot for Jigga, and not just from his raps.
The Dynasty
The Dynasty was recorded in Baseline Studios while that case was publicly talked about in the news. It was originally supposed to be a group album but it ended up being a solo Jay record featuring a lot of the squad. They had assembled quite the roster at Roc-A-Fella. We will never see this again: Jay-Z, widely considered one of the greatest to ever do it; Beanie Sigel, the tough bully from Philadelphia who would often match or beat Jay on records; Memphis Bleek, Jay's neighbor in the Marcy Projects, who has always been better than people give him credit for (see "1-900-Hustler"); and Freeway, the Philly staple with a simultaneously whiny and raspy voice. With that being said, Jay still shines on The Dynasty album, starting with the words: "It's the dynasty n*ggas, as promised." "The Dynasty Intro" has become one of his most famous songs, and one of the most famous intros in rap history: A two-minute track about his ethos and his upbringing. The only psalms he read were tattooed on his friend's arms. He is ready to shoot at anyone that stands between him and his money. 
Dynasty is completely different from his previous albums, especially with the production: There isn't any Timbaland or Swizz on this album. They went from the bounce to the soul. Just Blaze and a then little-known producer out of Chicago named Kanye West contributed to six songs on this album. It is the beginning of what we would see on The Blueprint, but I always have liked the rapping over these beats more than the The Blueprint. "Streets Is Talking" is my favorite Jay-Z song of all-time: It is a sequel to the first song, which is also great, but it is more about what is going on in his life currently: "I'm waiting on arraignment/my n*gga is the plaintiff/I know what you're thinking, fucked up, ain't it?" Jay is direct and versatile on this record. It is screwface rap. It is all "walk in your hood after a hard day." It should only stick in your ear, it isn't suitable for parties or situations with people around. 
Jay talks about being good on the streets everywhere from Marcy to Rome, Italy. You should be scared of Shawn. He isn't too keen on talking out the beefs y'all have with him. He may keep his glock on his bodyguard but when it goes down, Jay's face is the one you will see on the trigger. His last verse is a class in wordplay, stream of consciousness and emotion: "I saw my first murder in the hall, if you must know/I lost my Pops when I was eleven, mmm, twelve years old/He's probably somewhere where the liquor is takin' it's toll/But I ain't mad at you Dad, holla at your lad!" he raps. He says he traveled with such a quantity of drugs in his car in his past life that police dogs would get sick from sniffing it. Holla if you feel him. 
Beanie Sigel comes after him and almost steals his thunder: Beanie has beaten Jay a few times, but this is one where it was a tie. Beanie ends rapping so hard that the beat stops and he keeps going. "Niggas wanna despise the team; till I play head coach and straight up, divide they team/Trade they man for some pies and a couple of things/Till the bullet…ah, motherfuckers!" Roc-a-Fella had never been stronger than this. This is the peak of the label, where everything landed in the right place for them. Jay was doing some of the best rapping he's ever done, going back to Vol. 3. Beanie had released The Truth and was getting ready to become a beloved figure himself. Continuing with the tradition of Jay getting out rapped by Southern rappers, "This Can't Be Life" is a standout guest verse by Scarface. Because it is a song with three veteran rappers on it, what isn't talked about when it comes to this song is how it is an example of the pain that comes with growing up in the hood. When hardships happen, people who live in the Marcy projects have to wear the pain that we endure and we can't think about it much because we're too used to it. Jay-Z talks about not thinking he was ever going to get out of the hood and admits that having a girlfriend that had a stillborn baby. Scarface raps about mental health with his signature gruff. His friend had just lost a baby and was looking to 'Face for guidance. It's the pinpoint verse. He raps with pain while never wasting a breath or a sweat. 
The Dynasty album is a classic to me: It isn't perfect, Memphis Bleek's "Holla" is a flat out miss, but it features a lot of Jay's most emotional songs and it is a huge deal amongst Roc-a-Fella fans. It is also the last time we will see Jay-Z care about lyricism and unconventional pockets on an album. Dynasty feels like a peak of an empire and the last of a virtuoso.
The Blueprint
Released on Sept. 11, 2001, The Blueprint is a great album. I want to start off the paragraph by saying that. It is a great album that is a fun and quick listen: The production, which started on The Dynasty album, is legitimately revolutionary: Rap fans on the internet sometimes act like soul samples are the peak of rap production. ZIt isn't, but this album is why they do that. "Heart of the City" is one of the more famous Kanye beats ever made. It sounds like it is sung at your church the Sunday after you purchase the album for the first time.  "U Don't Know" is a beat that sounds like it is stabbing you at the beginning. Your brain will ring after you hear it. I'll give it under two hours before it stops. Not a lot of songs sound like classics before the first word is spoken, "U Don't Know" definitely does. "H to the Izzo" has become synonymous with Jay-Z's stardom as a rapper and features a classic Jackson 5 sample. 
"Takeover" is a chokehold: He barks at Nas with fury, joking about his output after Illmatic, questioning his street cred, and alluding to a memory of showing Nas a gun when they were both on tour with Large Professor. "Smarten up, Nas" is something I'll always remember. I won't forget hearing this song for the first time. A rush came over to my body. My head started sweating. I started saying sounds that didn't make any sense. "Ether" is disrespectful, but I never thought it held a candle to "Takeover." "Takeover" rules. It is as if he is scolding Nas. He almost sounds disappointed in him as if he knows he can do better. It also helps that everything Jay-Z said are talking points that people use to criticize Nas throughout his career. Nas was just hurling insults.
"Renegade" with features Eminem, has become one of the most widely talked about verse battles in history. Eminem's verse is great, no doubt. It is a madcap verse discussing his place in Middle America and the weight of his words, good and bad, that he uses. He jokes that Catholics want to hold him underwater for too long and he compared himself to Ice Cube. It is a peak Eminem performance. However, it is a bad cliche that he bested Jay on this album. I have never thought this. Jay's second verse on "Renegade" is some of the best: "Do not step to me, I'm awkward, I box lefty/An orphan my pops left me and often my momma wasn't home." All while talking shit to the magazine critics who said he was only a rapper who talked about how much bling he had on. Eminem spoke about his career and what it means to be white rapper with a platform. Jay-Z spoke about his music meaning things to people who never get heard. I'm not usually a "content" person, but it matters to me when it comes to a song that is critiquing rap critics. After all, this genre is made in our neighborhoods. With this Eminem feature, Jay showed he could rap as well as the most popular rapper out.  These are objectively great records. Jay is good throughout the album. He seems to be strategically holding back lyrically though: Instead of conventional pockets and flows, he starts to flow in ways that are more digestible. Making sure that the listener can sing along with him. It goes back to his style on Vol. 2 but the album sounds like it was less made for the radio or the streets and more made for critics and music fans in general.
This is definitely on the shortlist for best Jay-Z albums if you were to poll people on the street. It is, but I wonder if we overrate it because of how great the beats are. There aren't any songs on this album besides "U Don't Know" that I think are flat out better than the songs on Vol. 1, Vol. 3, or Dynasty. Even "U Dont' Know", a perfect song, is digestible, particularly by the end. 'I sell ice in the winter, I sell fire in hell, I am a hustler baby, I sell water to a well" hardly sounds like anything on "Come and Get Me" or "So Ghetto." There is no "Street is Watching" or "Friend or Foe '98" on this record. It just isn't that type of rap music. It is up to what you want to hear. I personally want to hear Jay-Z the hustler. Jay-Z started dumbing down a bit on this album. Maybe he knew what he had in the production. Great rappers know when to state it plainly and when to wow you. But it will always rub me the wrong way that this album gets more love than the albums that feature his ability as a MC the most. 
You can't front on how great he is at one-liners on this record though. Everything from "What you eat don't make me shit" to "Could make 40 off a brick but one rhyme could beat that" to "Do you fools listen to music or do you just skim through it?" is something that has been memed, said as one liners in conversation, or said in relation to what Jay's ethos is as a person. The Blueprint is a great rap album. I don't think it is a great Jay-Z album. That's always been the difference between that one and the others. The Blueprint marks a shift in his career: After this album, he was Sir Carter of Brooklyn. He was hanging with Bono. He did albums with Linkin Park. He did performances with Paul McCartney. He started dating and then eventually married Beyonce. You can see the difference in him as a rap figure before this record and after it. He became a CEO rapping. 
I am happy he has reached the heights, as someone who is also from a Black neighborhood that lacks resources, but I am not sure if I am all that comfortable with how wealthy he is. He's still great at the art of rapping, of course, if you heard the Jay Electronica album, he shines, particularly in the first half of it, but you can't help but the shake the feeling you are also listening to Jay-Z the brand, as supposed to just a great MC of our time. I miss when he was a dope hustler/rapper out of Brooklyn. He gave us some of the best rap music of all-time. He was a hustler but he has moments of introspection as well. He was a player but he had moments of vulnerability as well. I suppose all of that helped him become the person he is now, which is cool, but I miss when he was just a great rapper. I'm a sucker for nostalgia and Brooklyn street talk.  
Jayson Buford is a lifelong rap fan and New York based music writer who writes for Passion of the Weiss and others. He co-hosts New Music Tuesdays on the Spotify room app every Tuesday. He misses sitting up top at Madison Square Garden.
Read Next