Not Just For The Gym: @Katerinaseigel Goes #TeamCozy with adidas Originals and Champion
written by Katerina Seigel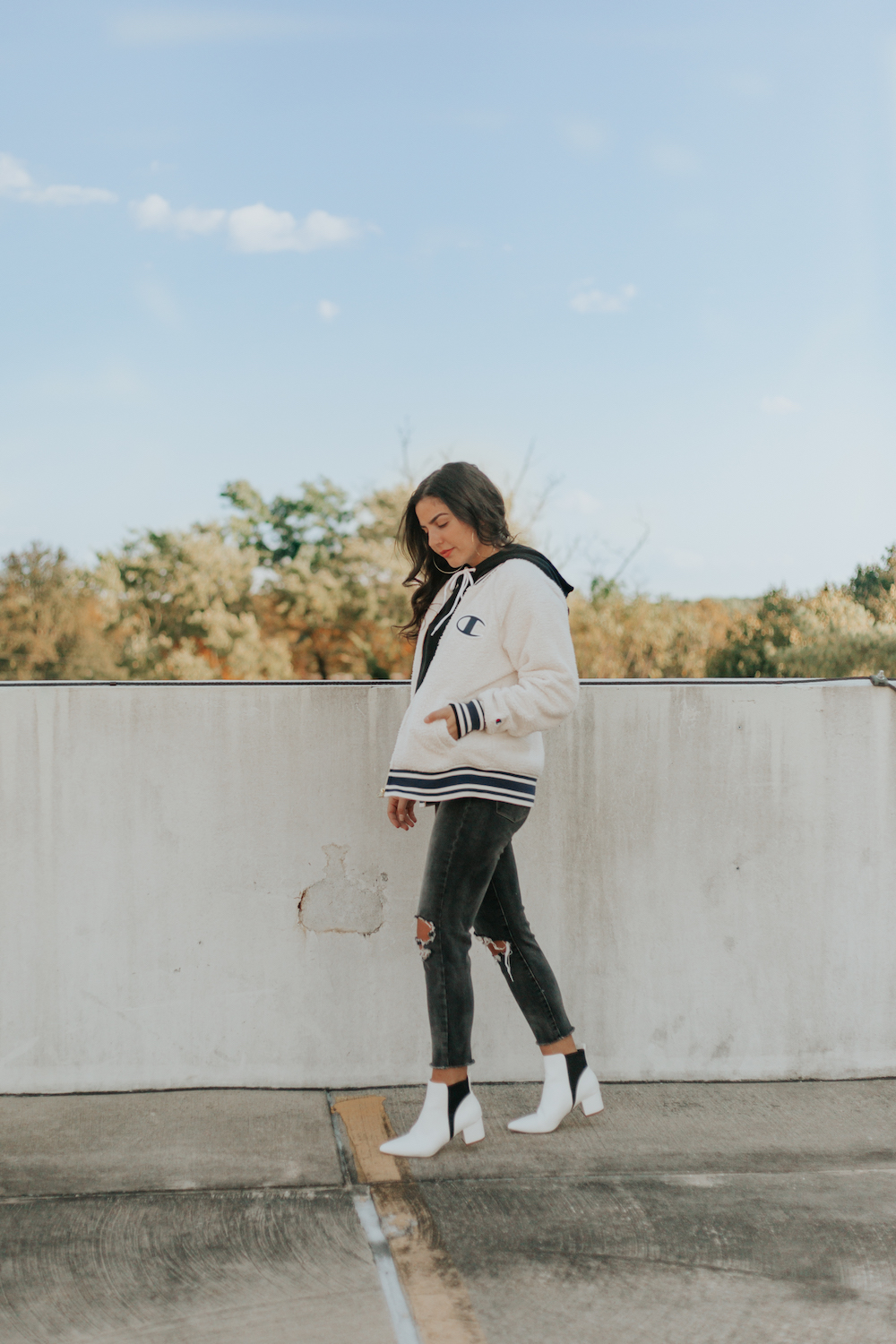 Clothes that can be worn for the gym AND for everyday life? Count me in. I've always been obsessed with taking traditionally athletic pieces and styling them with my daily looks. As soon as I saw this new Champion Sherpa Bomber Jacket, I knew I had to have it. Sherpa is so comfortable, warm, and honestly makes you feel like you're wearing a blanket – which i'm all about. With the cold weather rolling in to Philly, I know this cosy jacket will be on repeat. I also love the letterman style of this bomber. From the big C on the front, to the appliquéd letters on the back, its the perfect mix of street style and sporty.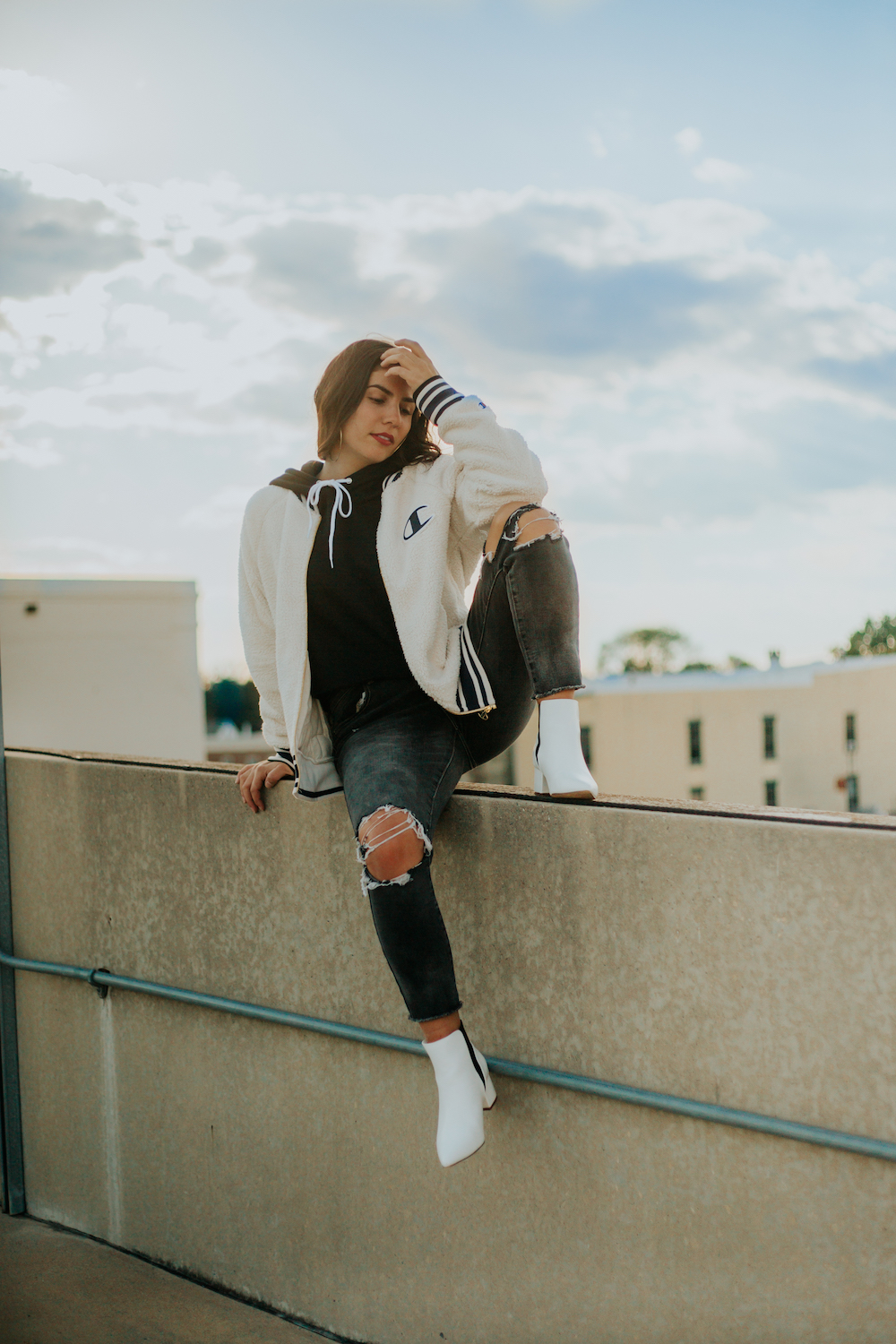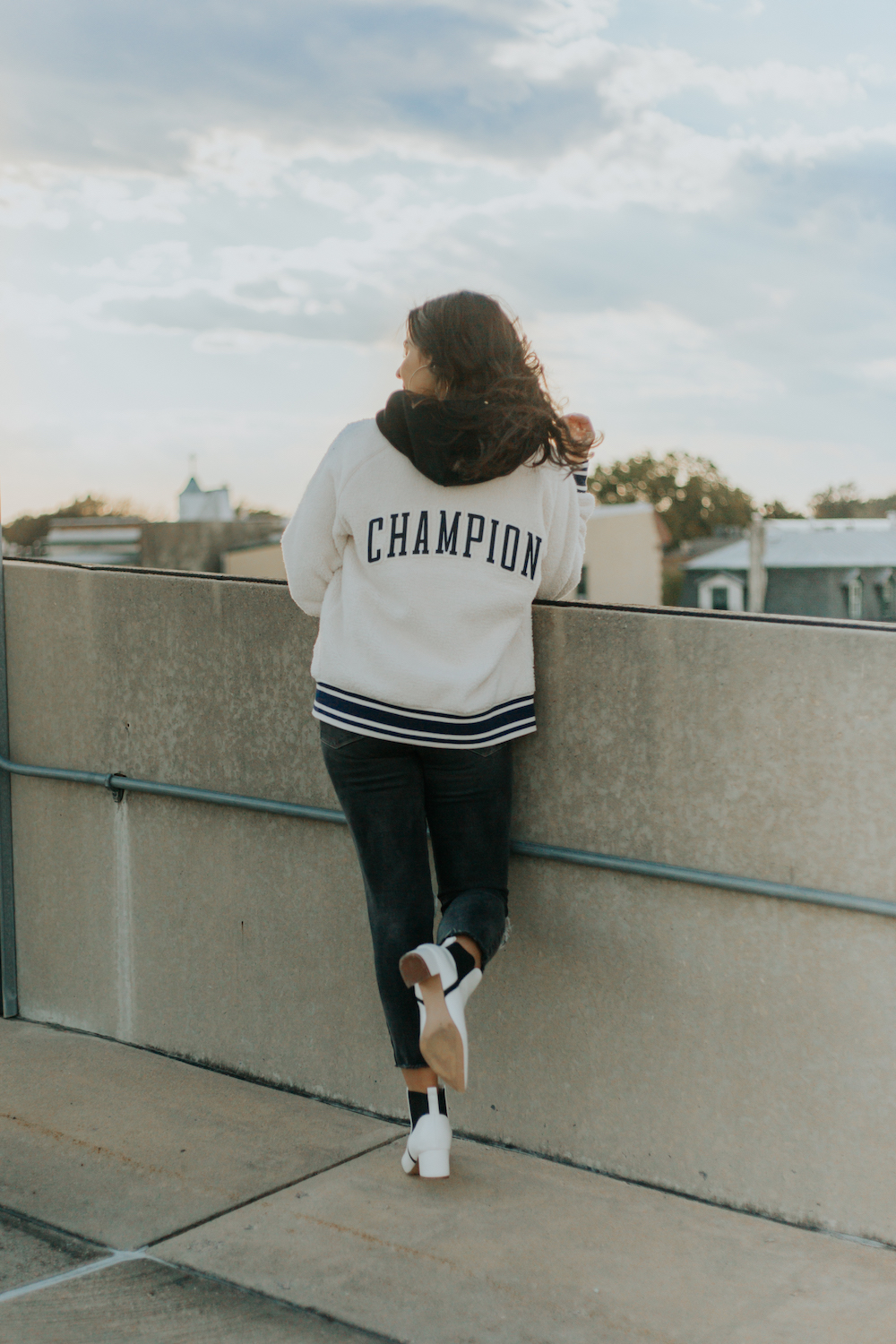 This jacket drew me in since it looks great with leggings and sneakers, but just as good with jeans and booties. I'm also dying to try it out with a denim skirt and over the knee boots. Here, I styled it with some distressed denim, white boots, and a cropped hoodie. This jacket is a must have for the fall/winter season. Whether I'm running around to a photo shoot, or to a meeting with a brand, I need pieces that are comfortable, cool, and classic, which is where this Champion Sherpa Bomber Jacket comes in. I can't wait to see how many different outfits it works with.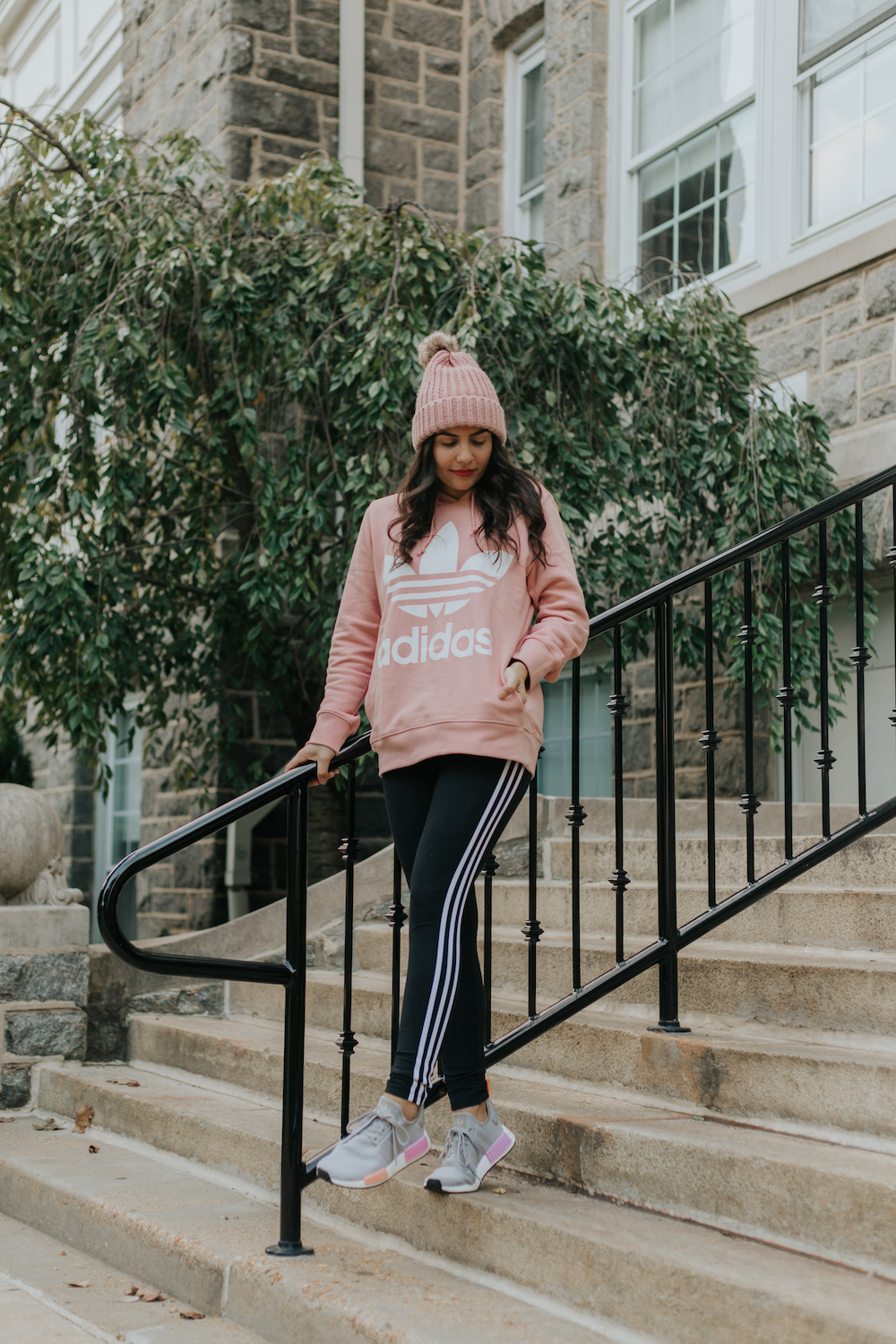 I also picked up some pieces from the adidas Originals fall line. I've been an adidas girl my entire life. I specifically remember wearing Adidas tennis shoes for high school Cross Country just because I liked them so much. Were they running shoes? No. Did they look great? Absolutely. I've always suffered for fashion.
As i've grown up and become a *little* more sensible, I've started investing in pieces that are comfortable, as well as fashionable which is where adidas comes in. To be honest, a lot of times I feel like i'm in limbo. I'm a gym junkie who loves to workout, but also someone who loves styling outfits and dressing up. What i've realized in life is that people love to categorize you and say things like "oh if she loves dressing up she must not be athletic", or "if she's in to the gym and sports, she isn't in to fashion".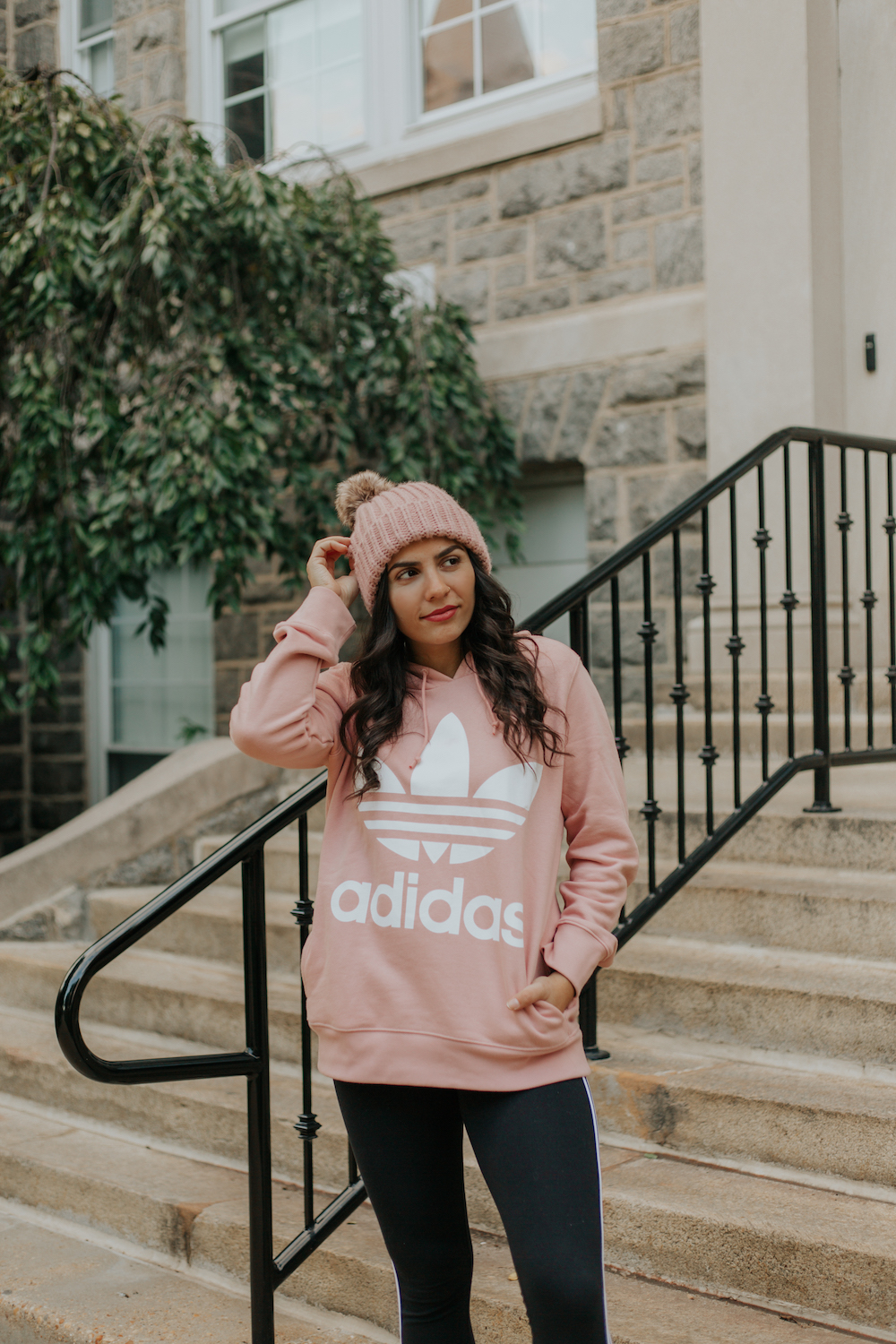 Personally, I think that none of these things are mutually exclusive – you're allowed to be WHOEVER you want. Different characteristics and combos are what makes the world a beautiful place. That's why when the athleisure trend surfaced, I was really excited. I was finally able to create looks that represent everything I am, and work with my lifestyle.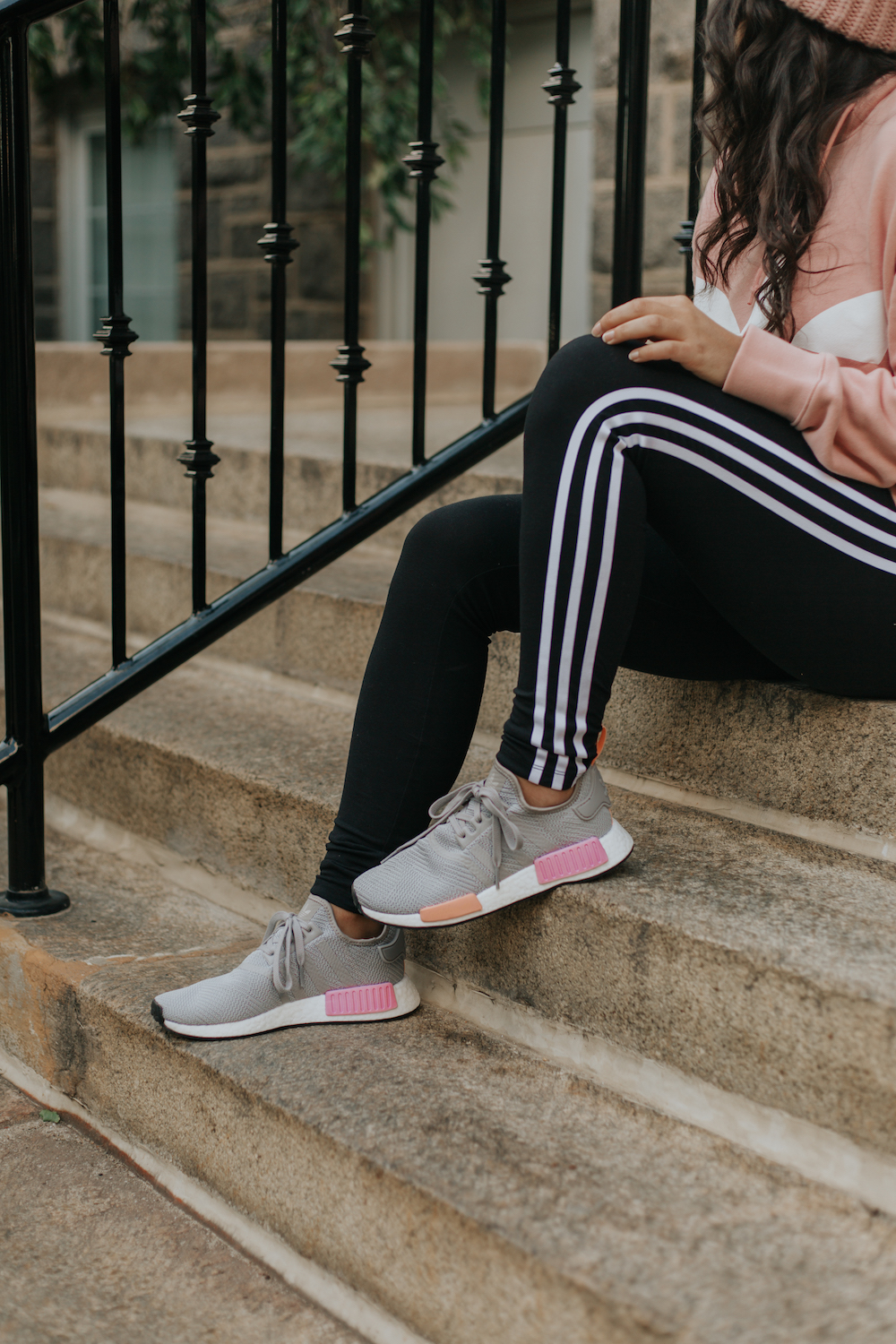 If there's one thing I'm loving about this trend, its the bright colors and prints. As someone who is fashion focused but craves pieces that are workout friendly, I'm loving this Blush adidas Originals Trefoil Hoodie. Though this sweatshirt is pink, it's a light pink so It's *basically* a neutral. I took it for a spin the other day in the city and paired it with adidas 3 Stripe Leggings, and a pair of matching NMD R1's.
I hope you guys enjoyed getting a glimpse into my life and daily style finds from @finishlinewomen. Keep up with me on @katerinaseigel.
Read Next