By Drew Hammell 
Houston Rockets point guard Chris Paul has racked up quite the resume in his 13-year NBA career: 2006 Rookie of the Year. Two Olympic gold medals. Four-time NBA assist leader. Six-time NBA steals leader. Nine-time NBA All-Star. CP3 can make the game of basketball look easy, but that wasn't always the case. Every player has experienced adversity in his life at one time or another. For Paul, the trials came during his days at West Forsyth High School in Clemmons, North Carolina.
Growing up, Chris Paul loved playing both basketball and football. He especially loved the physicality of football, but wasn't as much a fan of playing outside in the cold on Friday nights. As he entered high school, his focus turned to basketball. Unfortunately, he never hit the growth spurt that a lot of the other boys his age experienced.
As a result, Paul played on the junior varsity team at West Forsyth his first two years in high school. Though it was a humbling experience for Paul, it ended up being a blessing, as he was able to play 30 minutes a game and learn how to command the floor as a point guard.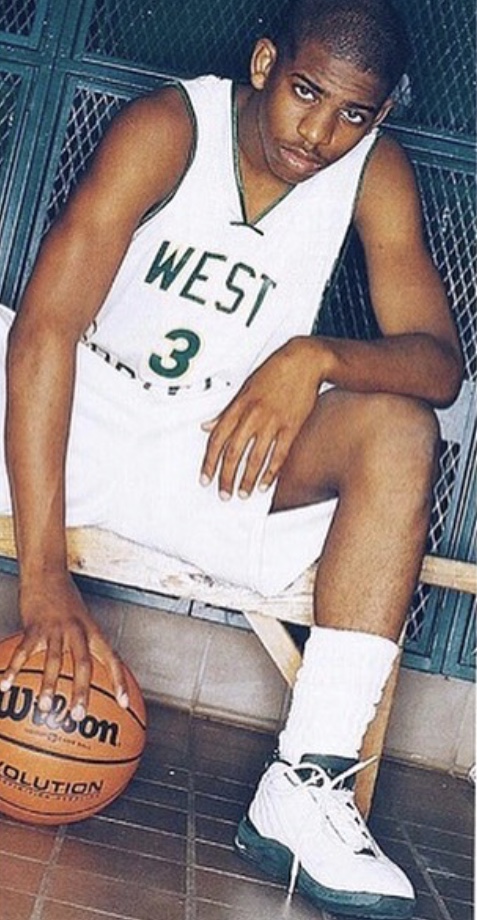 In the summer between his sophomore and junior years in 2001, Paul played in the AAU League, and his team made it to the finals against the powerhouse Illinois Warriors. Plenty of the country's top coaches were there to see the Warriors, but they left talking about the 6-foot Paul and what a standout guard he was.
That exposure carried over into his junior year, and he started on the varsity team as point guard for the Titans. He'd go on to carry his team, and average 25 points a game. By the end of his junior year, everyone had heard of Chris Paul, and he earned the nickname CP3.
Paul would receive letters to play at all the major universities, but he decided to sign a letter of intent with home-state Wake Forest on November 14th, 2002. Paul and his family were riding a high of excitement. The next day, however, would be life changing for the Paul family.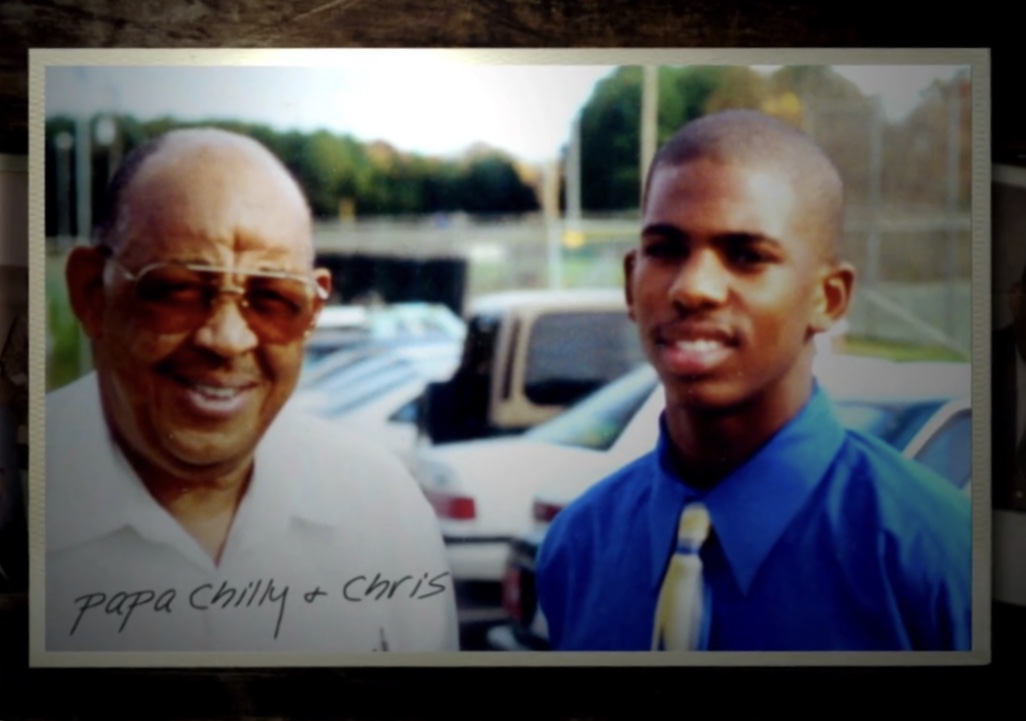 On November 15th, Chris Paul's grandfather was robbed, shot and killed outside his home. Affectionately known as Papa Chilly to Paul, the loss was devastating. Chris and his brother grew up working with their grandfather at his service station, and they had a very close bond. The funeral for Paul's grandfather was November 19th. The next day was the first game of Paul's senior season against Parkland High.
As a tribute to Papa Chilly, Paul was on a mission to score 61 points – one point for every year of his grandfather's life. In front of a packed gym, Paul was on fire the entire game, and seemingly couldn't miss a shot. His father, who was keeping the stat sheet for the game, started to understand what his son was doing as the points continued to pile in. "I didn't realize he was trying to score 61 points until Coach Layton came over and asked how many points he needed. I said, 'what are you talking about?' I was so into the game, I didn't realize he had scored that many points," recalled his father, Charles Paul in the ESPN Film, Becoming Chris Paul.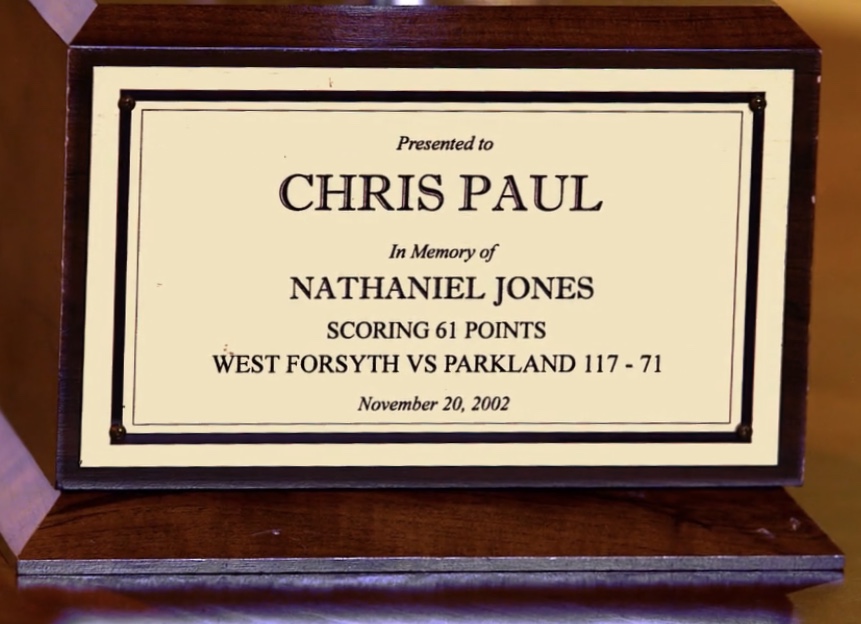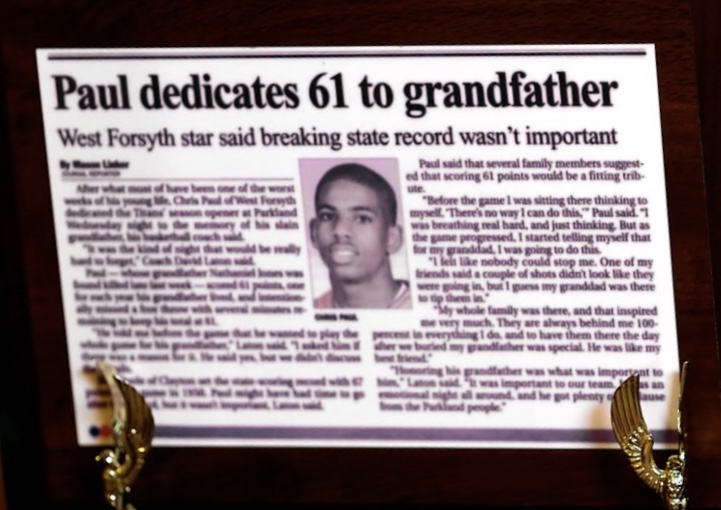 After Paul reached 59 points, he drove to the lane, hit a floater, and got fouled. He went to the foul line, and just threw the ball out of bounds so that he would stay at 61 points. After that, he walked over to the bench, and fell into his father's arms, crying. That moment was for his Papa Chilly. The crowd was chanting "CP3!" and the legend of Chris Paul grew.
That 2002-03 season, Paul would average 30.8 points, 5.9 rebounds, and 6.0 steals per game. He led West Forsyth to a 27-3 record, and a trip to the Class 4A Eastern Regional Finals. He was a 2003 McDonald's All-American and played in the Jordan Brand Classic. He was also named Mr. Basketball in the state of North Carolina.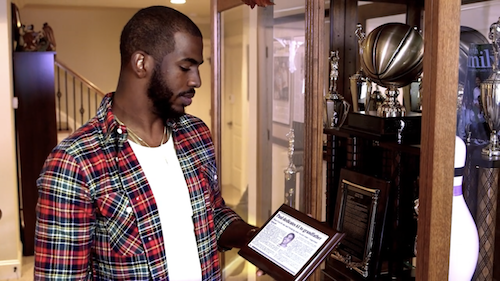 This Saturday, Jordan Brand will release an Air Jordan 12 colorway inspired by Paul's time at West Forsyth. Featuring an olive canvas suede upper and hits of sail, gold, and black, the model is a nod to the high school days that helped mold and shape Paul into the great basketball player that he is today.
Photos and information courtesy of SLAM Magazine and Becoming Chris Paul (ESPN Films).
Follow Drew on Instagram