Throwback Thursday: The Air Max 97
By Drew Hammell
Back in the summer of 1997, a flashy new Nike running shoe took center stage.  Featuring a synthetic leather and mesh upper with interwoven reflective accents, the sneaker world had never seen anything quite like the Air Max 97 (or, simply known as the Nike Air Max back then). It was truly cushioning at its finest – the first Nike running model with Air from heel to toe.
Designed by Christian Tresser, the Air Max 97 was inspired by water dropping into a pond, creating a ripple effect. Japanese silver bullet trains and mountain bikes also inspired Tresser. "Mountain bike components and mountain bikes at the time had metal on metal finishes like aluminum and polished titanium," said Tresser in a Nike SNKRS interview.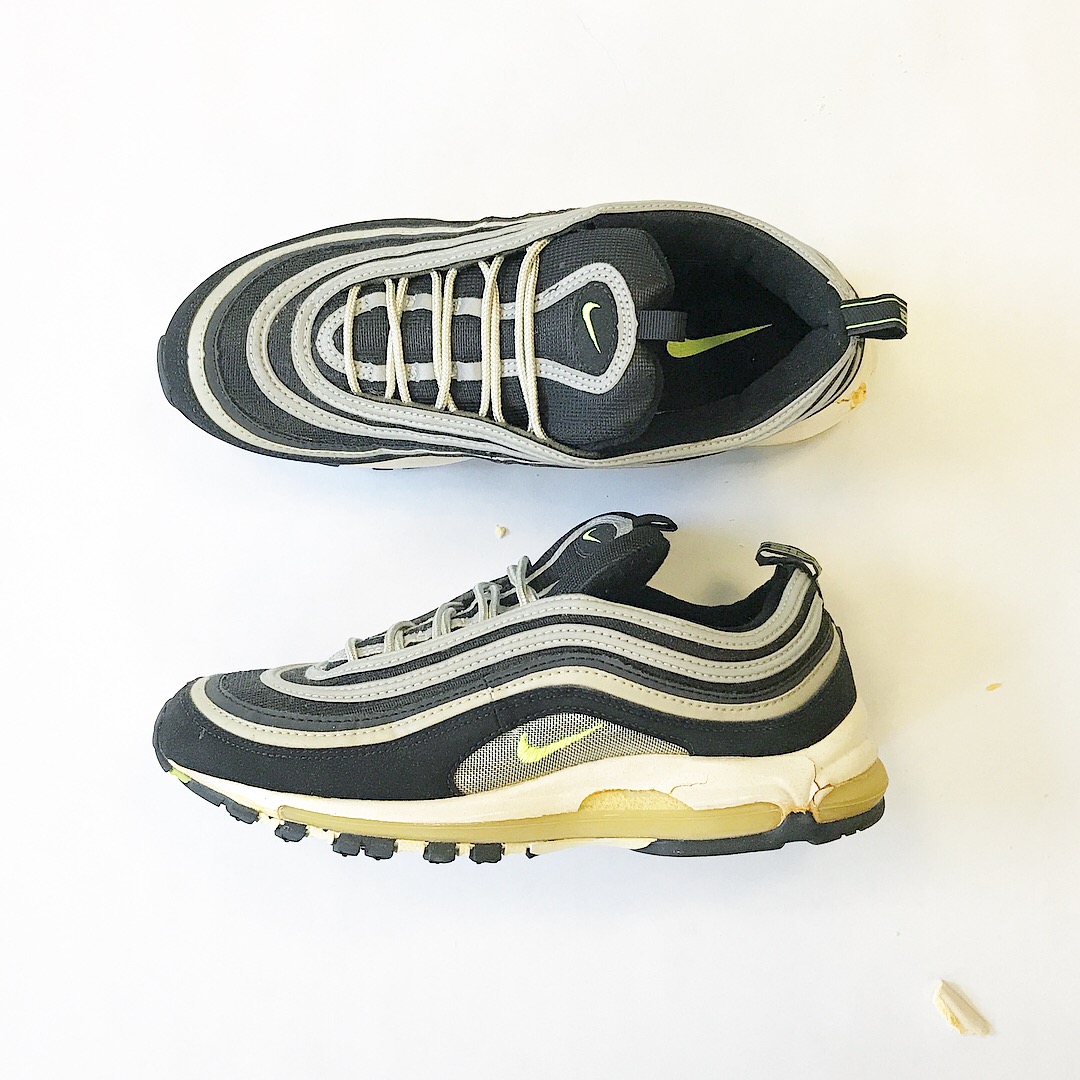 Today, sneaker designers are influenced by Tresser's design. "I was especially drawn to the flowing horizontal lines across the upper – they remind me of ripples or waves. The use of a smaller swoosh on the lateral side is a great accent too," said up-and-coming footwear designer Tommy Oleson.
There were two original men's colorways – the most popular being the all-metallic silver model. There was also a model sporting Atlantic blue, metallic silver, and neon yellow.
Sole Collector news editor Brendan Dunne still owns the latter pair from '97. "I picked them up I believe on eBay a while back." Unfortunately, Dunne wasn't able to wear them long. "I put them on, walked down the stairs, and they died." Luckily, this original colorway is rumored to be coming back again soon.
Over the years, the Air Max 97 has branched out into many different color schemes – from all-red to camo to black with Swarovski crystals, just to name a few. This year, Nike has released a tidal wave of Air Max 97s in new colors and updated materials. They're quickly being gobbled up by both a new generation of sneaker lovers, and older sneakerheads who still love the model. From snakeskin, to suede, to the modern Ultra uppers, the Air Max 97 is as popular as ever.
"It became so iconic – you see anybody wearing them and it became a must-have statement in the sneaker world. It's timeless," said Victoria Jacobi, who handles content and social media at Franchise Magazine.
Designer Tommy Oleson agrees: "I really dig 'em – a lot of heat and lots to choose from. The silver bullets of course are just a pure classic, but honestly seeing the use of new materials and textures really brought them to life for me. I love the use of neutral tonal colors and letting the design and bold use of various materials speak for themselves."
With all the rave reviews of the newest colorways, it's safe to say that the Air Max 97 infatuation won't be drying up anytime soon.
The above quotes have been edited for clarity.
Follow Drew on Instagram.
Read Next