Throwback Thursday: Tyson vs Holyfield II
By Drew Hammell, images courtesy of Sports Illustrated 
Twenty years ago, on June 28th, 1997, two boxing titans squared up in one of the most infamous battles ever seen. Over 16,000 people witnessed the fight at the MGM Grand in Vegas that Saturday evening. Evander Holyfield, the champ vs Mike Tyson, the challenger.
Tyson, always the bully, was one of the most imposing men ever to enter the ring. At just under six feet tall, though, he was three inches shorter than Holyfield. Both men would weigh in at 218 pounds for this bout. Seven months earlier, Holyfield shocked the world by knocking out Tyson in eleven rounds. Nobody saw it coming, and the world was hungry for this rematch.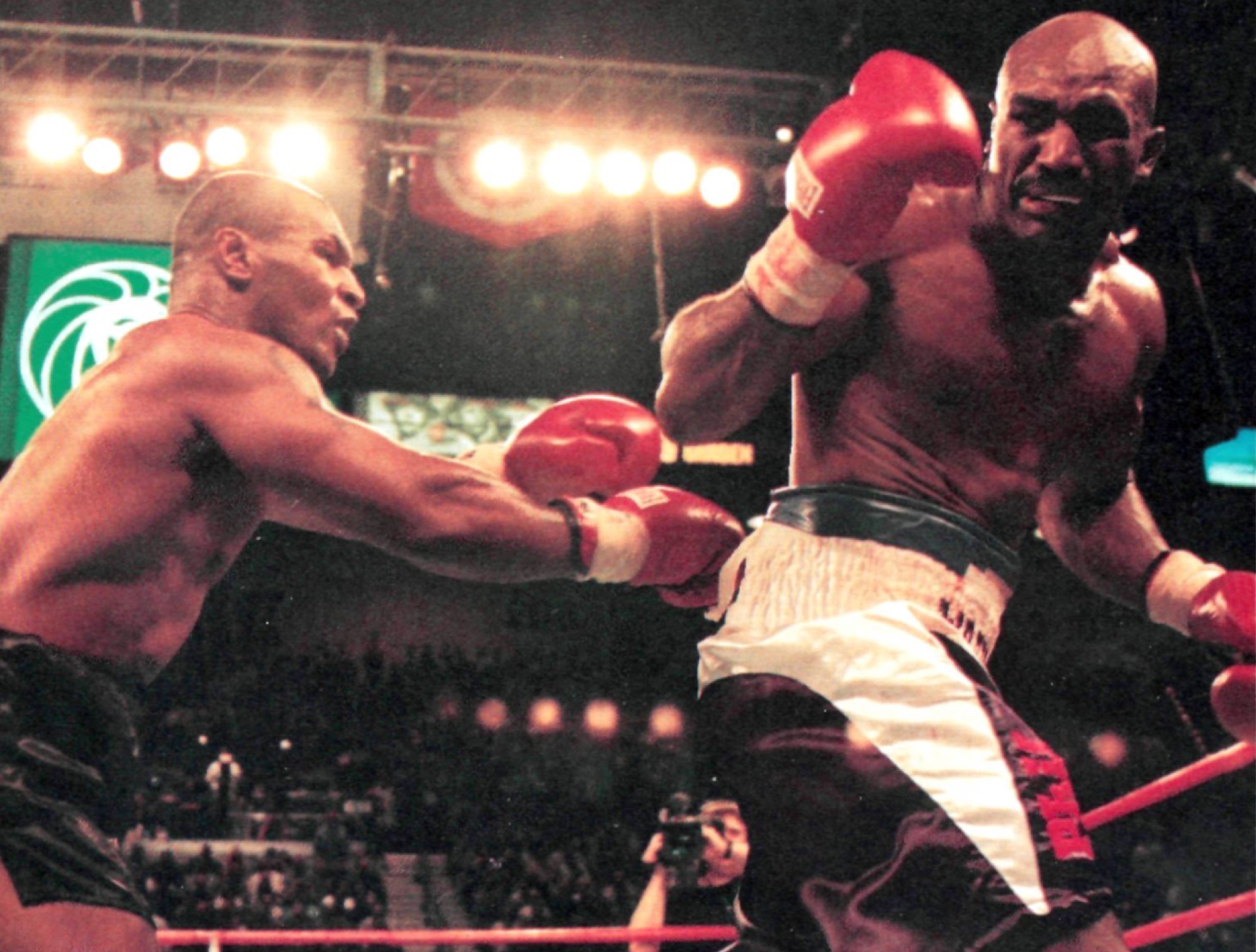 In the first round, both men came out swinging. Less than one minute into the second round, Holyfield butt Tyson in the head, which cut a gash above Tyson's right eye. Iron Mike complained to referee Mills Lane, but nothing was done. At the end of the round, Tyson gave Holyfield an extra stare-down.
At the beginning of the third round, Tyson strangely came out without his mouthpiece. The announcers immediately noticed it, as did Holyfield, and Tyson was sent back to his corner to put it in.
The two would go at it until a minute left, when one of the most surreal, most shocking, most confusing moments in sports history occurred. All of a sudden, Tyson's mouthpiece was gone. He could be seen rolling his head into the side of Holyfield's, which seemed odd. Then, Holyfield reeled back in pain for no apparent reason. Seemingly unable to comprehend what had just happened, he spun around in anguish.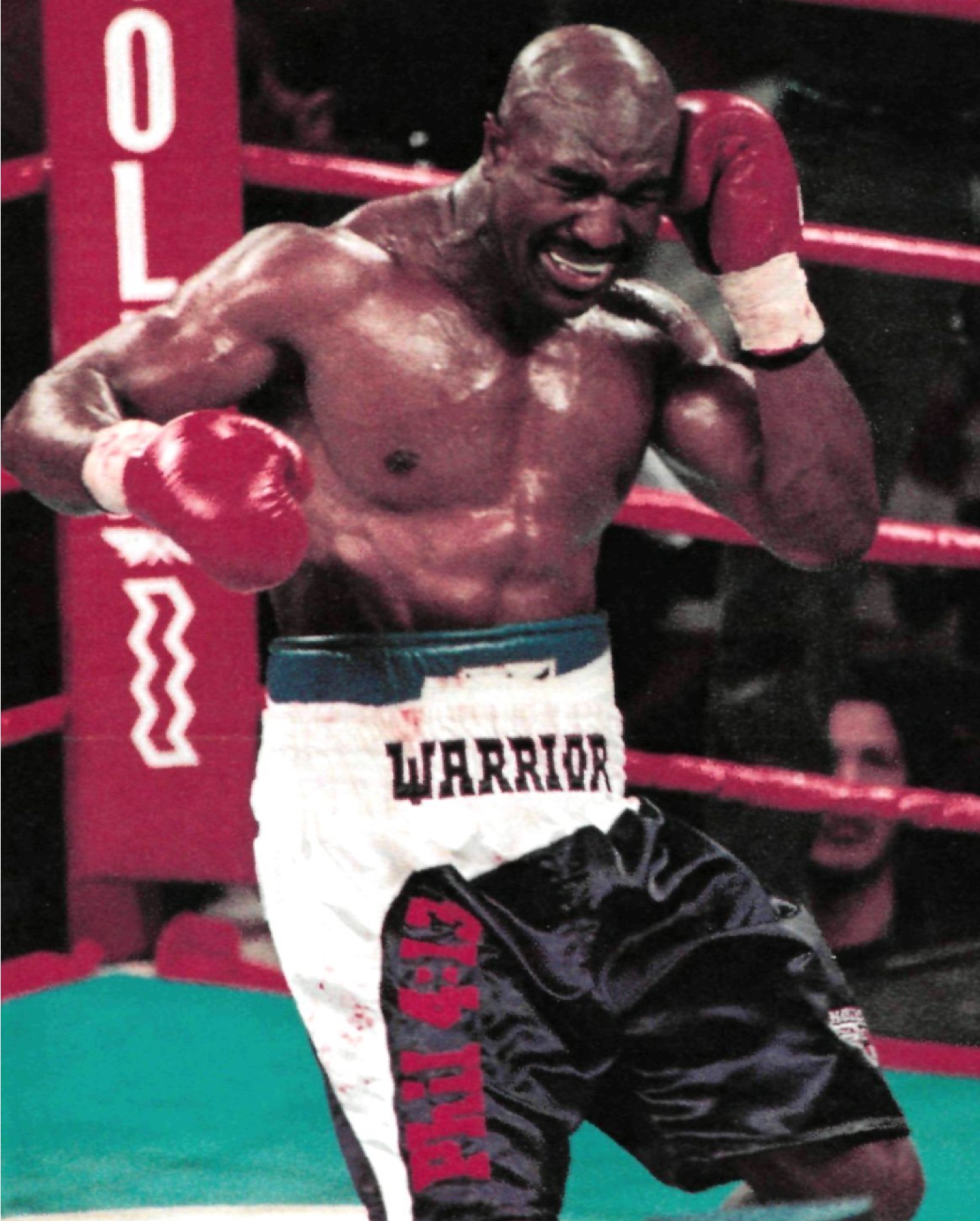 Tyson, as if to suggest Holyfield was weak and unwilling to fight, charged after him He shoved Holyfield in the back, motioning for him to keep fighting. Referee Mills Lane stopped the fight, and began to examine Holyfield's right ear – Tyson had bit a one-inch chunk out of it.
The entire arena was confused. Nobody seemed to understand what had just happened, except maybe Tyson. He was exacting revenge for the head-butt earlier, and was resorting to whatever tactics he could to slow Holyfield down.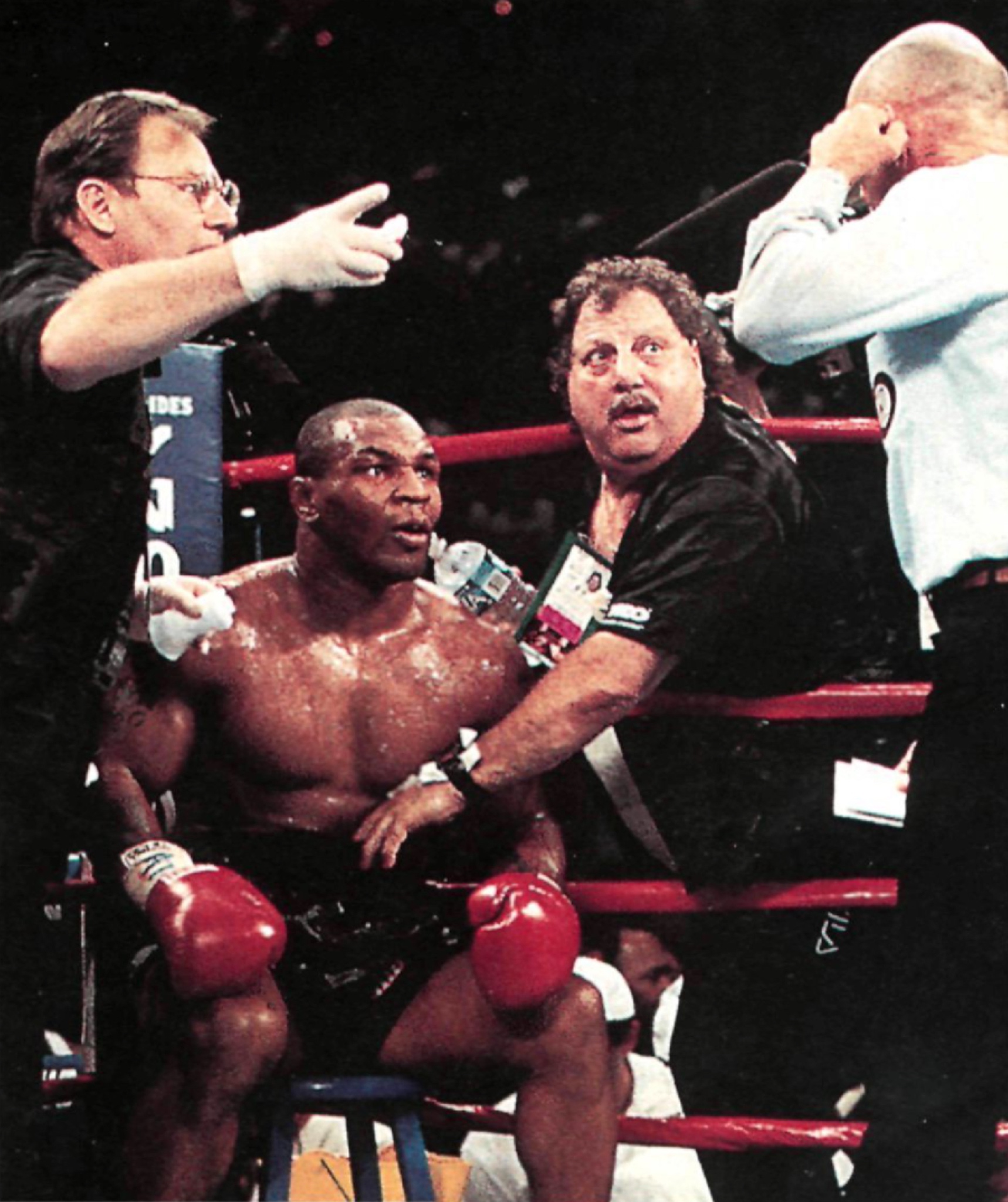 "He bit his ear – he's out. He's disqualified, I can see the bite marks," said Lane in the midst of the melee to the judges. The commissioner and ring doctor moved in to examine Holyfield and figure out what had just occurred.
"Do you really want to disqualify him?" asked the commissioner. Obviously, they had to weigh the significance of what was happening. Was it worth stopping the fight just three rounds in, after the two boxers had gone eleven rounds the fight before? Besides that, millions of dollars were on the line.
"Well, let me ask the doctor," said Lane. Clearly he didn't want the burden placed solely on his shoulders.
"He bit his ear, can he…can he go on?" Lane's voice quivered, as if he was pleading with the doctor to help him make the decision.
"Yes," was all the doctor said.
Incredibly, the fight would continue. Lane deducted two points from Tyson, and then the fight would proceed. Even more incredibly, Tyson would go for Holyfield's other ear seconds later. Holyfield again reeled back in pain, but the fight still went on.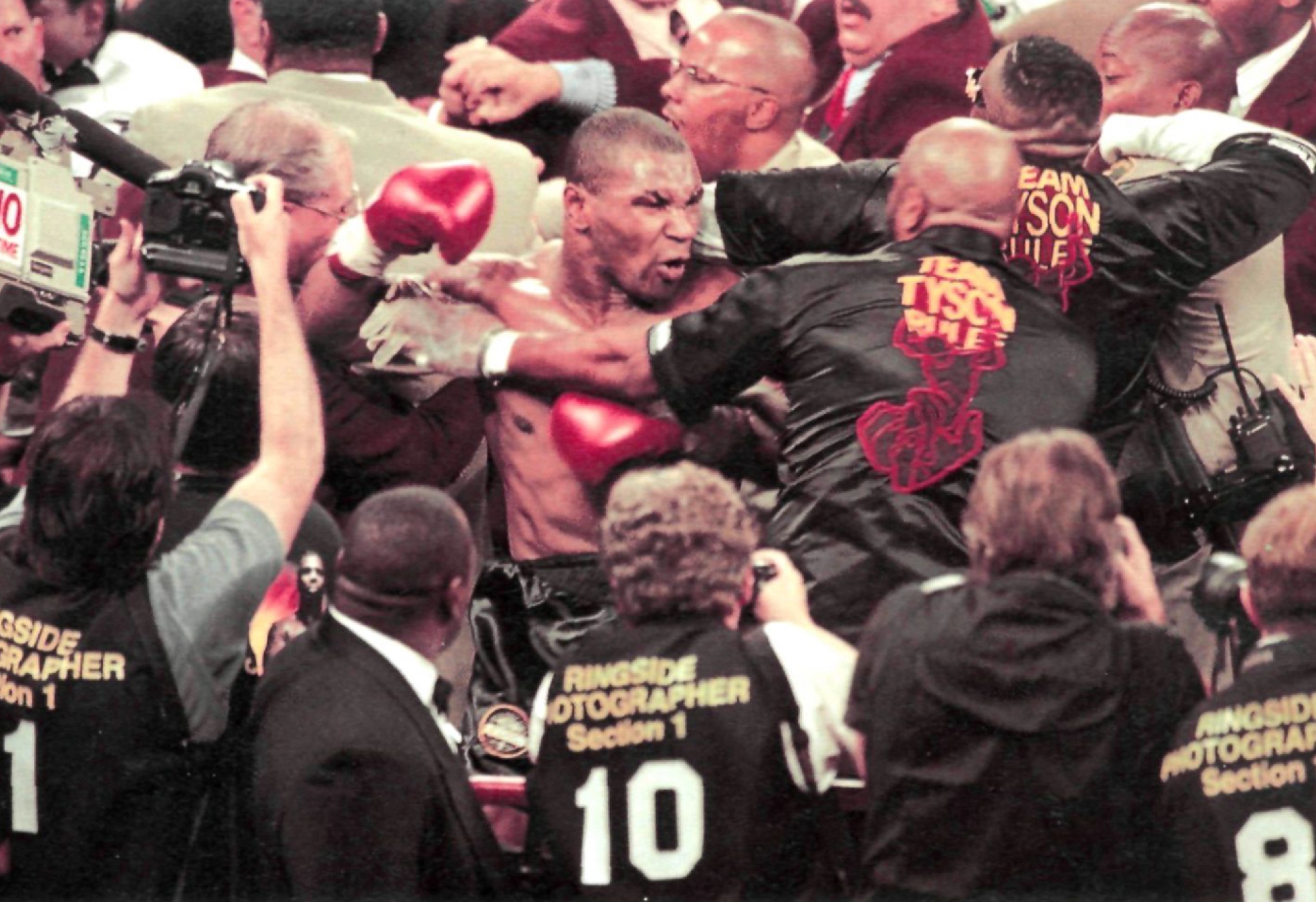 Finally, after the third round bell rang, Lane had a chance to evaluate the situation and ended the fight. Tyson, furious with the decision and seemingly out of his mind, charged after Holyfield. Staff and police officers filled the ring, and Tyson started swinging at anyone in his way.
To this day, the event still seems like it came out of a movie. What kind of person would sink to the level that Tyson did? Of course, boxing is one of the most barbaric sports – two men, isolated in a ring, swinging at each other's heads without mercy. No teammates. No timeouts. One punch from either of these two giants would knock a normal person out cold. But these two were able to withstand blow after blow.
In Tyson's case, the pressure was mounting. He was expected to win, even though he spent almost three years in prison from 1992 to 1995. He wasn't used to an opponent standing up to his menacing tactics, and it was even worse that he was knocked silly by Holyfield the previous match.
The end result was a $35 million payout for Holyfield, and a 2-0 record versus the man he was never supposed to be able to beat. "It was told to me by the prophets that the fight was going to be short, but that there'd be some distractions," said Holyfield in an interview after surgery to repair his ear.
The prophets turned out to be right, though a little more information may have been helpful, for his ears' sake.
Follow Drew on Instagram
Read Next