Sneaker History of Space Jam, Michael Jordan & Nike
Written by, Mark Wilkins –
Who would have thought, in 1996 Warner Brothers would release one of the highest grossing basketball movies of all time and would later play a pivotal role in the sneaker community. Space Jam was based around Michael Jordan's retirement. It was a point in time when it felt like there was a "hole" in the game of basketball because of Jordan's absence. Not only was the city of Chicago hurt, but the entire world felt this one. Some people couldn't even watch the sport anymore.
Even though Mike left the game, Nike made sure his sneakers didn't. To fill the void of basketball, Nike continued to release Jordan sneakers. They went on to release Jordan's 9th and 10th signature shoe. They dropped in multiple colorways and they continued to do extremely well in sales for the next year and a half. I guess if we couldn't see him play the game, at least we could go cop the kicks so we could "be like mike".
Jordan returned to the Bulls in March, 1995. In April, Nike released the Air Jordan 11, a sleek silhouette built for only the best of the best. These kicks feature a red translucent outsole to deliver a better grip ratio than a standard rubber outsole. Between the outsole and pylon mid-sole, there's a carbon fiber plate to give the sneaker its strength and stability. Carbon fiber is said to be one of the strongest materials on earth. The upper consists of cordura nylon, which is extremely flexible and durable. This material allows the shoe to take shape of one's foot. The upper is completely wrapped in premium patent leather to give the shoe a "new car shine". The Air Jordan 11 is lighter than any other Air Jordan model ever created. The elite design and materials made this sneaker one of the best performance shoes of all time.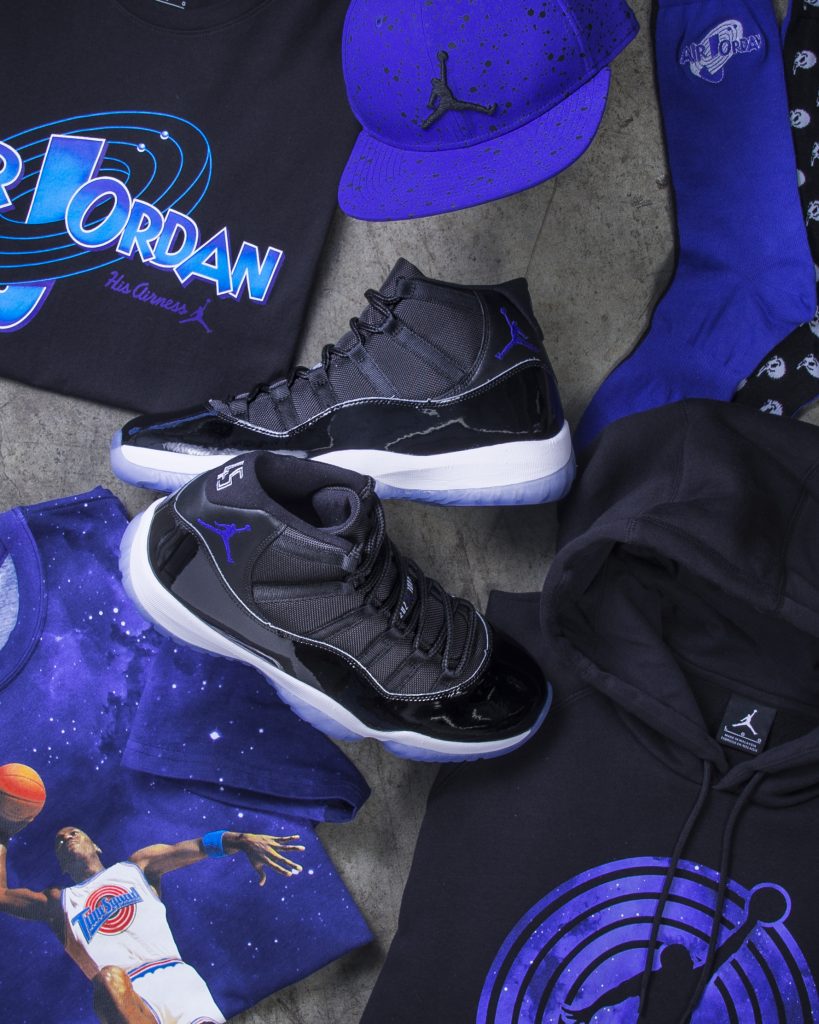 Although Mike played in the Air Jordan 11 "Space Jam" in the film, that shoe never released to the public until Wednesday December 13, 2000. "A Wednesday? Aren't limited retros usually released on Saturdays?" These are all questions we may be asking ourselves. But yes, surprisingly, Mikes were sold on weekdays before Jordan pushed dates to Saturday so kids in school wouldn't cut class for sneakers. This winter, Jordan brand gives us a more recent version of the PE sample model that was created for Jordan to wear in 1995 when he returned to the Bulls. This pair featured a "45″ on the heel, higher cut patent leather with raw edges, and a concord jump-man. This upcoming model is a recreation of the pair Nike actually made for Mike to wear for his return to the 1995 playoffs. This is NOT to be confused with the Jordan sneakers shown in the movie, which featured a varsity royal blue jump-man and the lower patent leather cut we are accustomed to seeing on recent Air Jordan 11 models.
With that being said, will you be looking forward to copping the Air Jordan 11 "Space Jam" on December 10th at finishline.com?
While the Air Jordan 11 'Space Jam' was the highlight sneaker of the film, I took the time to put together a list of other heat that many people may have failed to notice while watching the movie.
1. Air Jordan 9 "cleats": While Mike is up at bat. He rocks these.
2. Nike Air Max Triax Extra: After the baseball game, he wears these at home around the family
3. Air Jordan 10 "Shadow": Look for these in the trophy room when Bugs Bunny goes to Mike's home to grab his hooping gear.
4. Air Jordan 9: The shoes that he never played a NBA game in, but he practiced in and flew through the gym in the movie, *Music playing: Seal- Fly Like an Eagle
5. Biscuits: The shoes The Monstars got gamed in…Maybe if they had official kicks they wouldn't have blown a 48pt lead, the worst upset since Shooter Mcgavin blew a 4 stroke lead to Happy Gilmore, smh, but that's another story.
6. Nike Air Structure Triax: aka the Publicists. Worn by Mikes publicist, Stan while he's on the bench.
7. Air Jordan 2: Bill Murray, comes to save the day against the Monstars in these boys, they look clean too.
8. Nike Air Way Up, Ewing Empire High, Nike Air CB34, Reebok Swing Mid, Converse Areo Mid: All spotted in a quick scene in the gym, where the hoopers are discussing how trash they are, and trying to figure out what happened.
Read Next