You know Conor McGregor as the fierce MMA Fighter who is feared in the UFC octagon, but there is more to him than just fighting. McGregor grew up in a southern suburb of Dublin, Ireland where he played football, but then transitioned into boxing. He became a fighter not because he wanted to make millions or win titles; it was because he had to defend himself in Ireland. He quickly learned that he had a talent in fighting that most people didn't.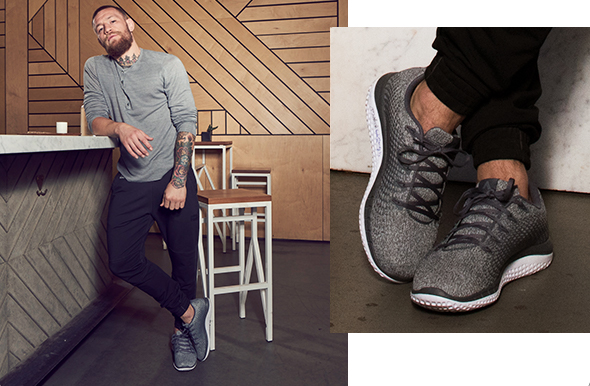 His mentality of being who he is and not worrying about what people's impressions are, keeps Conor natural to himself and his individuality. When he sees something that he wants, he goes out and gets it. That's what makes Conor so successful in his sport. He carries himself on the street the same way he does in the ring, so you always want to be on his good side. Conor is confident that he can handle his business every time he competes so you don't want to come at him sideways. 

The negativity that people use to doubt Conor fuels him to be great. In an industry that is styled by t-shirts and jeans, Conor has brought his own style to the ring and podium. He isn't afraid to stand out. Clean-cut suits that are tapered to perfection combined with his rugged look give Conor a style image that he has mastered. His clean look and calm demeanor is complimented with a smooth pair of Reebok Classics. He masters the right style combinations just like his moves in the ring. Whether it be a press conference for a fight or a day of relaxing, he is always comfortable.