When Tyler Lockett steps on to an NFL field, his style is defined by the way he plays the game. As soon as a punt goes up, he prepares to put on a show once the ball is in his hands. He splashed into the NFL by breaking off a 103-yard kick return against the Broncos in the preseason opener and put everyone on notice that he had arrived. The Lockett name is well respected around the league, since Tyler's dad and uncle both made their names on the gridiron.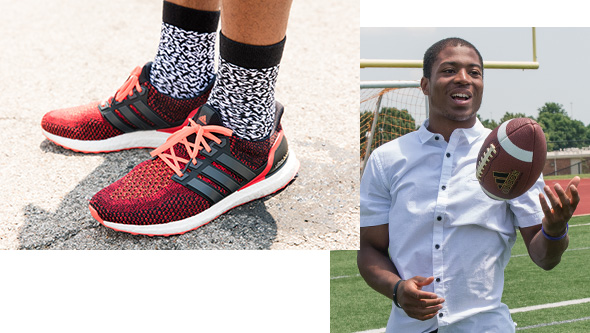 From a young age, Tyler has been trying to carve his own lane and not live in the shadow of his father and uncle. His path was similar to theirs as he played football at Booker T. Washington High School. Determined to make the "wall of fame" in the house, Tyler followed their footsteps and led the team to a State 5A Championship his senior year. With family and the community always being a top priority to Tyler, it was his hometown city that helped him learn some of the most important lessons in life.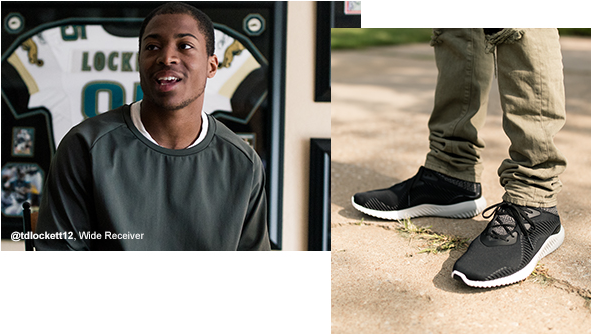 Tyler makes his own style, whether it's on or off the field. His mentality of making the clothes look good and not the clothes making him look good, ensures that he is always comfortable. Stepping off the field and into a pair of adidas AlphaBounce with a laid back 'fit lets everyone know that he can kick it or hit the gym. When he throws on a clean button up and some shorts with a pair of adidas Ultra Boosts, he represents the casual and athletic look that is always a fan favorite. Like he does with football, he sticks to what he's been doing his whole life and applies his "be the best mentality" to everything.