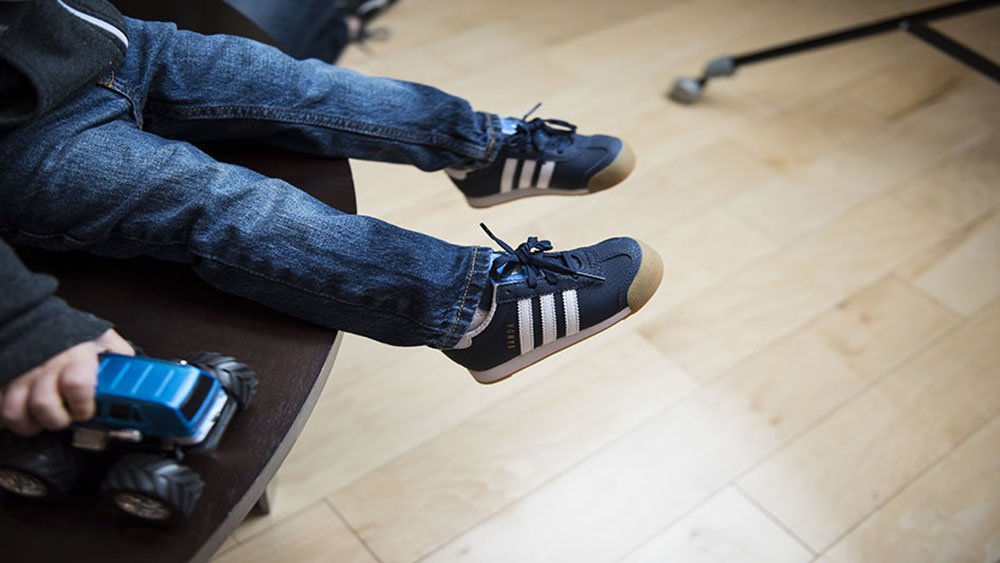 When you have a little one, there's not always time to hit the mall to buy shoes. And let's face it, even if you can get your wild ones into a store to shop, their patience will most likely wear thin after just a few minutes. Don't worry, they may grow into a power shopper someday, but for now, online shopping is probably your best bet.
With the convenience of shopping for your toddler, preschooler or grade schooler at home—hello, perusing cute sneakers on the couch with your favorite show on—comes the challenge of actually knowing what size to get. You know buying the right size for those rapidly growing tootsies is important, so how can you get a great fit so your tot isn't tripping over too big kicks? It's as easy as print, measure and shop!
Okay, maybe there are a few more steps, but we've made it simple for you to get an accurate size for your kiddo's feet. Plus, we've got some insider information to make measuring a smooth and painless process.
Double check that your Guide is the right size by placing a credit card in the credit card outline.
Find a flat surface, like your tiled kitchen floor, to measure your little one's feet. You'll also want to have your child stand with a flat surface against their heel (like a wall or kitchen island).

Tape the Measuring Guide to the floor to keep it from sliding around, then have your kid stand on it – make sure to line their heel up with the dotted heel lines on the guide.
If your child isn't able to stand on their own, enlist the help of someone else to help them stand.
Measure by making a mark where you child's longest toe hits the Guide.

Ditch the socks. You'll get a more accurate reading that way.
Record the measurement in the corresponding box for that foot.
Repeat with the opposite side.

Use distraction methods to keep kids in place long enough to get both measurements. Try turning on their favorite show, singing a song they love, or giving them a snack. A little Doc McStuffins or some crackers can go a long way.
Use the largest measurement of the two to find your kiddo's size on the "Children's Size Chart" – page 2 of the Measuring Guide.

The Measuring Guide gives measurements in centimeters.
Always round up if your child is between sizes.
Now, let your kid loose and start shopping! Don't forget – those piggies grow fast—up to a 1/2 size every 3 months—so measure 'em often.
 Featured image: Boys' Toddler adidas Samoa