The History and Evolution of LeBron James' Basketball Shoes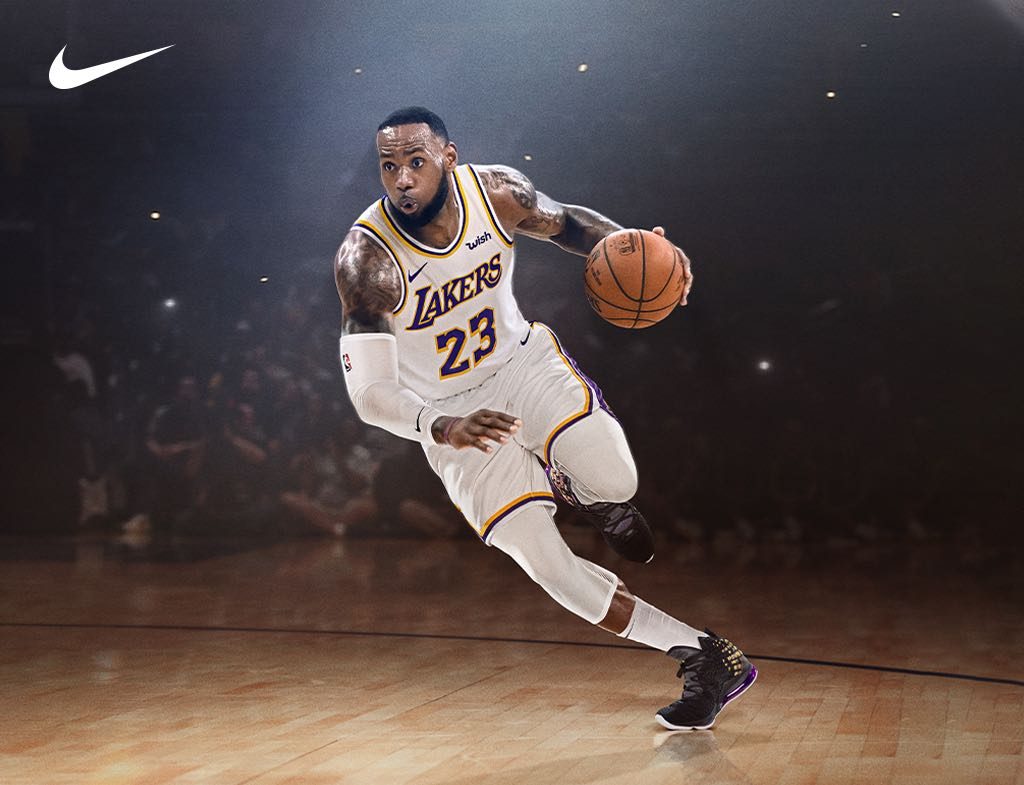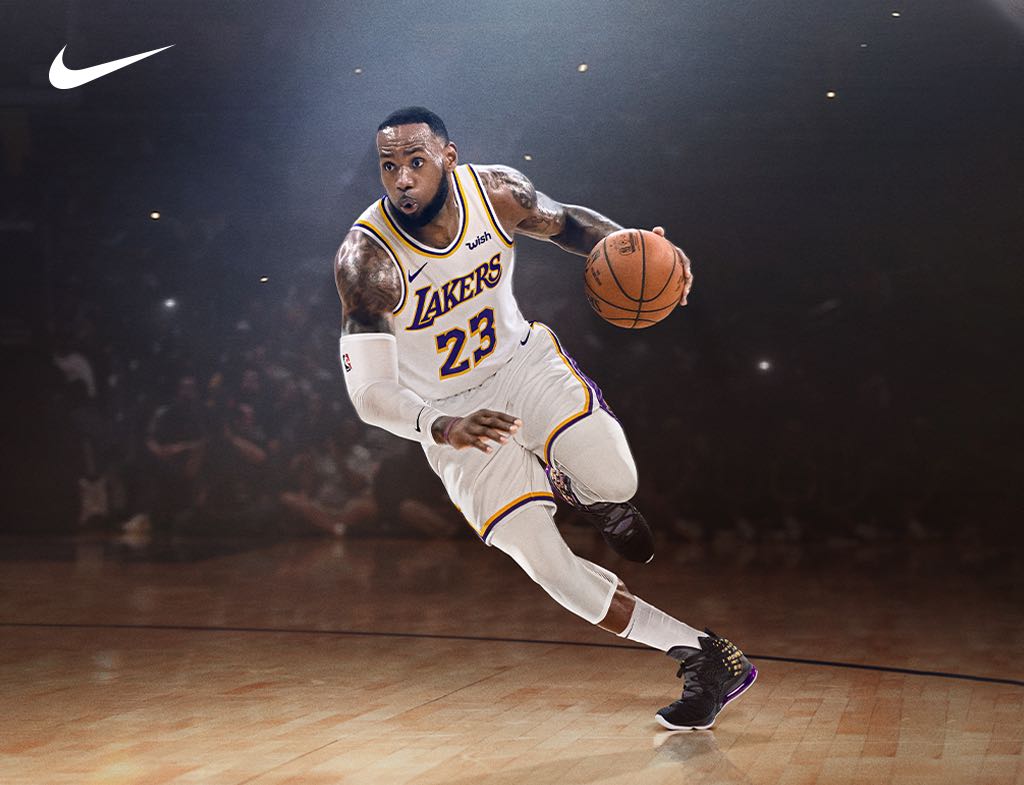 Arguably the greatest basketball player of his generation — and one of the greatest athletes of all time — LeBron James has superseded his sport to become a true global icon. He's not called "King James" for nothing: He's the only NBA player to ever bring a championship to three teams (the Cleveland Cavaliers, Miami Heat, and, most recently, the Los Angeles Lakers). He's played in 10 NBA finals, garnered four MVP awards, holds the record for all-time playoff points scored and even has two Olympic gold medals to his name.
At 6 feet 9 inches tall, his otherworldly performance comes from a combination of pure talent, training, and, of course, the right basketball shoes. Part of his legacy is most certainly his Nike basketball shoe collection. Over many different collections, James has partnered up countless times to create some of the greatest performance basketball shoes ever made — and brands had their eyes on him from the get-go. If you can believe it, there was a three-way fight over his endorsement between Nike, adidas and Reebok as he was leaving high school, with Nike eventually landing the deal for a whopping $90 million — the highest-paid contract for a rookie ever. (Remember: This happened before he had ever even played a single NBA game!)
That partnership has paid off for both parties and then some, with LeBron shoes being some of the most recognized and sought after basketball shoes in the world. Read on to learn about the history of the Nike LeBron collection with a full timeline of all of LeBron James Shoes in order.
Nike Air Zoom Generation LeBron 1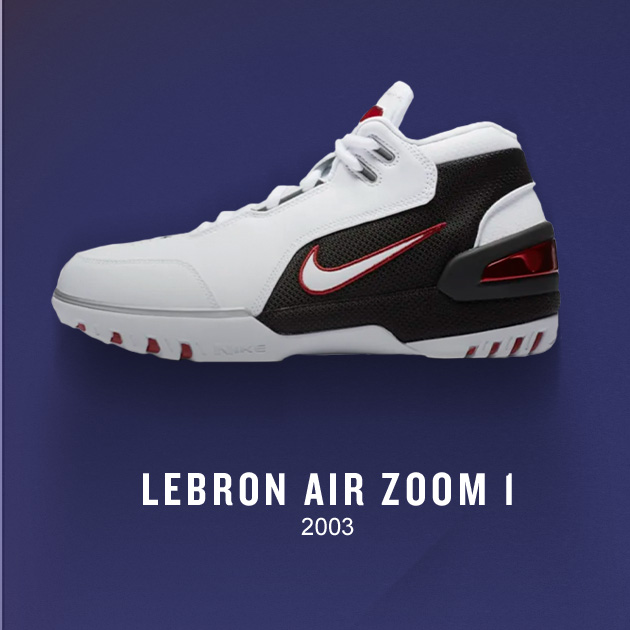 In 2003, Nike and LeBron debuted the Nike Air Zoom Generation basketball shoe – LeBron James' first shoe. Boasting two of Nike's best cushioning technology at the time, the shoe is comfortable and a classic among sneaker collectors. There's Nike Air Zoom technology in the front of the shoe and Nike Air in the heel. It was produced in seven colors and kick-started The Chosen One's signature collection.
Nike Zoom LeBron 2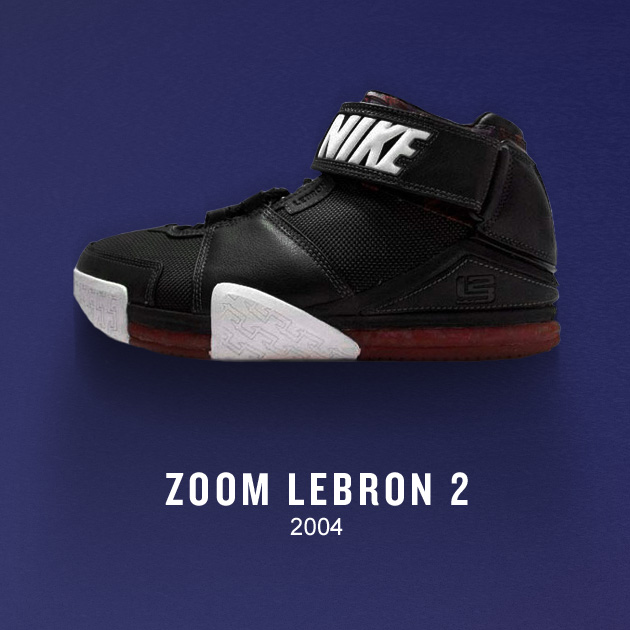 Nike clearly knew it had a hit collaboration and went all-in with LeBron on the Zoom LeBron series. The LeBron 2 iteration has a thick ankle strap for reinforcement, plus a shell to protect the cushioning for quick lateral movements. 
Nike Zoom LeBron 3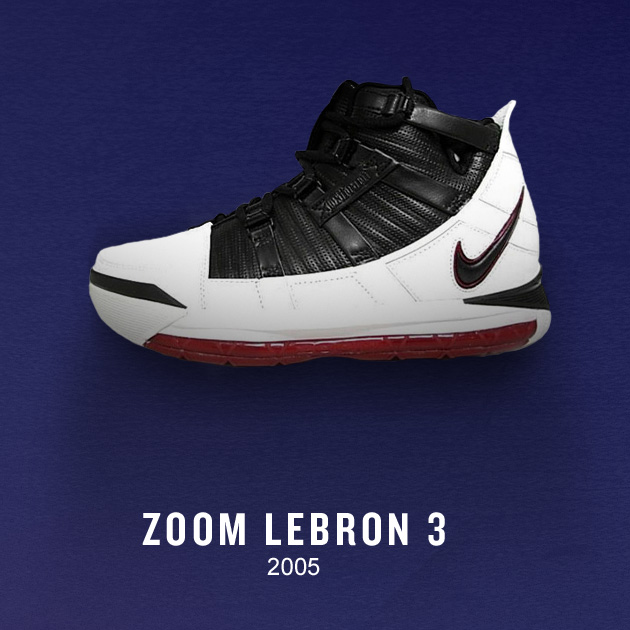 LeBron 3 has more of a street-style appeal, with less weight on the midsole. It comes in 10 colors, including a red, white and blue style named "Team U.S.A."
Nike Zoom LeBron 4
The LeBron 4 shoe has a carbon shank with Foamposite construction and looks vastly different from earlier shoes thanks to its wavy sole and interesting lines. This is the first shoe in the series with a full-length Air Zoom cushioning throughout. 
Nike Zoom LeBron 5
The upper changed on the LeBron 5 to include a stylish strap, but the full-length Air Zoom technology stayed put. 
Nike Zoom LeBron 6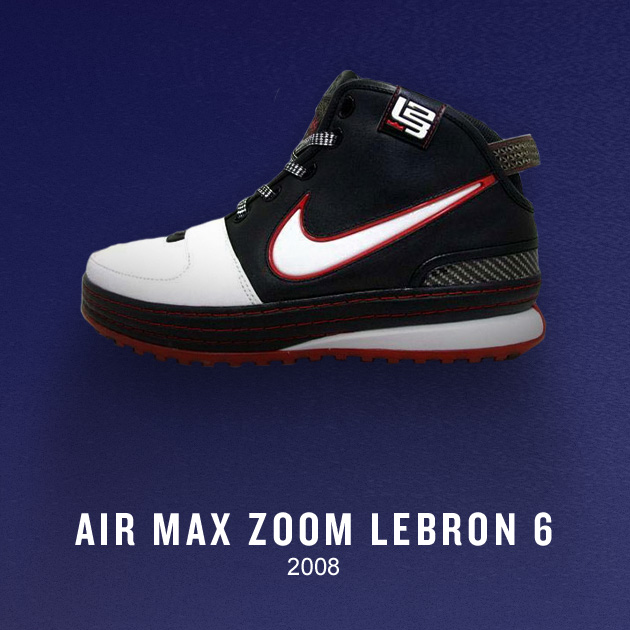 Taking inspiration from the Nike Air Force 1 High, LeBron 6 has cleaner lines and a double Air Zoom unit in the heel to help with stability and energy return. 
Nike Zoom LeBron 7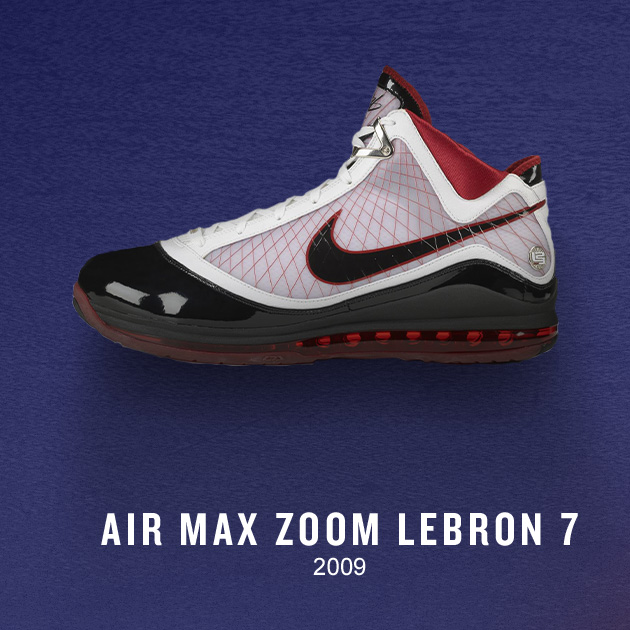 Technology in the LeBron 7 included the first incorporation of a full-length, visible Max Air unit specifically for basketball. Fun color names include Christmas, Yankees and Think Pink, in honor of breast cancer awareness. 
Nike Zoom LeBron 8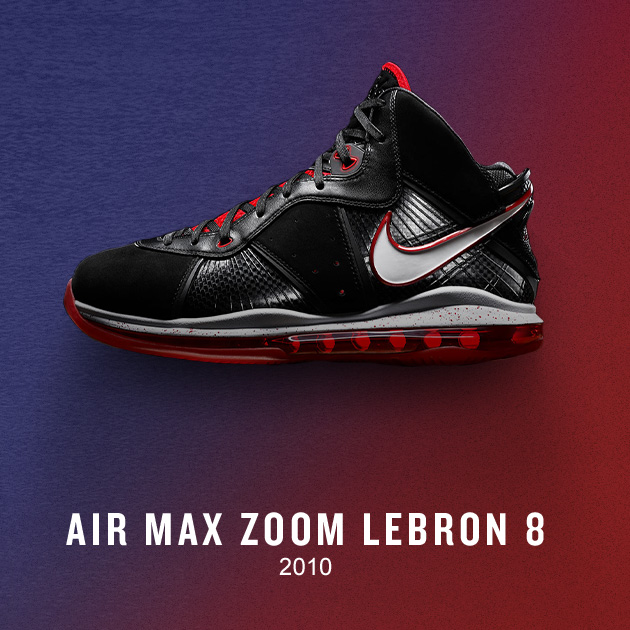 Featuring a dual-density molded internal collar, a TPU-injected frame, a 360-degree Max Air unit and Flyknit technology, LeBron 8 debuted during his first season with the Miami Heat. It comes in tons of Miami-related colorways. 
Nike Zoom LeBron 9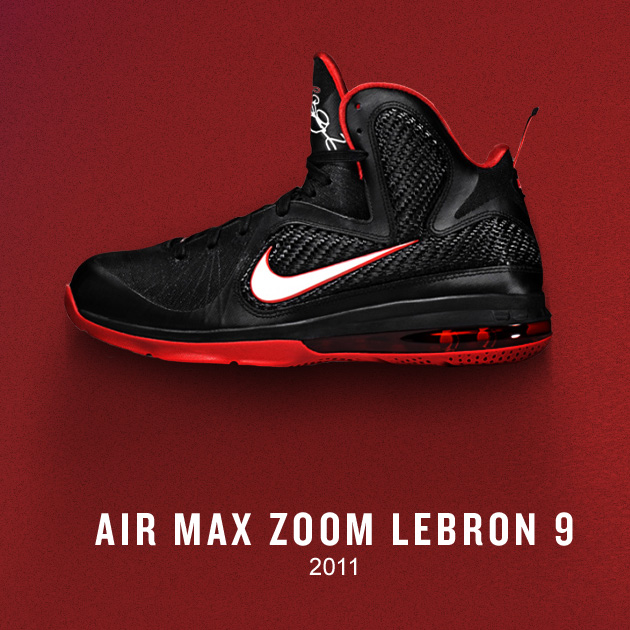 The LeBron 9 is known as the first Nike sneaker to feature both Hyperfuse and Flyknit technologies — along with its primary visible Max Air and Zoom Air tech. It's also the model we saw King James lead the Miami Heat to the NBA Finals & win his first NBA Championship. 
Nike Zoom LeBron X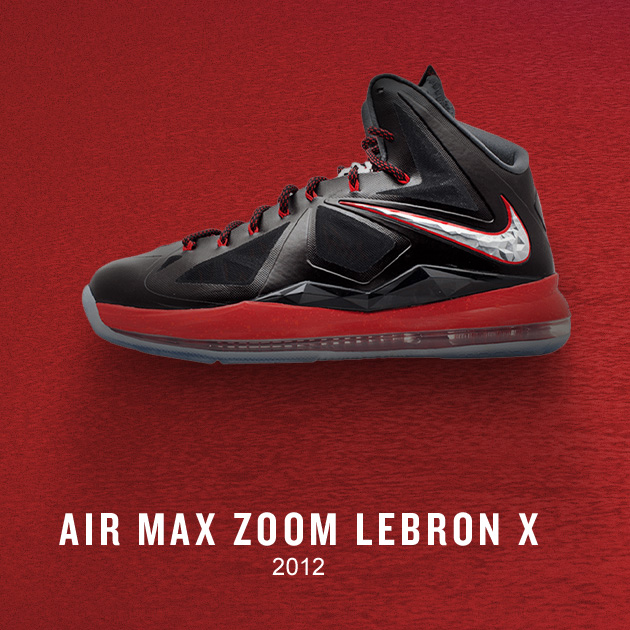 A true milestone for LeBron & Nike. Coming off his first NBA Championship, the tenth model in his signature shoe collection is a diamond inspired silhouette that celebrates the 10th anniversary of LeBron and Nike's partnership. The LeBron 10 features the first visible, full-length Nike Zoom unit along with Hyperfuse & Flywire tech designed for dynamic & explosive players. Plus, the LEBRON X+ shoe debuted Nike+ Basketball technology in select colorways. 
Nike Zoom LeBron 11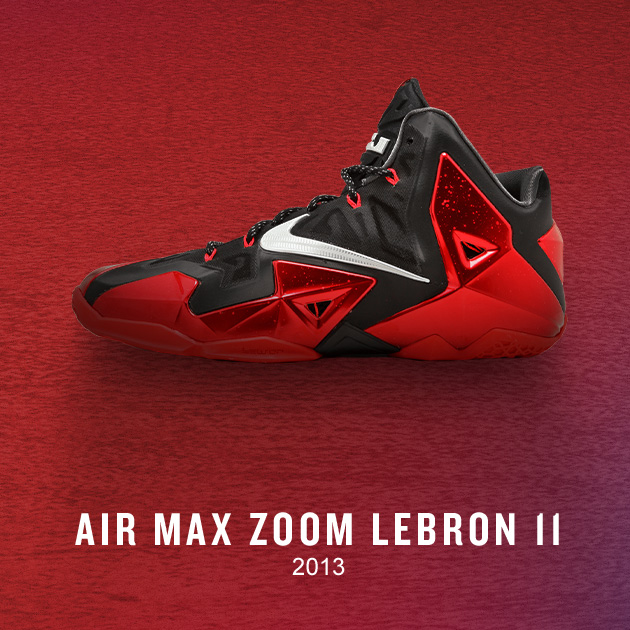 A design-forward shoe, LeBron 11 used Lunarlon cushioning, carbon fiber and flywire to create an aesthetically pleasing and technology-forward shoe. 
Nike Zoom LeBron 12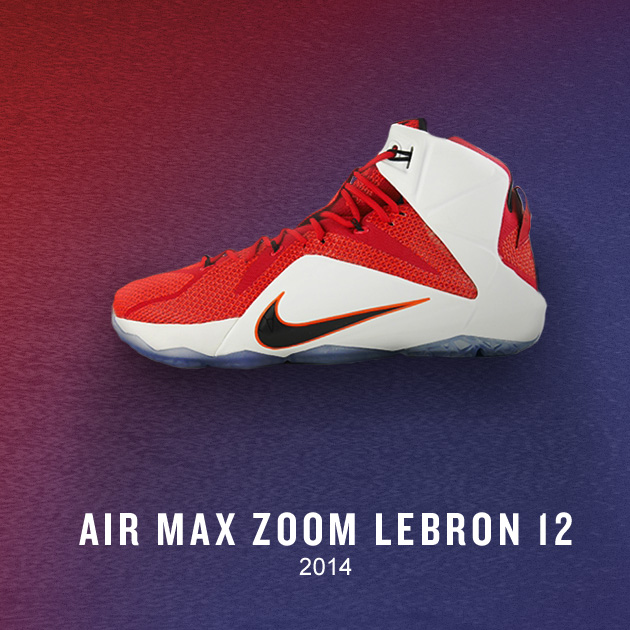 LeBron 12 saw the addition of hexagonally shaped Nike Zoom Air bags that correspond to the pressure points of the foot for maximum flexibility. When combined with a snug Flyknit upper called Megafuse, the shoe provided stability and greater energy return. 
Nike Zoom LeBron 13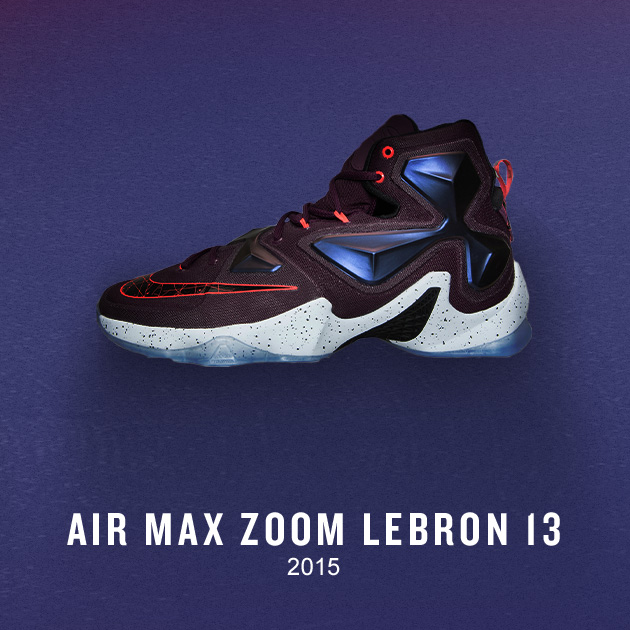 Continuing with the hexagon pods, LeBron 13 was slightly lighter with reduced materials. The addition of cushioning units on the outsole helped with performance. 
Nike Zoom LeBron 14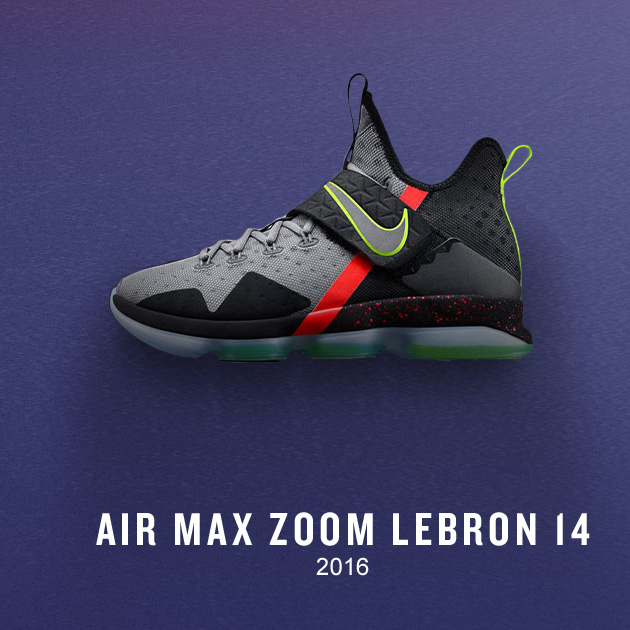 Three pods plus a heel unit streamlined the cushioning even further on the LeBron 14, with a forefoot strap to keep the foot on lockdown.  
Nike Zoom LeBron 15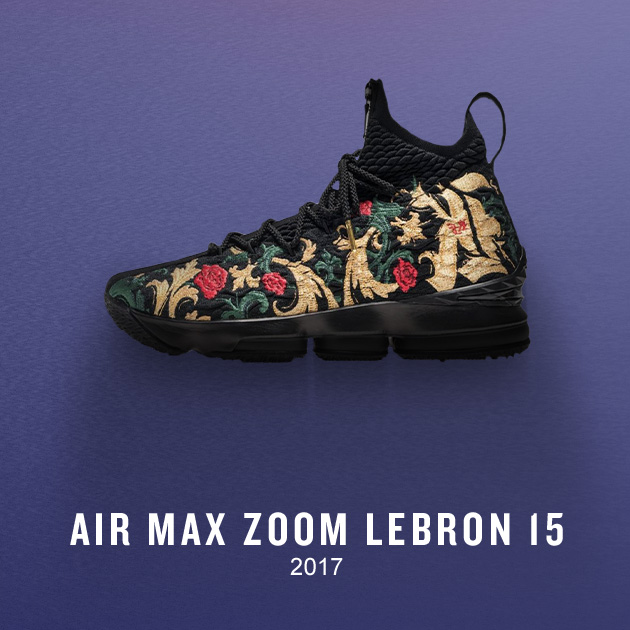 LeBron 15 saw the first introduction of Battleknit, an evolution of the Flyknit technology that acts almost as a snug sock to keep the foot protected. An improved, composite sole unit had Zoom articulations to help keep King James low to the ground. 
Nike Zoom LeBron 16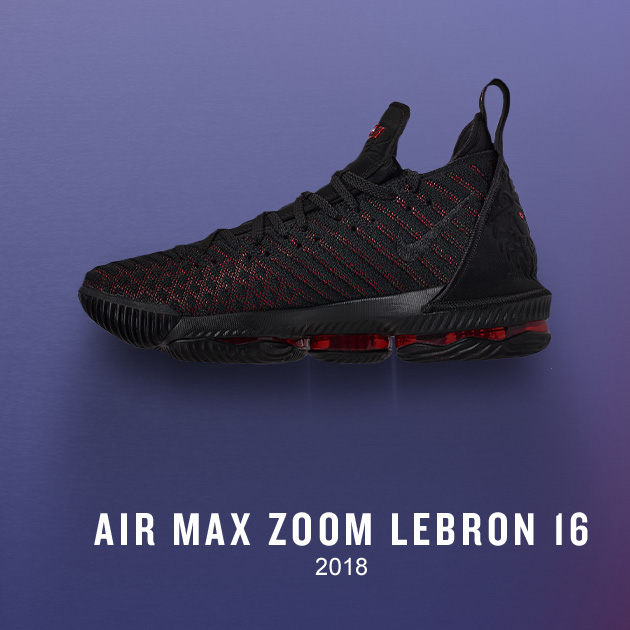 Battleknit 2.0, Flywire cables and LeBron 15's Air unit technology made for easier, freer movements. 
Nike Zoom LeBron 17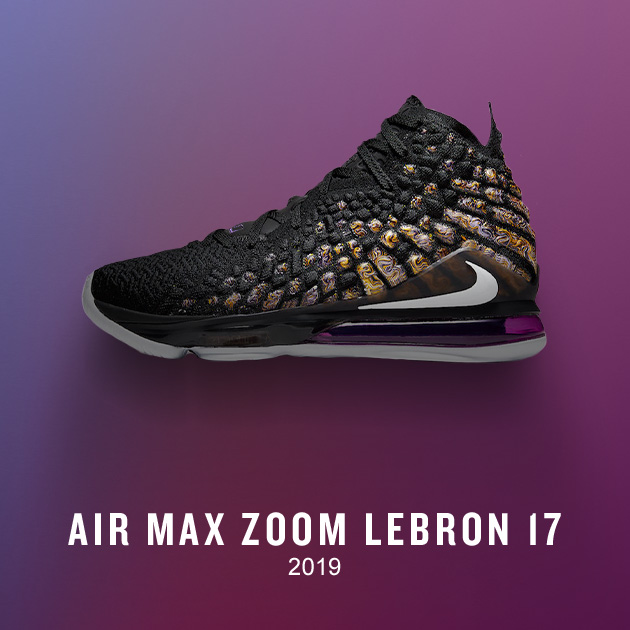 Air Zoom pods at the front of the sole help propel the player forward. The highest volume heel Max Air unit available and React foam at the forefoot helps with speed and support. Knitposite, the evolution of Battleknit, locks the foot down. 
Nike Zoom LeBron 18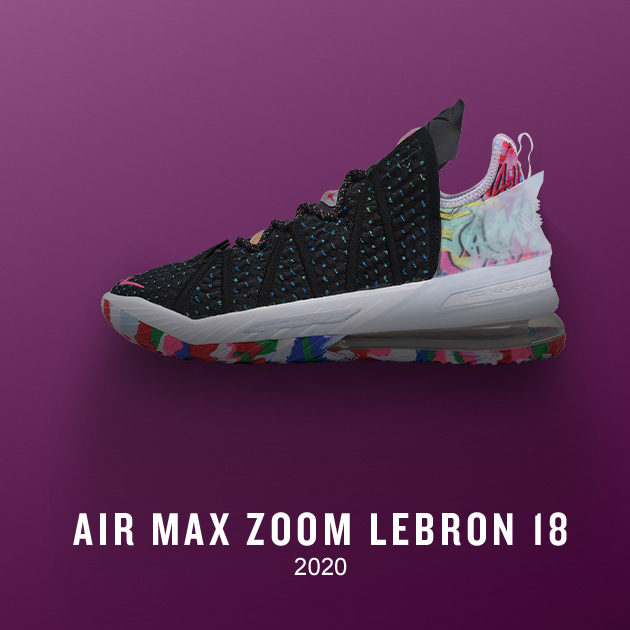 Cushioning for power and speed was the name of the game when designing the LeBron 18, with new Max Air and Zoom Air bags integrated into one another. The shoe is actually divided into "halves" to help with speed in the forefoot and power in the heel. Nike's LeBron 18s are available in a variety of colorways, including two "Los Angeles" inspired colorways celebrating the city of Los Angeles and the Lakers' 2020 NBA Championship win, which saw James named MVP.
Nike LeBron 19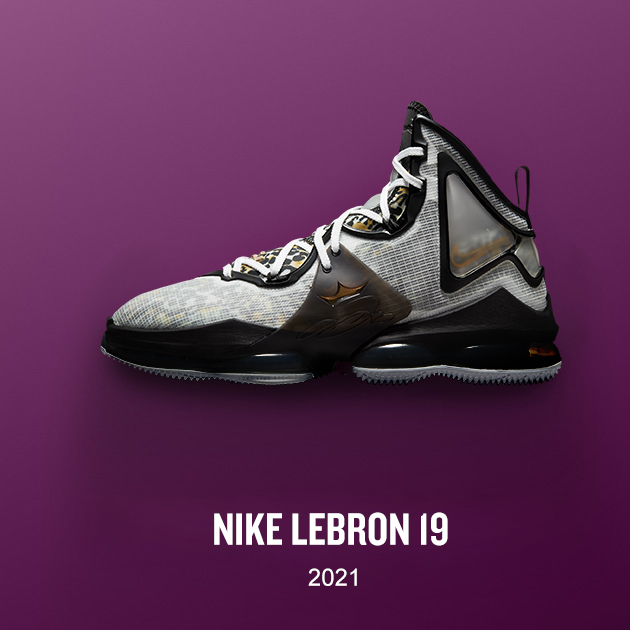 Power up to own the game in the latest LeBron James basketball shoes. The LeBron 19's are meticulously designed to maximize speed and power so you can perform your best when the stakes are highest and pressure is on. 360 degrees of visible Max Air and a thick, responsive Zoom Air unit under the forefoot serve as a dynamic duo to dissipate impact forces while harnessing your power with each drive down the court.
Nike LeBron Witness 6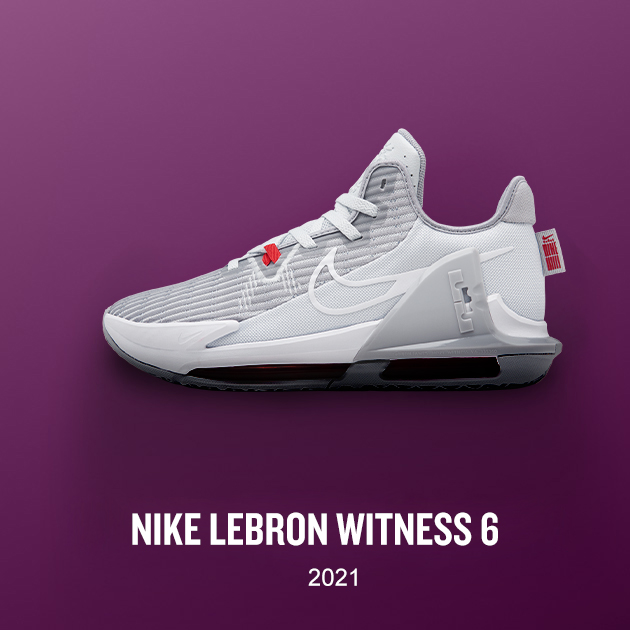 Experience the sensation of lockdown support with lightweight, superior cushioning with the Nike LeBron Witness 6 Basketball Shoes. Ditching the Zoom Air tech of the previous iterations for visible, full-length Max Air cushioning—LeBron's favorite—provides a bouncy, responsive feel perfect for running the floor and chasing down fast breaks on the defensive end. Lightweight and breathable mesh on the upper teams up with internal webbing and external molding to deliver a snug, locked-down fit.
Shop Lebron Witness 6 basketball shoes at Finishline.com
Nike LeBron Witness 7
The lightest iteration of the LeBron line yet, the LeBron Witness 7 Basketball Shoes were designed to reign in the power needed to dominate on the court without all of the extra bulk to slow you down. A lightweight mesh upper with supportive containment cables provide a breathable and supportive fit while full-length Max Air cushioning helps you launch off the ground and land with total confidence. Finally, a split and partially cut out rubber outsole provides maximum traction.
LeBron Soldier 1-14
Focused on what James' shoe designer Jason Petrie has referred to as a focus on lightweight lockdown, the Soldier series was initially created for outdoor play and was originally called the 20.5.5, named after his rookie season averages. But starting with the LeBron Zoom Soldier in 2007, the defining piece of the Soldier series is the straps on the midsole and heel. One style of particular note: the Soldier X (10), which James debuted at the 2012 Olympics (the U.S. took home the gold medal). He wore 30 different colorways of the shoe in 2012, including a pair to pick up his MVP award that year. James also wore them when the Cavaliers won their first NBA Championship in 2016. With over 14 iterations, the latest of which debuted in 2020, the LeBron Soldier has evolved in many ways, including going strapless and adding innovative closures like a toggle and lace system. Stripped back, the newest version, the Soldier 14, offers the lightest shoe possible for peak performance. 
LeBron James Sneaker Collabs
LBJ has also used his sneakers as a catalyst for change. LeBron and Nike released the LeBron 15 EQUALITY to use the power of sport to encourage everyone to speak up and stand for something. A tight 400 pairs were available through a lottery, and the shoes are now in the Smithsonian museum.
He also partnered with Harlem's Fashion Row to create the first all-female designed LeBron sneaker and to highlight the importance of African American women's contributions to fashion. There's even a pink pair of Ambassadors that were made to bring awareness to breast cancer and a style in honor of his high school alma mater. 
Special editions include Witness and LEBRON x MVP. Some colorways are highly sought after, such as LeBron 4 Fruity Pebbles (white, with a colorful confetti sole that looks like the cereal); LeBron 8 James Dean denim; LeBron 20.5.5 Four Horsemen featuring gold accents; and several shoes exclusive to China under the Ambassador line, where he is also immensely popular. 
The Chosen One
The history between Nike and LeBron James goes deep (Nike even named a new building on its headquarters campus after him!), and with so many iterations and colorways available, there really is a shoe for every fan. He's Nike's very first lifetime athlete, meaning you can probably expect many more collaborations, some that might outlast his record-breaking NBA career. That initial $90 million endorsement deal? James re-signed and brokered his lifetime deal with Nike in 2015, guaranteeing at least $1 billion to one of the greatest athletes ever. 
Keep it posted to see what King James & The Swoosh have in mind for the next LeBron James shoe release.
Read Next