Touchdowns for taste buds: Big Game dips and super sneakers
The day is January 1, 2021. The resolutions are: "Drink less. Eat better. Exercise more."
The day is February 7, 2021. The resolution is: "Let's start again on Monday…or maybe Tuesday."
Super Bowl Sunday doesn't care about your diet and it definitely doesn't care about "Dry January." Super Bowl Sunday cares about your cheat days, food, and prop bets.
So what we're going to do is spice up our dip game. We're already suffering a pandemic; we don't need to suffer from mediocre and overplayed party dips.
Do you know what else we don't need to suffer? Hiding our kicks in the closet. We've stayed inside so much the last year, only dressing from the waist up for our Zoom meetings. Let's make Sunday our day. Let's heat up our slow cookers, wipe off our soles, and scream at the TV from our couch.
Banana Pudding Dip // Nike Air Max 90
Shop the look
Free Shipping
0 Color
Nike Air Max 90 Second Season Casual Shoes
If you live anywhere in the South, then every single holiday has a banana pudding. This dessert has spread all over the country from banana pudding tacos to banana pudding cheesecakes and is still evolving.
Air Max 90s are the shoe that started an entire Air Max movement. There have been new versions, colors, and fads still being modified and continuously released including this recycled/sustainable pair from 2020.
DESSERTS HAVE FEELINGS TOO! And so do the shoes in the back of your closet. If you don't have a pair of AM90s, then this is where you need to be. Likewise, if you do have 90s, then you definitely have multiple pairs, and this is still exactly where you need to be. This "second season" release uses at least 20% recycled materials to give us three different color schemes that scream durable and sustainable.
Meanwhile, banana pudding began from those brown/black bananas on the counter that most people throw away. Instead of throwing away your "new-year, new-me" bananas, let's take 20% of our mom's or grandma's banana pudding recipe and make it a dip.
Banana Max 90s
~3 hours (including prep, mixing, and chilling time)
3-4 bananas ripened and mashed**
1 (3.4oz) instant vanilla pudding packet (bonus points if your grocer has the banana or banana cream pudding packet)
½ cup cold milk, plus 1 cup (add last cup gradually for consistency)*
8oz cream cheese – softened
8oz frozen whipped topping — thawed
2 tbsp sugar
½ tsp vanilla extract (if you have banana pudding mix, if you have vanilla this isn't necessary)
1 box vanilla wafers
Mush all your bananas. This really isn't scientific. Use a fork, a potato masher, or your bare hands, it truly doesn't matter.
Using a mixer/large blender/large food processor, add pudding mix and ½ cup milk on low until slightly blended. Add milk ½ cup at a time until pudding/milk mixture is incorporated, but not totally thickened.***
Add the softened cream cheese on medium-low until it's completely incorporated/smooth.
Add your banana mush on medium-low until it is incorporated/smooth.
Add sugar and vanilla extra and beat for about 30 more seconds on low.
Fold in 2/3 of your whipped topping.
Scrape into a refrigerator friendly serving dish.
Smooth out remaining 1/3 whipped topping on dip evenly and refrigerate for at least 2 hours.
Serve with vanilla wafer cookies for dippers. For extra flare feel free to crumble some 'nillas and/or banana slices on top of the dip before serving.
Notes:
*whole, skim, oat, etc. any milk is okay to use as long as you start gradually and watch for thickness. You might only need ½ cup, but depending on your milk it might take more or less.
**if you only have fresh bananas: put the entire thing (peel included) into a 350-degree oven for 10-15 minutes (depends on initial ripeness). They will look scary and black, but they will turn into a delicious scoopable mush.
*** don't go over 1 ½ cups.
---
Mushroom Mascarpone Dip // adidas Ultra 4D 5.0
Shop the look
Free Shipping
4 Colors
Men's adidas Ultra 4D 5.0 Running Shoes
$200.00
Mushroom Mascarpone Dip is actually inspired by a crossover of "too much stuffed mushroom stuffing" and "cheesy beef rotel dip."
These Ultras are the shoes that evolved from "let's make the running style shoe fashionable" to "I want to look like I run" to "I actually need fashionable and functional running shoes."
Once upon a time (about six years ago), the Mushroom Mascarpone Dip was born out of a severe miscalculation of stuffed mushroom filling for a Friendsgiving. Sometimes that crossover between excess, want, and need leads to something great (and also really delicious).
Ultra Stuffed Mushroom Dip
~3 hours (including prep and slow cooker time)
1 tbsp EVOO
1lb Italian sausage (sweet, hot, or milk are all delicious. Whatever your preference is, choose that one)
8oz mushrooms—bellas or buttons, whichever you prefer, just dice them up small
1 tsp salt
1 shallot—diced*
1 tbsp garlic—minced*
2 tbsp of lemon juice or dry white wine
1/3 cup of Italian breadcrumbs
16oz mascarpone*
2 cups cream (heavy cream or half & half)
1 tbsp of Italian seasoning
4oz of parm/pecorino—shredded
Tortilla chips, Bagel Chips, etc.
Put slow cooker on low.
Heat ½ tbsp of EVOO in a medium saucepan over medium high, add 1lb Italian sausage, crumble, and brown.
Use a slotted spoon or fork to move sausage from pan to slow cooker and leave the rendered fat behind to cook the mushrooms in.
Lower the same pan to medium and add ½ tbsp of EVOO.
Once heated add mushrooms, 1 tsp of salt, and sauté for 2-3 min until mushrooms release liquid.
Add shallots (or onion powder), garlic (or powdered garlic), and sauté for about 2-3 more minutes until garlic and/or shallots are translucent.
Add lemon juice or wine, turn heat up to medium high, stir to get all the little flavor bits off the sides, once it boils, reduce to simmer until almost all the liquid has cooked out.
Turn heat off, add breadcrumbs, and stir.
Pour onion/garlic/juice mixture into slow cooker on top of sausage.
To the slow cooker, add: mascarpone, cream, Italian seasoning, parm, give it a rough stir, cover, and cook on low for 2 hours.
Stir to blend creamy, add salt and/or pepper to taste, and keep on warm to serve for the party.
You don't need a runner's high to enjoy this dip, but the longer it's in the slow cooker, the better it is.
Diced Shallots : ½ tbsp onion powder
Minced Garlic : ½ tbsp garlic powder
1oz Mascarpone : 1oz cream cheese
Pictured topped with more parm and parsley
---
Goat Cheese Marinara Dip and Garlic Knots // Crocs Classic Clogs
Shop the look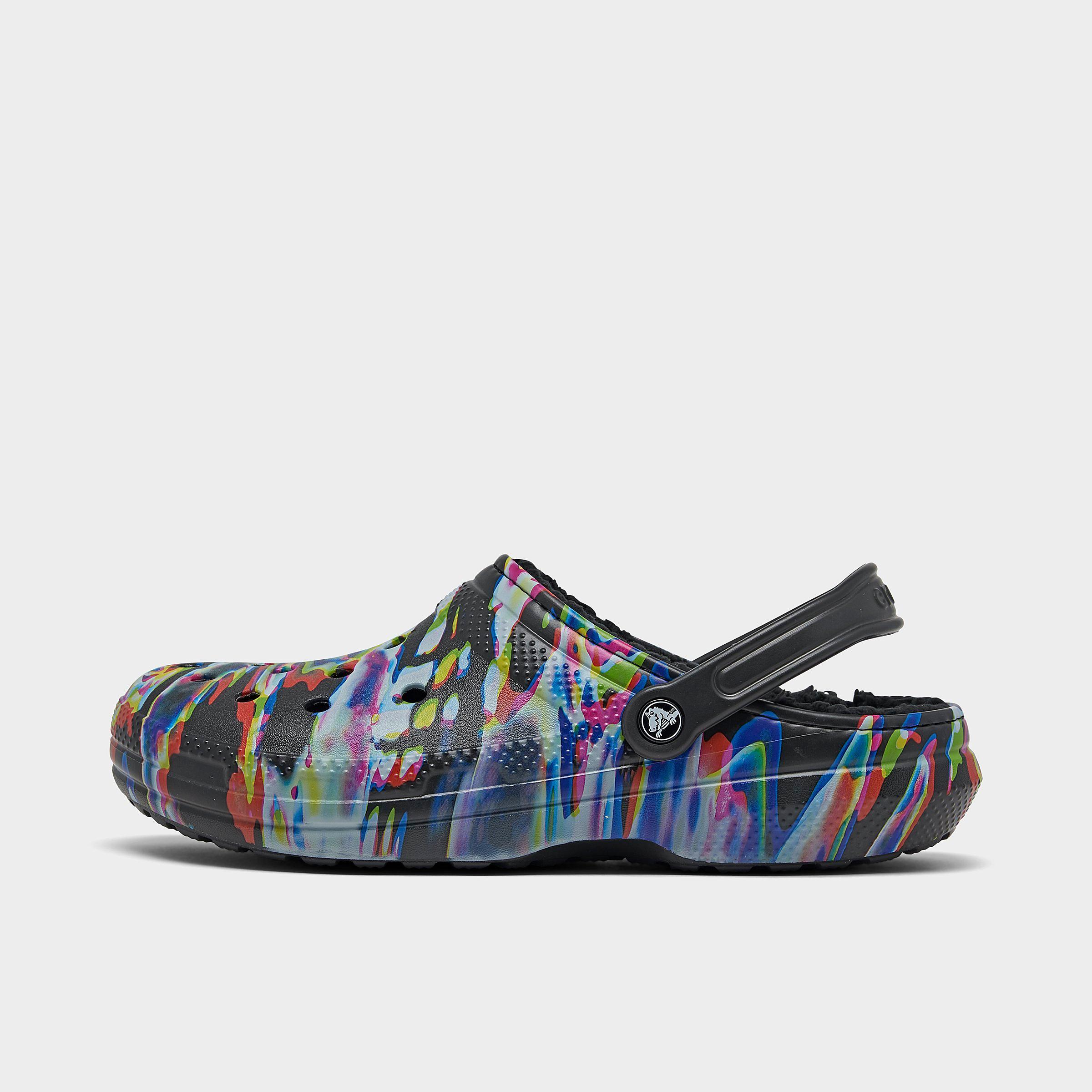 Free Shipping
6 Colors
Crocs Classic Lined Clog Shoes
$65.00
Goat cheese is one of the cheeses that you either have never had, or you love.
Crocs were founded in 2002 and it took them a full 18 years to perfect the artistic, comfortable, AND warm shoes you see above. The only person that doesn't like Crocs in 2021 is one that has never worn a pair.
If you've never had goat cheese, you really need to do yourself the favor. Goat cheese is one of the only cheeses that can crumble AND melt, yet maintain its flavor integrity.
Consider a plain crumbled cheese is an adidas slide: she's comfy, she's colorful, but only when it's warm outside or you're going to get your mail. Now consider a meltable cheese to be an insulated pair of Crocs; she's slide-in, she's waterproof, she's warm, but she's got a bad rep because well…she hasn't always been the prettiest. So why don't we just melt the crumbles and make some fashionable and functional shoes?
Goat Cheese Marinara Dip and Garlic Crocs
~35 minutes (including prep and preheating)
1 jar of Your Favorite Marinara Sauce (make sure it's a jar or homemade instead of something in a can)
10oz goat cheese log
4oz goat cheese crumbles
1 tbsp minced garlic
1 tbsp Italian seasoning
4 tbsp butter/EVOO (any combination of both. Preferably its half & half, but it's going to taste great regardless)
13.8oz refrigerated can of classic pizza crust
Preheat oven to 375.
Pour half a jar of your favorite marinara into the bottom of an oven safe dish and into the oven while it is pre-heating.
Put Italian seasoning, garlic, EVOO and/or butter into a microwave safe dish and into the microwave on high for 30 second intervals until melted.
Unroll the canned crust, cut them into ~1.5" "breadsticks", you'll get about 9 out of it. Fold them in knots (think mini pretzels, but honestly little swirls will have the same effect; it doesn't have to be a perfect spiral—pun intended).
Place knots/swirls into a cast iron or ungreased cake pan and spoon microwaved herbed oil/butter mixture onto the knots.
Pull the half jar of marinara dish out of the oven, layer it with slices of the 10oz cheese log and pour the remaining marinara on top and put it back in the oven for 10 minutes.
Alongside the dip put in the pan of garlic knots.
Keep knots in oven and pull dip out. Top with goat cheese crumbles, and return to the oven for 10 more minutes.
Pull both out of the oven and serve!
---
MaKenzie Ball is a Kentucky native whose family has so much swag that even her dad has a pair of Yeezys.
Read Next