A universe of stuff: A look at some unlikely 'Space Jam' memorabilia
Twenty-four years ago, on November 15, 1996, a cult classic was unleashed on the world.
Starring arguably the most recognizable celebrity in the world, Bugs Bunny, as well as a mildly popular basketball player by the name of Michael Jordan, Space Jam took the world by storm.
At the time, there was nobody bigger than MJ. After a 13-month hiatus playing minor league baseball, Jordan had returned to the hardwood late in the 1994-95 season and the eyes of the world were on him. He couldn't bring the Bulls back to the NBA Finals that year, but we know what happened the next year: Chicago broke the league record for regular-season wins and kicked off another championship three-peat.
A bonafide pop culture phenomenon, Michael Jordan and the Looney Tunes crew of cartoon misfits teaming up for a live action/animated movie was a marketer's dream. Mike was an endorsement machine, and aside from the obvious product placements and mentions of the NBA star's sponsors, a film featuring some of the world's most recognizable stars (whether real or celluloid) was the perfect opportunity for some merchandise tie-ins.
Some of them are obvious: Wheaties boxes and Happy Meal toys both fell under the umbrella of Michael's sponsorship deals. Action figures go without saying, as do the no-brainer Jordan sneaker tie-ins over the years. But there are some much more unconventional Space Jam memorabilia out there. To celebrate the iconic film's anniversary, we took a look at some of the licensed tie-ins you could have found back in '96.
An official website
This might not seem so unconventional in 2020, but back in the mid-90s, "the internet" was something you had to deliberately seek access to rather than carry around in your pocket all day long, and the web was a much less crowded place.
The story goes that a group of coders at Warner Bros. put together the site without official permission from the studio, and remarkably it's still totally operational and browsable today. It's super-90s in its design and navigation, and contains content like player bio, official stills from the film, behind-the-scenes footage and a link to the Warner Bros. store, which had to have been groundbreaking in its own right.
'Hare Jordan' Prop Sneakers
You can't hoop without the right footwear, even if you're an anthropomorphic cartoon rabbit. His Airness and Bugs Bunny had worked together in front of the camera before, for a commercial around the release of the Air Jordan 7 'Hare' in 1993, so Bugs already knew the sneaker plug.
These oversized "Hare Jordans" were displayed in Warner Bros. retail stores around the country during the movie's run, and they're pretty rare now, more than two decades later. If they look familiar, they should: Jordan Brand dropped a pair of Bugs Bunny-inspired AJ6 Retros earlier this year.
Metal Picture Frame
What better to show your love for someone than to…frame a photo of them with Bugs and Lola Bunny? The 90s were wild, man. This is available on eBay, by the way.
A Critically Panned Video Game
Websites might not have been so common for movies back in '96, but video games were a more likely discovery. The problem with such tie-ins is that these titles are often built on the skeletons of other games that had nothing to do with the movie itself. Case in point: the Space Jam game was developed by the same studio responsible for a Looney Tunes-based basketball game called Looney Tunes B-Ball the previous year.
Space Jam was released on PlayStation, Sega Saturn and PC and received roundly poor reviews. To be fair, the movie didn't fair all that much better, but at least it became a cult fan favorite. This is another one you can scoop up on eBay if you were so inclined.
Ceramic Piggy Bank
You know what's cool, kids? SAVING MONEY. Or something. One way to make it more enticing to squirrel away that allowance was to dunk it over the Monstar named Bang. Not sure why Bugs is sandwiched between Bang and MJ in the statuette though; maybe a pick-and-roll gone very wrong?
Oh and it's on eBay for $500, so maybe there won't be any change to put in there after all.
Wind Racer Kite
It's fairly unlikely that us mere mortals will ever be able to be like Mike, but at least with a kite we can soar like him. This comparison is a stretch, I admit.
Interestingly the packaging considers the inclusion of a handle and flying line a "bonus," when really it would just be a printed fabric triangle without them. Marketing!
Trash can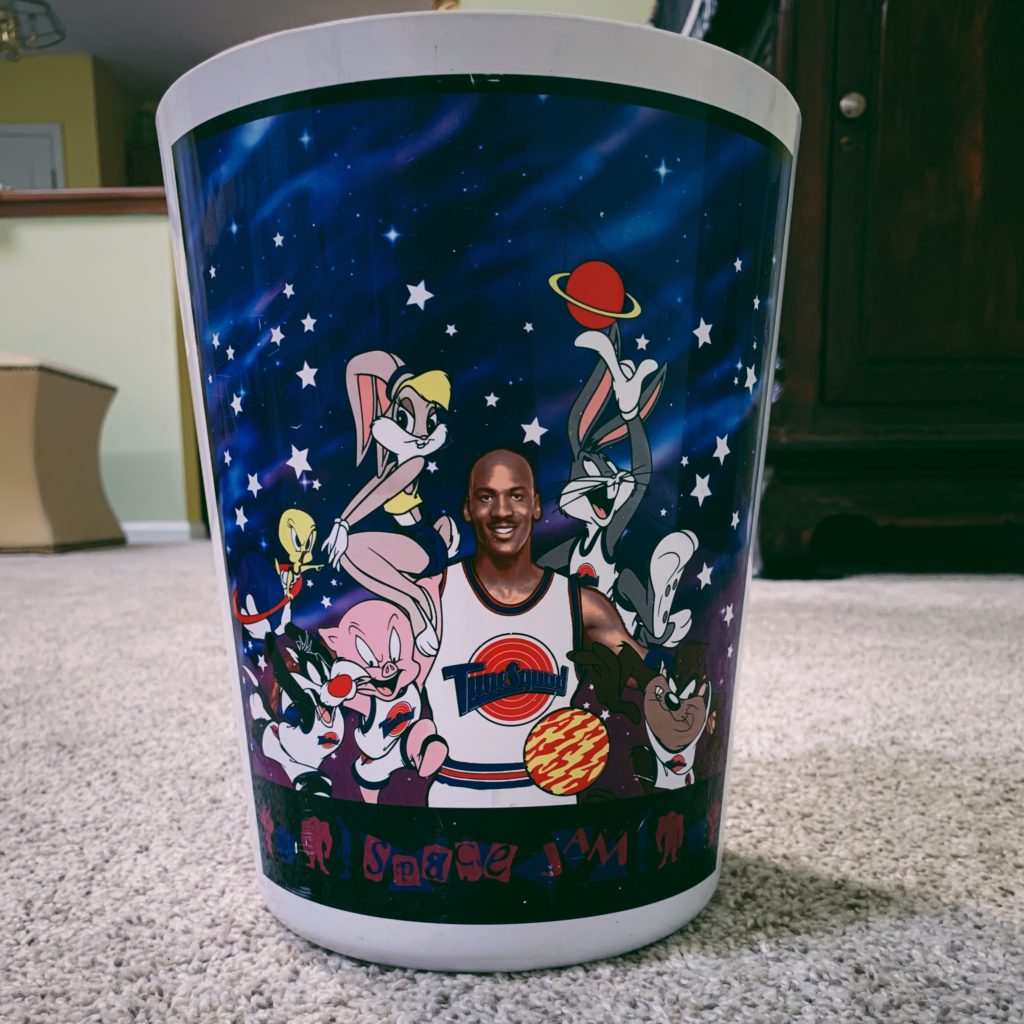 Okay, this one I can definitely get behind. Unlike a lot of the items listed here, this one has lifelong longevity. Whether you're 5 or 35, there's nothing like sinking a balled-up piece of trash into the can from halfway across the apartment, and what better receptacle to drain a long-range bomb into than a Space Jam-themed trash can? Sign me up.
Fleecy Throw Blanket
Alright, last one. Everyone loves to keep it cozy during the winter months, and who wouldn't want to curl up on the couch with (a vague knitted likeness of) Michael Jordan? I'm not convinced that this is officially licensed merchandise, but what do I know? If someone wants to spot me $30, I'll buy it and check it out for myself.
Further reading
Read Next