A Day In The Life: Designer and sneaker photographer @nineteen.85
Mark Surridge (@nineteen.85) is a photographer, clothing designer and sneakerhead based in Norfolk, United Kingdom. He spoke to The Fresh Press about his daily routine during social distancing.
It's such a strange time right now! My first week of staying home, I really let myself slip into bad habits of going to bed late, eating junk and not working out. I felt awful in mind and body! So for the past two weeks I have tried to get myself back into a healthy, productive and creative mindset.
Time to Exercise
I get up each day around 7am and complete a HIIT (high-intensity interval training) workout. Currently I'm doing 7 Days of Sweat by The Body Coach. I really feel that this helps get my body and mind awake and ready for the day.
I usually hoop 3 times a week so I'm really missing that and these workouts are keeping me in basketball shape. Currently hooping in the Nike Basketball Kyrie 5, and will be looking to try the Kyrie 6 once they open the courts again!
Shop the look
Free Shipping
0 Color
Nike Kyrie 6 Basketball Shoes
Free Shipping
0 Color
Men's Jordan City Character T-Shirt
Free Shipping
0 Color
Men's Jordan Jumpman Basketball Shorts
Time to Work
Following this it's time for work. I'm currently developing designs for my next clothing drop, drawing inspiration from the 90s which is my favorite era of basketball. When I'm chilling in the house during the day I'm never happier than when I'm in a T-shirt and hoop shorts.
Sneaker photography is also a big part of what I do, so keeping my pairs clean is essential. Jason Markk is a great cleaner that I've been using for years. One of the most important things when cleaning is choosing the right brush in order not to damage your kicks.
On soft leather and suede you'll need a soft brush like the Jason Markk Premium, and then a tougher brush for the outsole to remove that dirt. There's some great tutorials online which are always worth checking out before you go to work on your favorite pairs.
Shop the look
Free Shipping
3 Colors
Air Jordan Retro 1 Mid Casual Shoes
$125.00
Free Shipping
0 Color
Jason Markk Premium Shoe Cleaner Starter Kit
Time to Refuel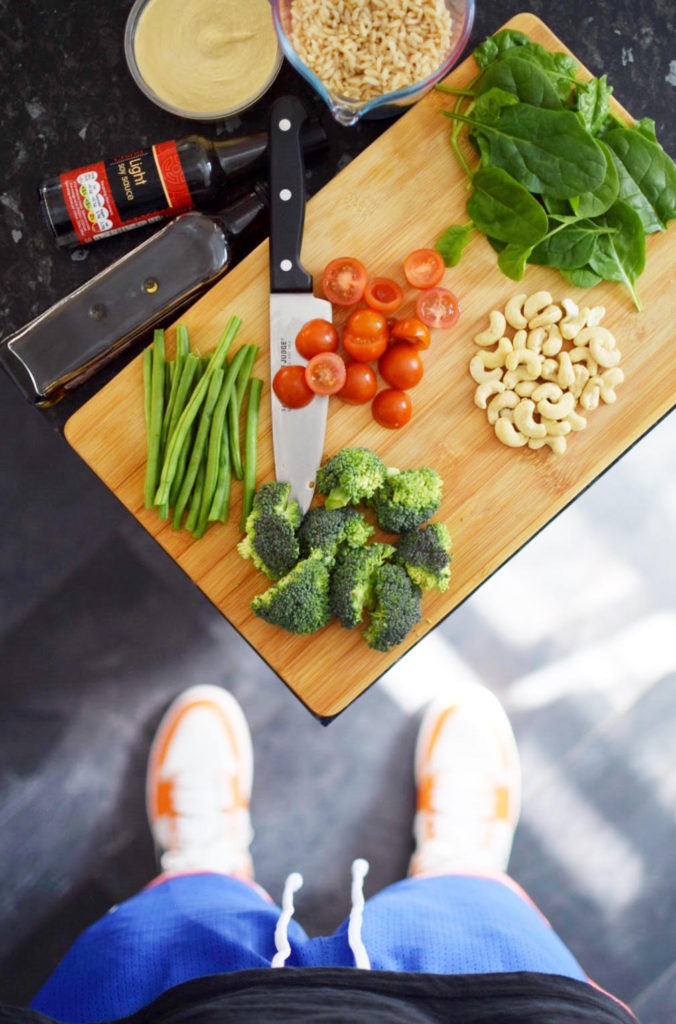 When it comes to food, I'm trying to fill myself with as many tasty vegetables as possible to ensure I'm getting extra nutrients. We are what we eat and I can feel it in my body and my mind if I've had too much junk food!
I've really been enjoying the BOSH! Recipes at the moment like this Green Super Bowl.
I was skeptical on trying vegan meals like this at first but honestly it is amazing! Trust me that the dressing is on a whole other level! It's well worth trying and can be prepped and cooked in around 20 minutes.
Time to Kick Back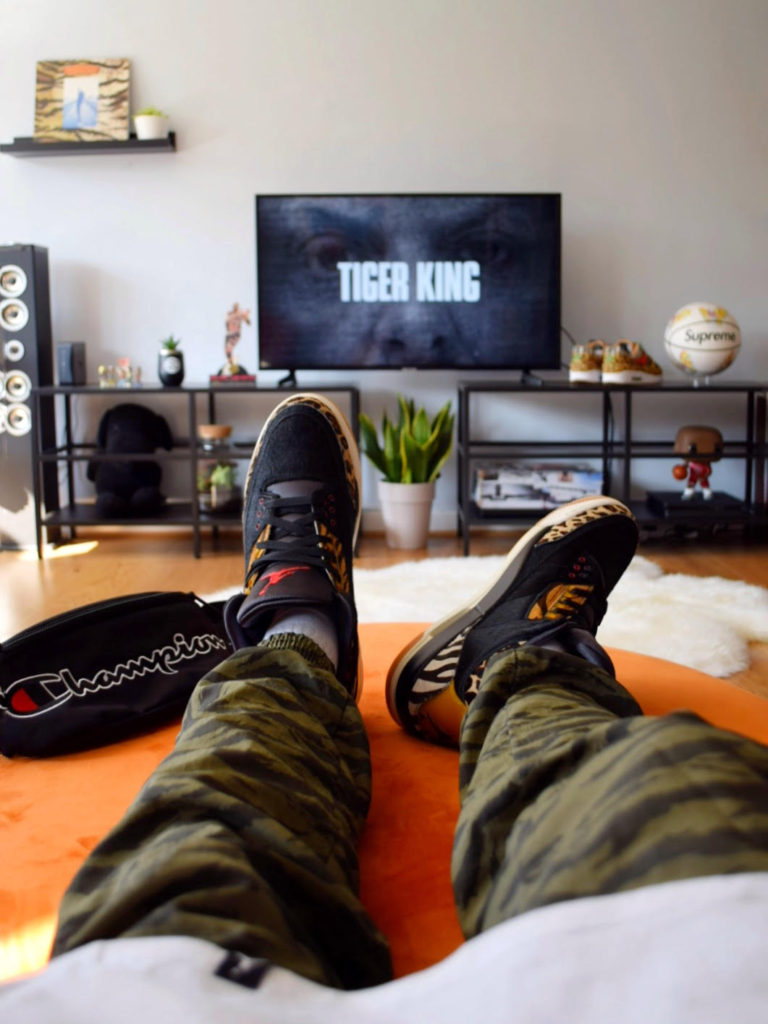 I try and get out for a walk each evening too, to appreciate the local park and get some fresh air. Following that it's Netflix bingeing, and I'm sure I'm not the only one who's been enjoying Tiger King and the question on all our minds, did Carole kill her husband? Also a big fan of Joe's outfits. The new drip king! Shout to Netflix for giving us this program and the memes following it which are just as good!
Shop the look
Free Shipping
0 Color
Champion Old English C Sling Waist Pack
Free Shipping
0 Color
Men's Nike Sportswear Allover Print Tech Fleece Jogger Pants
Free Shipping
0 Color
Men's Jordan Air Swerve Long-Sleeve T-Shirt
If you want any more info on any of the above or you're interested in anything else that I get up to, hit me up on Instagram @nineteen.85.

Stay safe all!
Read Next