The Finish Line and Special Olympics partnership was born in 2012. Since then, Finish Line has been given many opportunities through Special Olympics to support life's biggest possibilities nationwide. As some of our team gets ready to head to Special Olympics World Games in LA late this month, we reflect on the great experience our team had at summer games.
In June, Finish Line brought more than 300 volunteers to Special Olympics Indiana Summer Games. Employees volunteered at various competitions including aquatics, bocce, fitness activities and track and field. For two of our employees, the day was more than volunteering. It was a chance to revisit their pasts and share their inspiring stories.
This slideshow requires JavaScript.
Meet Aaron.
He's been working in Finish Line's distribution center for more than three years as an order processing associate.
A few weeks before the Indiana Summer Games, the Youth Foundation held a volunteer kick-off meeting. After CEO of Special Olympics Indiana Mike Furnish pumped up the crowd, Aaron shared his story with Mike and the Youth Foundation staff.
From kindergarten to high school graduation, Aaron was in special education. He remembers being called names and getting in fights to stand up for himself and others in his class.
"I've been scared of this my whole life. Coming out and talking about my past can help others be confident. I'm going to be honest with myself and if that can help someone else, that's all I need," said Aaron.
During Indiana Summer Games, Aaron volunteered at track and field. "It brought back memories. I know I'm different than others but it reminded me that Special Olympics events are a way for athletes to compete without being judged or looked at differently," said Aaron.
Meet Heather.
Heather is a sales associate at Finish Line in Greenwood, Indiana. She's been with Finish Line since October 2014.
"I really enjoy helping people and I can do that at Finish Line. It's a great feeling when a customer comes in with no idea what they're looking for and I can help them find the perfect shoe," said Heather.
Heather has been involved with Special Olympics for 27 years.
"When I wasn't allowed to play on my school teams due to my disability, Special Olympics was there for me. I've built confidence and better friendships throughout the years," said Heather
Earning three bronze and one gold in track and field, Heather had a very successful weekend at Indiana Summer Games.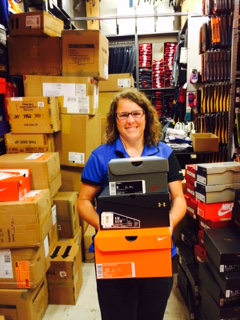 Heather and Aaron continue to inspire our company, community and customers. They hope their stories can help someone else who is struggling with adversity – whether it is special needs or other obstacles in life.