Mother's Day is going to come up faster than you think. It's alway good to get those wheels turning ahead of time so you're not stuck the day of, running to the grocery store to seize the first things you see as a last-minute solution. To help prevent that, we asked the #FNLFam What to Get Mom for Mother's Day? Below, sportswear stylist, sneakerhead, and Finish Line blogger, @atothebed gives you some ideas in what she's getting for mom.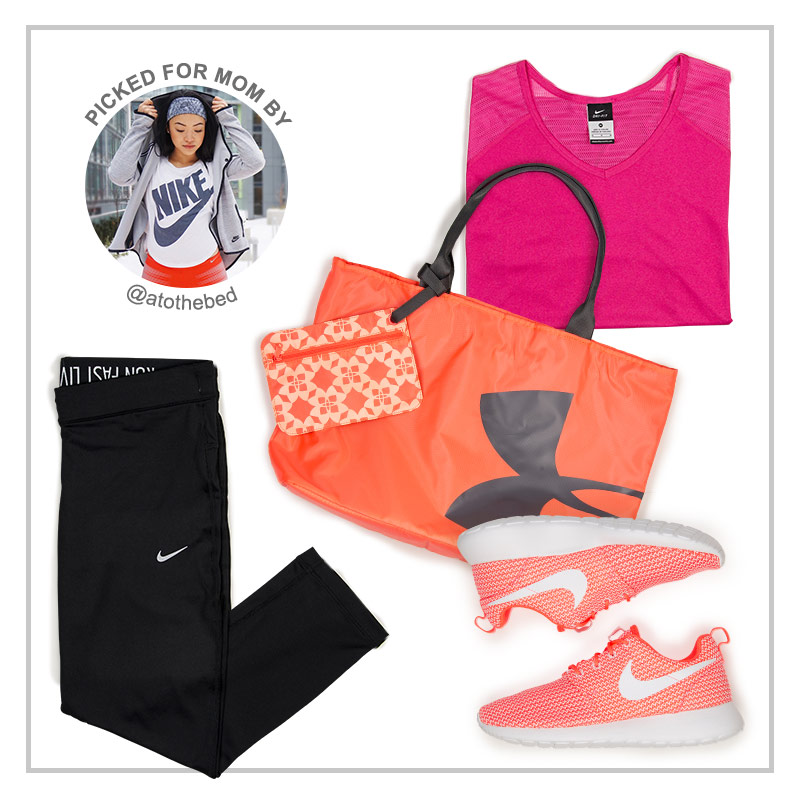 Gifts for Mom:
1. Nike Relay Short-Sleeve Shirt
Bright colors are very on-trend for spring/summer, and my mom is no stranger to strong pops of color and color blocking. I feel like she would appreciate this piece. It has a nice, relaxed fit that she can feel comfortable in whether she's at the gym, at home or out and about.
2. Nike Relay Crop Running Tights
Black tights are a staple in my wardrobe. They are comfortable, low key and versatile. My mom (or anybody, really) can wear these with nearly anything, even under a dress or a long sweater.
3. Nike Roshe Run Casual Shoes
My mom isn't really a fitness fanatic, but she does share my appreciation for footwear. Though she's never had Roshes of her own, these are right up her alley. She doesn't need a high performance shoe; she needs something comfortable and stylish just like her.
4. Under Armour Big Logo Tote Bag
Find these gift ideas and more at FinishLine.com.