Last night at around midnight Eastern Time, Kendrick Lamar announced his new partnership with Reebok Classics through a short film and a new track titled I Am. Reebok and Kendrick Lamar bring their joined vision of celebrating the limitless potential of youth through a short film created to pay homage to kids in Lamar's hometown of Compton, CA. The video, "Reebok Presents Kendrick Lamar," was directed by acclaimed director Anthony Mandler and was shot at locations that hold true meaning in Lamar's life. A nod to his roots, the short film features today's standouts at his alma mater, Centennial High School. The youth featured in this film are showcased to inspire the new generation to find their voice, and not to be afraid to become their best selves. The short is narrated by Kendrick through a powerful verse called "Kendrick Lamar – I AM" — his own personal ode to Compton.
"Reebok has a history of helping kids in the community realize their potential is limitless. I saw what the brand was doing, and I wanted to be a part of it and make it even stronger. It's as simple as that. Kids that listen to my music are looking for inspiration. It's important that I continue that message in anything I represent," said Lamar.
"Reebok has a long history of working with trail-blazing music artists, but we knew a partnership with a lyricist like Kendrick had to mean something bigger for our brand. With Kendrick, Reebok truly finds a new voice, and together we look forward to launching ground-breaking projects over the coming months," said Todd Krinsky, Global Vice President of Reebok Classics and Entertainment.
A Reebok fan since he was a kid, Kendrick grew up wearing what he called "TeeBos and Rees" (white tee, Jabo jeans and Reebok Classics). Today, his Reebok shoes of choice are the Ventilator, and the Classic Nylon. "My style is simple, but with an edge – and it's as classic as that," said Lamar.
"From RUN DMC's adidas to Nelly's 2 purr. To Kanye playing 1 on no one in the Air Yeezy. To Heartbreak Drake in the OVO Jumpman, there is no question Kendrick signing with Reebok adds more credence to the idea that artists have just as much influence over culture as athletes. Reebok's legacy of pairing Hip Hop Heavyweights is legendary with Jay-Z, G-Unit, Jadakiss, Swizz, and Ross. With Kendrick on board, it can only get better. I look forward to seeing what product comes of the union." – @SneadsbyRee
"Honestly, the pairing isn't a relationship is one I'd think of on my own, not even in my wildest imagination. But, in many ways, there's a parallel: Much like Reebok sig star Iverson, Kendrick's that little guy who has come in and shaken up the game with a crazy show of talent, promise and his own unique style. If the brains behind the Vector and TDE can find a way to foster and grow that same magic around Kendrick that existed around A.I., it's a potential win for all involved." – @johngotty of The Smoking Section
"I think it makes sense as Kendrick is one of the young stars of Hip-Hop. It will be interesting to see what him and Reebok cook up together." – Ian Hofler of @kicksdeals
"I think Kendrick's collab with Reebok is a great move. With a lot of the recent collaborations between artists and brands, Kendrick is clearly taking notes and aligning himself for some power moves in 2015 with Reebok by his side. I'm looking forward to seeing what they cook up." – @KimmyKamish
"Reebok really has a big chance to make some noise in 2015. K Dot's next album is the most anticipated in the genre, and if Reebok can get placement in his videos like Beats does, that'll be a huge look. From a fashion standpoint though, I really think Travi$ Scott is the roster member that has the chance to propel Reebok the most. The music Travi$ makes changes the way people want to dress. Days Before Rodeo was arguably the best hip-hop release of 2014 and Rodeo could take 2015. From his sound to his visual, Travi$ has a chance to be a real icon and a real culture shifter. In 2015, he'll make a lot of moments in Reebok. If they have the right product, they'll succeed." – Ian Stonebrook of @nicekicks
"But are we going to get bars in our soles? Kendrick Lamar has an understated style and incredible depth. Reebok is classic on every level, understanding the fun in flair, but mastering the strength of minimalism. The partnership makes sense and I'm very intrigued. " – @janegoldenarms of Kicks on Fire
"When Kendrick wore Red Octobers at last year's NBA All-Star Game, it seemed a true outlier for an accepted voice of the streets who name-drops the Cortez and wears Roshes on the cover of magazines. Kendrick isn't an influencer in the modern-day sense of the word; he wins people over with sheer talent, and the hype he gets is organic and well-deserved. That's why this partnership works: Reebok makes classic kicks with a modern bent, a perfect match for an old soul who nonetheless is bringing hip-hop into the future." – @sportsangle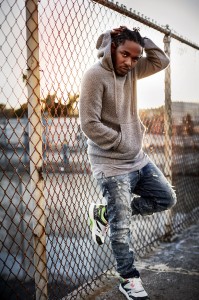 "I thought that Kendrick was going to stay true to the Nike Cortez when he declared his admiration for it on "Control". It would have been really cool for him to have his own "signature" sneaker. With Kanye signing to adidas, it makes sense to grab Kendrick, although he's not too noted for his footwear choices, for Reebok. And it would be great if he got more than a collab on the Classic Leather." – Matt Welty of Complex
"Reebok partnering up with one of the greatest artists of our time is exactly what they needed. However, I haven't heard of Lamar collabing in the fashion industry, much so it's going to be interesting what he has in store. This could lead to a successful line or one amazing collaboration. I don't see a flop." – Oscar Castillo of Modern Notoriety
"This is really exciting to me. I have been a little underwhelmed with a lot of Reebok's hip-hop collaborations. I think Kendrick Lamar's persona is so authentic that he won't put his name on something unless he actually rocks with it. While the shoe I previously associated with him the most is the Nike Cortez, I have confidence that Reebok can lace him up with shoes that match his style. I expect it be very low key and non-flashy, which is a breath of fresh air from rapper related kicks that are often over the top. So many people rock with him that this could and should be huge for the brand." – @MarcoHenry
Check out the Reebok Ventilator and other Reebok Classics available now at FinishLine.com.