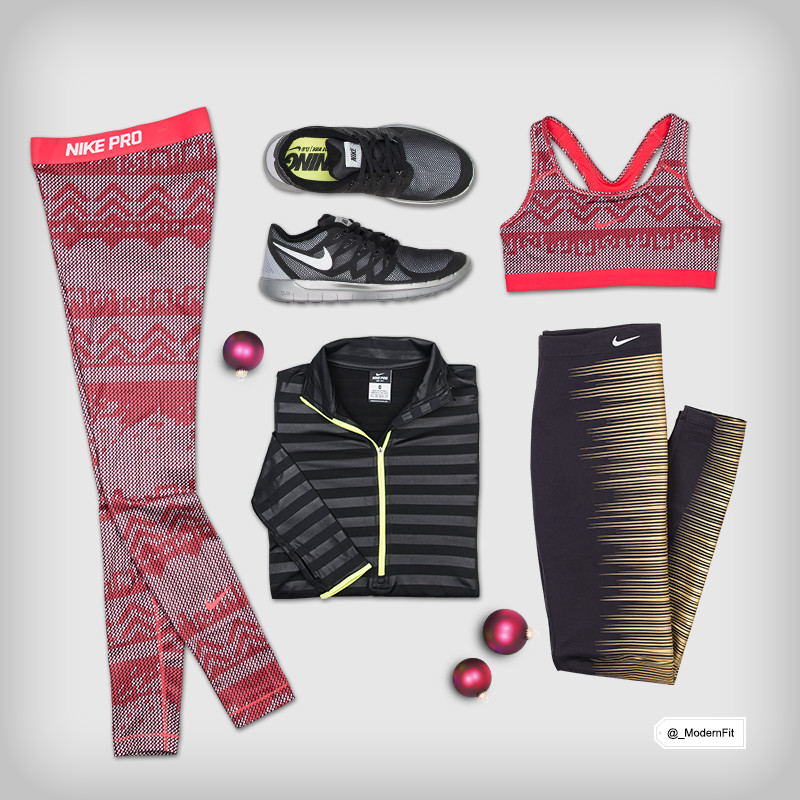 If you are following Finish Line on social, you probably noticed a few familiar faces on the regular. Finish Line has teamed up with numerous taste makers so you can see how people, like you, really feel about our sneakers and apparel—no gimmicks. Each day for the next 12 days, we will be featuring a Wish List from one of these guys or girls so you can be nice and buy them something … Or just steal their ideas and put it on your own Wish List.
Michelle is a style and fitness blogger reppin' Modern Fit and L.A. to the fullest. Whether she is putting in major work at the gym or posing in the latest Nike Tech Fleece and tights for promos, Michelle has a way of making it look easy. Her blog is more than that though, depth of personality and inspiring stories make her easy to relate with and a must read for all our female followers. Keep it locked to her blog and Finish Line to see more of Michelle's work as she continues to flourish.
1. Nike Printed Reflective Leggings
Michelle says: "Fallback is here. Daylight is limited, but reflective tights are just the thing to wear to run in to make you more noticeable, which means you'll be safer!"
2. Nike Pro Hyperwarm Embossed Half-Zip Shirt
Michelle says: "You can never go wrong with wearing black. Adding a hint of a bright color can really add some style to your outfit!"
3. Nike Free 5.0 Flash Running Shoes
Michelle says: "Run in style and make heads turn. A shoe that truly creates its own statement."
4. Nike Pro Classic Nordic Bra 
5. Nike Pro Hyperwarm Nordic Tights
Michelle says: "Want to get in the fitness holiday spirit? Just because it's winter doesn't mean you should put fitness on hold! Forget the ugly Christmas sweaters, show up in style with this outfit!"
Make sure to stay locked to The Finish Line Blog for more Wish Lists. Browse all the Wish List picks here.