On again, off again. Love, hate. I would rather die.
These are all phrases I use frequently when it comes time to start running. I genuinely love running though. It is my favorite fitness activities as I can do it solo. I only have to rely on myself to push myself further and further.
I am great at getting a routine down, but keeping it going for more than three months at a time I am terrible at. Somehow my schedule always gets in the way. 
NOT ANY MORE THOUGH.
I have decided to combine my passionate hobby with my favorite fitness. I am going to use my blogging to keep me motivated to run. I feel this gives me accountability.
First step on this new adventure is grabbing some footwear.
This obviously is a tough decision. My footwear preferences are very, very specific. Every pair I pick is heavily scrutinized and incredibly over-thought. For whatever reason, I feel like everything I wear says something about me. No matter the activity, I want my representation to be iconic.
So when picking a shoe, I am looking for something that has depth to it, something that has history. I am not looking for something that I am going to look back on and regret wearing. That means no gimmicks. So good-bye Shape-Ups.
Another fragment that weighs heavily on my footwear selection is that I spent four and a half years designing Tech Running shoes in the Advanced Product Group at New Balance. So I have learned a thing or two about this market over the years.
It was these thoughts, plus many more, that helped me land on the Nike Zoom Pegasus 31.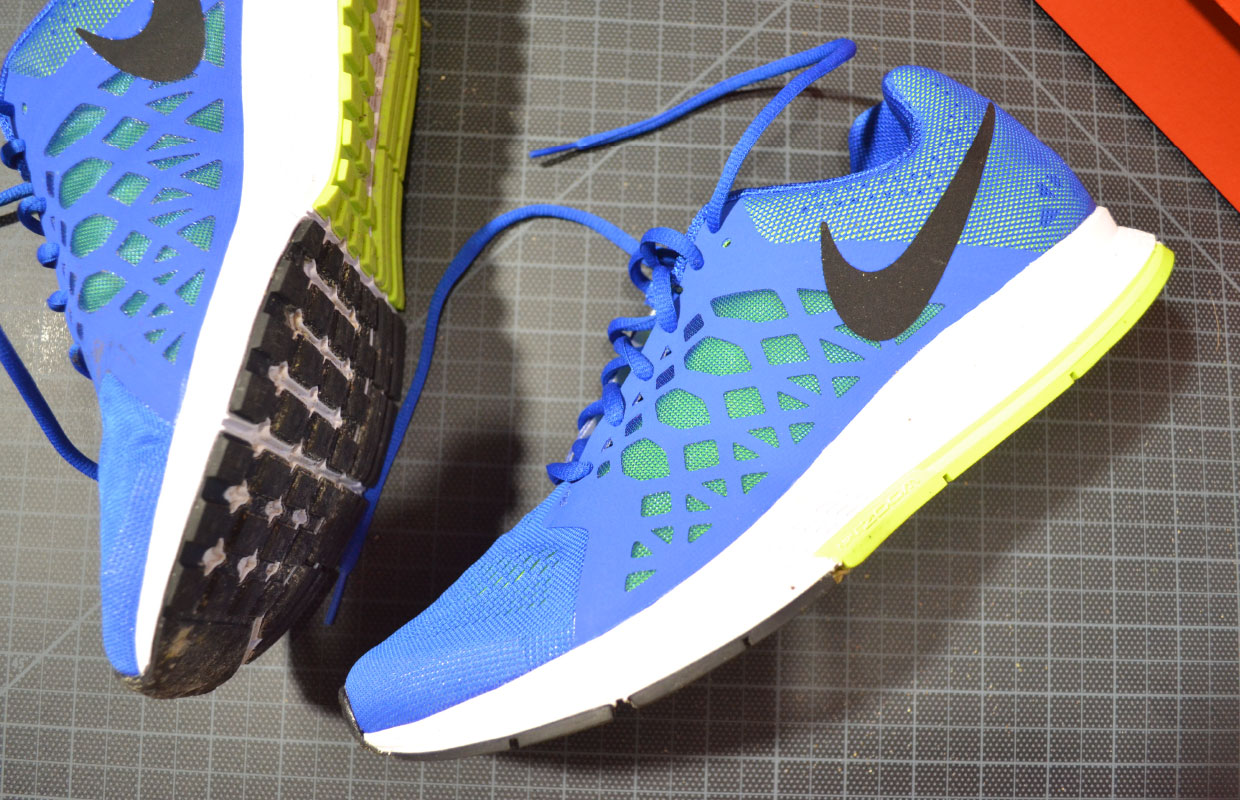 While I love running, my body doesn't necessarily love running. I have terrible knees, primarily because I dislocated each one on two separate occasions in two different sports. On top of that, I pronate horribly.
I was literally the example for heel crashing at New Balance. Anytime they needed to illustrate what our shoes should not be doing, they recorded me with HD cameras at very slow speeds to point out exactly what I was doing wrong.
Because of this, every time I visit a Tech Running shop, I am instantly led to the most "stable" shoe they have. I can't stand a heavy shoe that is wide, clunky, or over-built. I want a shoe that is light, form fitting, tailored, and minimal. The Pegasus 31 nails all of that. 
I just received the shoes on Tuesday and I have put over seven miles on them. What I love about these shoes is how firm they are. I personally feel that too much cushion slows me down and makes my foot fall asleep.
I prefer a firm forefoot with a stable heel crash pad that absorbs and rebounds. The 31st edition of the Pegasus is equipped with Zoom Air in the heel and highly responsive Phylon EVA in the forefoot. I will admit I was skeptical of Zoom at first because I tend to believe that foam is the best cushioning compound for running, but Zoom felt heavenly.
I really felt the responsiveness as it absorbed my energy during striking and then replenished that energy into my forefoot launch. I am not going to say that the shoe makes me faster, but I will say its energy response is quite efficient and very quick which aides you to have a quicker stride.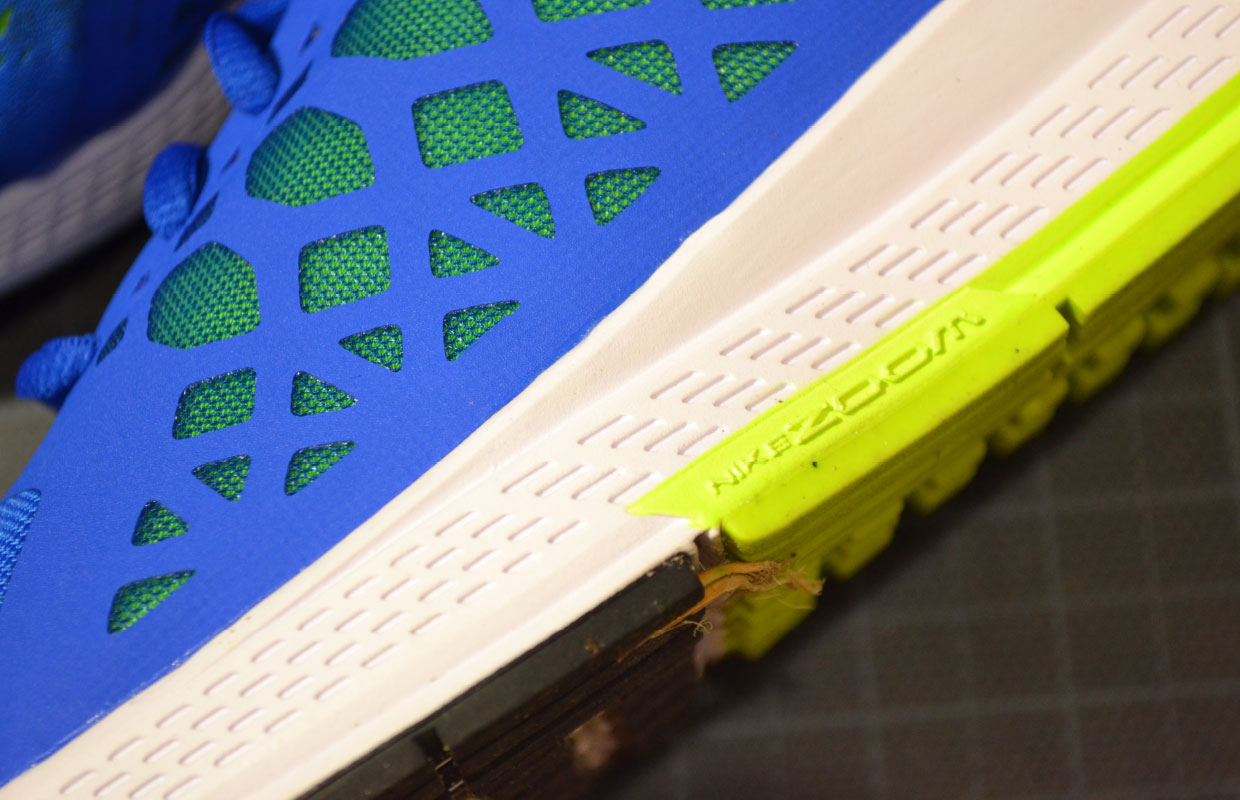 One area that has always been a hot topic for running footwear is the tongue construction. I personally don't like when the tongue is free floating, meaning it is only tacked down in one spot, generally at the base toe box. This annoys me because the tongue has a tendency to shift during your run and irritate your foot.
What is great about the Pegasus 31 is that it features what is called a blucher construction. Which is basically when the toe box and the tongue are all one-pattern piece. This creates solid structure that supports you but is entirely unnoticeable. Which is exactly what you want it to be. 
The Pegasus nameplate brings a perceived amount of recognition to running footwear. Name an athletic shoe line that has more then 31 iterations of it, I can't. There is something to be said about a shoe that can have an evolution that has lasted over 30 years.
Off the top of my head, the only designs that are iconic and have a continuously evolving design are automobiles, like the Porsche 911 or Chevrolet Corvette. Those are pretty good companies. But what 31 years of evolution also says is that it doesn't settle.
It doesn't believe it has the formula right. It believes that it can evolve with running. It never settles. It keeps learning. It is that mentality that makes it iconic. 
All in all, I am thoroughly impressed with my selection for my new motivational running product. It feels amazing for the little amount of running I have completed in the past two days. And I'll be damned if I 30 years from now I regret wearing this shoe. It is pretty flippin' fresh. 
I plan to do a follow-up post on where I am in my running process in about a month or so, so be sure to check back here for it on the Finish Line Blog.
Other posts by Brett Golliff:
Brett Golliff, footwear extraordinaire, is founder of BrettGolliff.com, contributor for Complex, and has previously designed for New Balance. Check him out on Twitter and Instagram.