Interview by Zack Schlemmer (@FatShawnKemp)
Photos by Yulia Nidbalskaya (@TeamYulia)
If you've been paying any attention to sneaker releases in 2014, you've probably noticed that adidas Originals has been on a major roll this year. From re-released icons like the Top Ten and Stan Smith, to brand new retro-inspired models like the highly popular ZX Flux, the brand's heritage department has many of the more stubborn sneaker heads out there finally paying attention to the Three Stripes. By all accounts, 2014 has been a monster year for adidas Originals—and we're only halfway through it!
Showing no signs of slowing down, Originals keeps the hits coming with their latest all-new silhouette, the SL Loop Runner. Designed to be the perfect summer "chilling shoe", the SL Loop takes elements from an adidas model out of the archives, the SL '72, and reinterprets the brand's "podium shoe" from the 1972 Munich Olympics for the modern age. To find out why and how the SL '72 was transformed into the SL Loop Runner, I caught up with  Design Director of adidas Originals, Brian Foresta, to get the full scoop on the inspiration and making of this summer's hottest new silhouette.
Zack Schlemmer: The SL Loop's most notable design characteristic is obviously the unique tear-away stripe "loops". It's really a great idea, and works so well as a play on the three stripes. It's one of those things that's surprising that it hasn't been done before. Can you talk about how you came up with the idea for those?
Brian Foresta: When I was working on the shoe with my team, we were talking about,  "How do you deconstruct the shoe as much as possible?" I've always felt like adi's been fantastic in its simplicity, as a brand. Whether it's the Stan Smith or the Superstar, we're always really good at just simple, clean footwear. So we were pressing this idea of, basically, how you subtract details from the shoe, but still keep its essence there, and this whole idea of looping something back on the stripes. Then it also inspired the heel tab and the pull-tab on the top. So the stripe detail was the beginning of it, but then we took it to a full 360°, developing the details on the shoe. They're (the heel tab and pull tab) also ultimately where the name came from.
ZS: So the name actually came from the pull-tabs then, rather than the Stripes?
BF: Well, the Stripes were the original idea, and we were like, "That's really, really good, and how do we bring that to other areas of the shoe?" So the whole idea of taking things, looping them around, that's where the whole "loop" naming convention came from.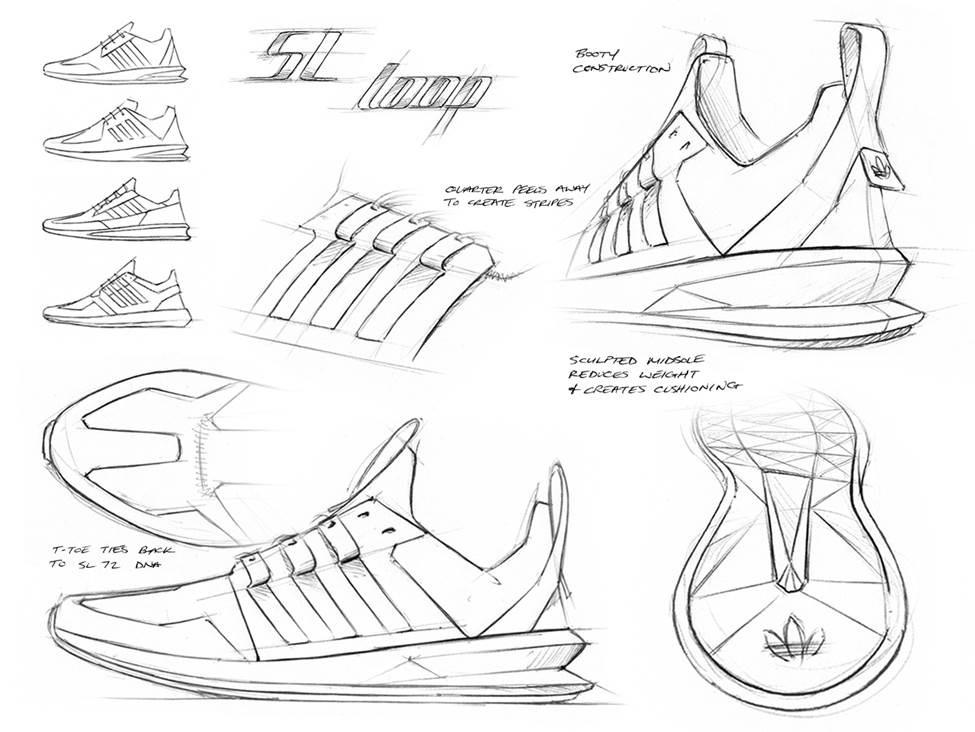 ZS: The SL Loop was inspired by the SL trainer. Do you want to talk about why you specifically chose that model?
BF: My team talked a lot about the idea of our "out of competition" or "chilling", or "Olympic" shoes, and that was the first one. And so it kind of fits that profile of a shoe that's just super comfortable and you can hang out in and also has kind of a history. "How can we celebrate that shoe—kind of work with the essence of the shoe instead of just taking details, trying to modernize the shoe?" So the idea of how you reinterpret the SL '72 and pay homage to it, but also leave room—like on the midfoot—to do something new, like with that Stripe detail. And the way that midsole (on the SL '72) was kind of carved out, is the same thing you have happening on the SL Loop, where you have that kind of "decelerator" detail, that fin that comes off the back of the shoe. A lot of it was really how we took the essence of the SL '72. Because nobody knows if it's the "Super Light" or if it was the "Sport Leisure"…there's a lot of different stories on where that "SL" came from, but we took it as the Super Light. (We wanted to) just make it really light and a really comfortable sock construction that you can just spend all day in.
ZS: So you're saying it's a pretty loose interpretation of the SL trainer, but can you walk us through the overall process of going from the SL '72 to the SL Loop?
BF: It all starts with the early sketching and the early mock-ups in our sample room. As we go through that—something like that T-Toe is such an iconic adidas detail from the past. Taking that and modernizing it so it has the loops and those sharp edges, it gives it that modern twist. So it went through a couple runs in our sample room so that we could get that toe to have a little more stance. For example, as we developed that t-toe, we wanted—instead of it sitting down, collapsed—we wanted it to stand up a little bit more and give the shoe more structure. And then we tried to get that sock construction so that it really does feel close to the foot and you don't have to lace your shoes up—you can wear them any way you feel comfortable.
But a lot of it's just working through those really fine details, and kind of giving it a nod to the past, honoring the SL '72, but definitely pushing it into the future.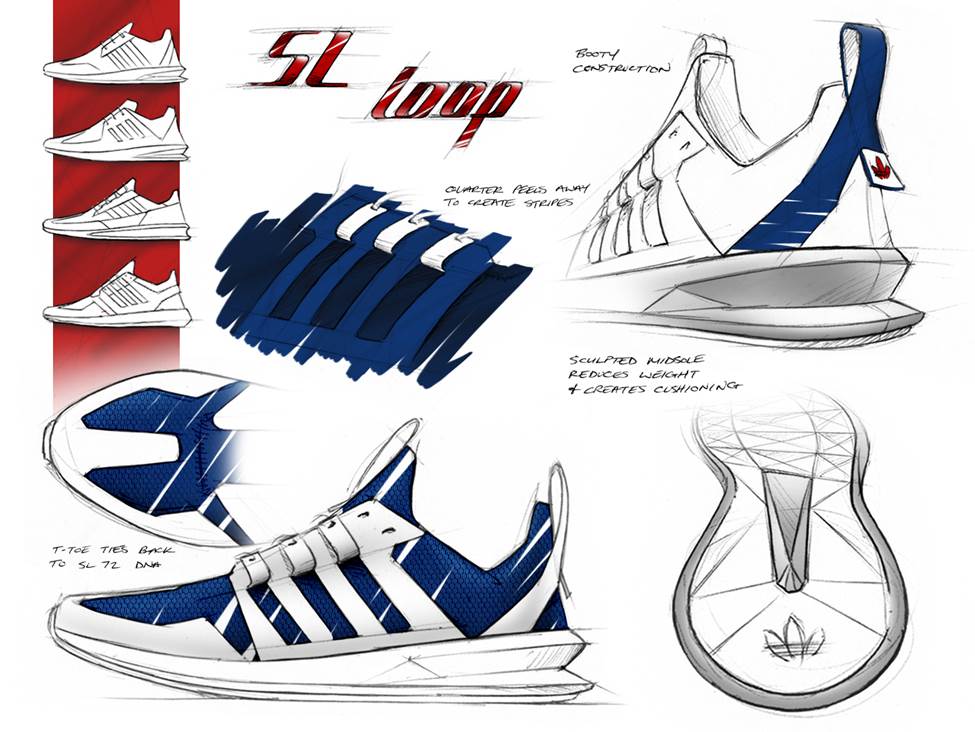 ZS: Was it always a design goal to keep the SL Loop at a lower price point at that $75 range, or did that just kind of happen with the simplicity of the design.
BF: At that price point for us, we really wanted the challenge there. You know, if you look at everything else in the market at that price, you have a lot of retro products. We wanted to do something that was new, but kind of has a little bit of a retro flavor. But also at $75, it's just a great summer shoe, almost like a t-shirt for your foot. So it was always designed to be at that price point.
ZS: Were there any big challenges with the design? Like with the loops, was there a lot of different materials to get the right ones so it would be the right rigidity?
BF: Yeah, on the insides of those stripes, it's single layer mesh, so it's nice and breathable, but it's also super tricky because the midfoot of most shoes are filled with tons of backer so that they have more structure to them. Same thing with the heel. When we wanted to make it more comfortable, we took out the heel counter, which then you have to make sure that bootie construction still holds the foot. But without that hard counter in there it just makes it nice and soft and collapsible, and those subtle things are tough because once you start taking all those backers out, that's the stuff that makes a shoe stand up straight and not wrinkle. So the more you take them out, it's always a fine balance to make it not look like it's just going to flop over. So with the Loops, a lot if it was just working through the detail.
Some of the models have reflective backers on the loops, so once you turn them up you get a 3M reflective hit. Other ones have colors on them.  So now we're basically selling the secondary material, because nobody's used to looking at the back of the material. That idea of turning (the loops) out means we had to be kind of smart on finishing it that way. Also being able to get it onto your foot nice and easy with that sock construction—everybody loves it—but it's also tricky to get it to fit just right.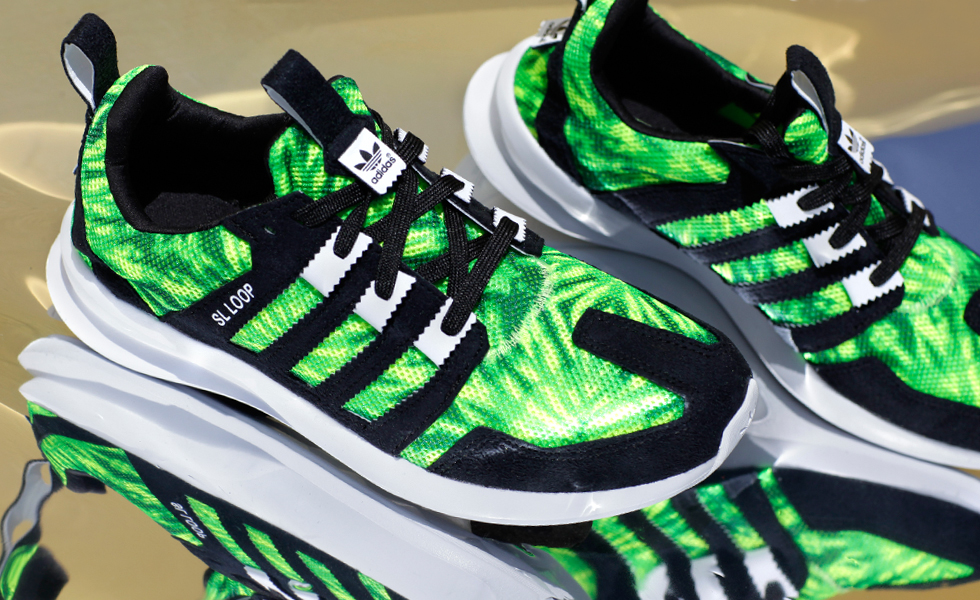 ZS: With the Solar Burst pack, what is that material used for the printed mesh?
BF: It's basically a sandwich mesh with a hi-res sublimation print over it. And for the Solar Burst, we were looking at a bunch of different patterns, and at the time we were looking at tie-dye, so we were like, "How do we make it with a little more grit?" Because tie-dye can feel of the moment, so we made it kind of monochromatic so that the repeat wasn't as obvious. But yeah, I really like that pattern. It's going to be used on a bunch of apparel, as well.
ZS: OK cool, that was actually my next question: if you were involved with the color design, as well. So the Solar Burst was inspired by tie-dye, but a different take on it?
BF: Yeah, just like a grittier, monochromatic tie-dye. And yeah, my team worked on all the colorways and materials as well. That shoe takes (different) materials incredibly well. So we wanted to give the shoe a different character each time we colored it up just to show up much that model can take. And there are some really cool colorways coming up.
ZS: So there will be a lot more materials used on upcoming versions?
BF: Yeah. For example, there's an actual SL '72 original colorway. It just looks sick. It's crazy to think that a modern shoe can play in that kind of heritage feel, and then it can take like, "Solar Burst" and suedes and other prints. In the same way we talk about the "t-shirt for your foot" thing, it's like with graphic tees, they run a wide range (of possibilities), so we wanted to be able to do something that could take color print to the material and really celebrate it.
It was a super fun project to work on. Other shoes can get limiting pretty quickly, but the Loop, it's amazing what it can do.
The adidas Originals SL Loop Runner is now available in multiple colors with more on the way to finishline.com