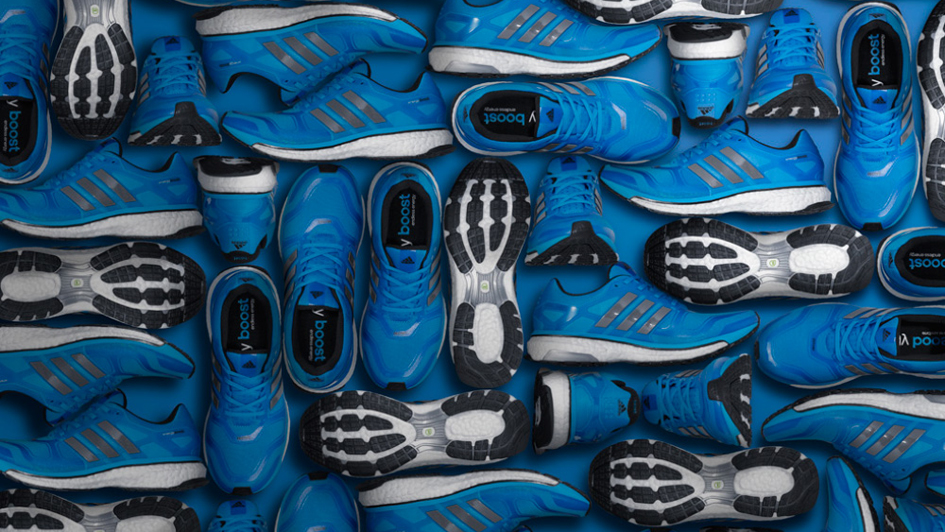 Running season approachin',
Forget whatever y'all been wearin',
Forget what, forget whatever y'all been wearin',
A runner about to come alive again,
Soon as I pull out the Boost
I get this run sprinting like Adolf Dassler mannnnn…
I imagine that little ditty is how Mr. West won over the adidas group.
No, on the real though, I wrote that. I can't give Kanye credit for those bars. The reason I wrote that is because that song gets me so amped during my daily runs. It either gets me motivated to go out in these freezing temperatures or gives me the final boost to finish my run strong.
Running is big business for every company. The bulk of shoe companies started with running product over forty years ago during the fitness boom.
And to this day, nearly every company still launches their new technologies with running product before it gets trickled across the rest of their categories. Running is the proving ground for all technology platforms, because running is at the core of every sport.
Traditionally, core-running product, known as Tech Running, is foam-based product.
Air Max, Shox, Springblade, Zoom Air, DMX and whatever other highly visual "technology" you can think of are not considered Tech Running platforms, because they aren't conducive to natural strides. They tend to add height and weight to the platform to make the technology more visual.
Foam is considered to be the best true running technology. Now, you might be thinking, Foam isn't a technology, and to that I say, You are wrong. You just don't see it as a technology, because you have been trained to think visual technologies provide the best cushioning.
The reason foam is a technology is because it features different densities and chemistries of EVA to provide various functions from cushioning to control. It really is a very impressive material. But for so many years, it has been incredibly boring to look at it.
It lacked sex appeal. It just wasn't cool.
That was the case until 2008 when Nike dropped a bomb on the world and released Lunar foam. It was highly visual by using very dramatic styled chamfers and facets that ran the length of the midsole. This style was accompanied by vibrant fluorescent colors that made the foam the focal point of the whole design.
This combination changed the game forever. It made foam cool. Lunar foam was everywhere. Since it debuted, nearly every company has attempted to make a competitor to Lunar, and they have not succeeded.
But now, adidas might have a true a competitor on its hand. And if done right, a leader.
adidas Boost is a phenomenal technology. One of the challenges of making a foam-based technology perform well is getting the right amount of energy return in the forefoot and the proper weight absorption in the heel. It is generally one over the other, because executing each of these adds weight, density, and height.
But, Boost thrives in energy return and absorption without having to add any mass or height to obtain its greatness. It claims to be the first shoe in the athletic industry to cover both the comfort and energy return experience all at once.
In my opinion, Lunar alone provides great absorption but not enough return. At times it is too soft for me, especially on early models. However, in recent years, it has improved.
Boost was co-developed with BASF, one of the leading chemical companies on the planet. adidas and BASF found that if you had a steam-assisted injection process, it would put energy into the foam without becoming too stiff. So basically, the foam's outcome is incredibly bouncy while still having a high level of cushion.
The manufacturing process seems to place a bunch of little injection points all over the midsole, which creates for a very unique aesthetic. It makes it look like the whole shoe was inflated.
I believe that if adidas markets this technology and introduces it into other key products within their line, they will have their most successful brand platform ever. As long as there is strategic thinking and the technology becomes evolved, not forgotten, then Boost technology will thrive in the market place.
There are rumors of Boost technology being featured in the next Derrick Rose basketball shoe, which will take the technology platform to the next biggest market. Now, all they have to do is hit the soccer market, and then it can live in the lifestyle category with the AdiYeezy line (like how I brought that full circle?).
Only time will tell.
For more information on the adidas Boost, head over the B's Desk.
Other posts by Brett Golliff:
Brett Golliff, footwear extraordinaire, is founder of BrettGolliff.com, contributor for Complex, and has previously designed for New Balance. Check him out on Twitter and Instagram.