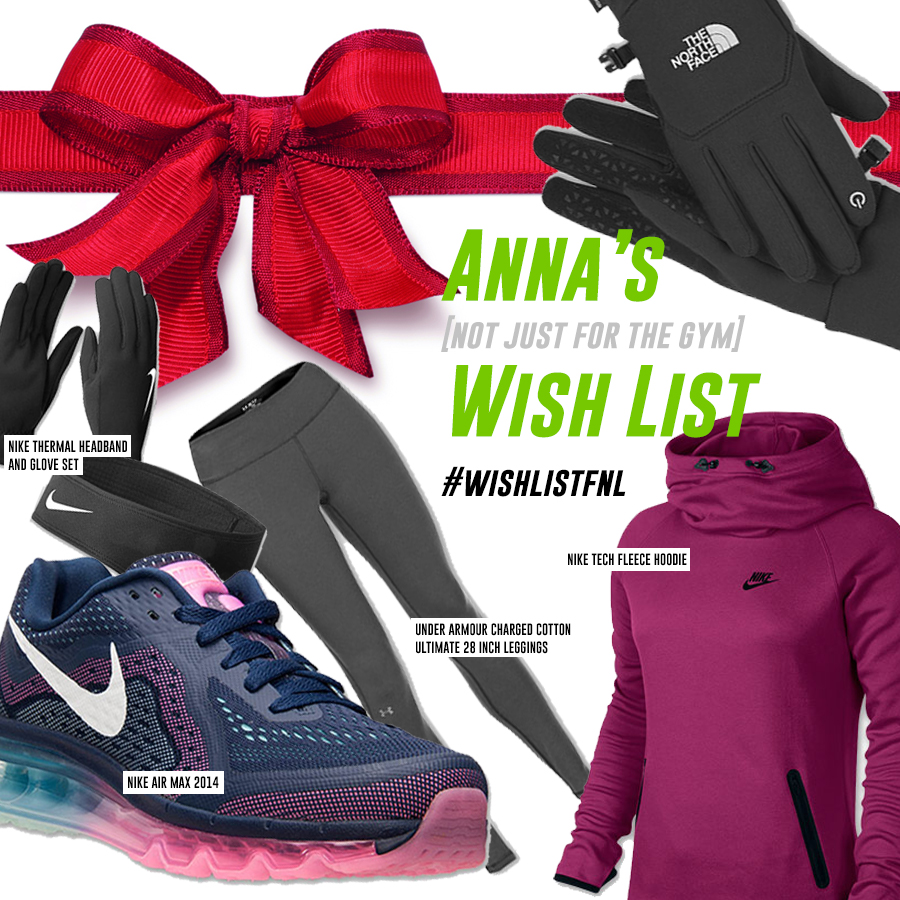 Ladies, if you don't already know, Finish Line is putting on a contest for you to have the chance to win a $50 gift card. All you have to do is make a Wish List, and share it on Twitter with #WishListFNL by December 31st, 2013. Need some ideas? Finish Line Stylist, Anna Bediones, shares some below.
I have been on the hunt for a pair of gloves, and these fit all my criteria. They are touch-screen compatible – so no more frozen fingers for you winter texters! The silicone grip on the palms will prevent anything from slipping through your fingers.
$45
2. Nike Thermal Headband and Glove Set 
Scoop this up for your runner friend (or yourself!) who won't let a little bit of cold weather deter her from pounding the pavement. The Therma-FIT fabric will keep fingers and ears warm, while the reflective 3M swoosh will ensure visibility during all weather conditions. Stay warm, folks! 
$35
This is my favorite hoodie at the moment. I want it in every color! Bury your face into the funnel neck for extra warmth. It is more than a performance piece and looks great with pretty much anything. 
$90
Its predecessors have yet to disappoint, so I can only imagine these will be fantastic. I'm a sucker for Air Max, and the blue and pink gradient is a nice touch.
$180
5. Under Armour Charged Cotton Ultimate 28 Inch Leggings
Try a pair of these Under Armour leggings on if you haven't already. They are a perfect combination of cozy, comfortable and functional. Workout aside, you could wear these in place of regular leggings to stay warm this season.
$30
Click here for more details on the contest.