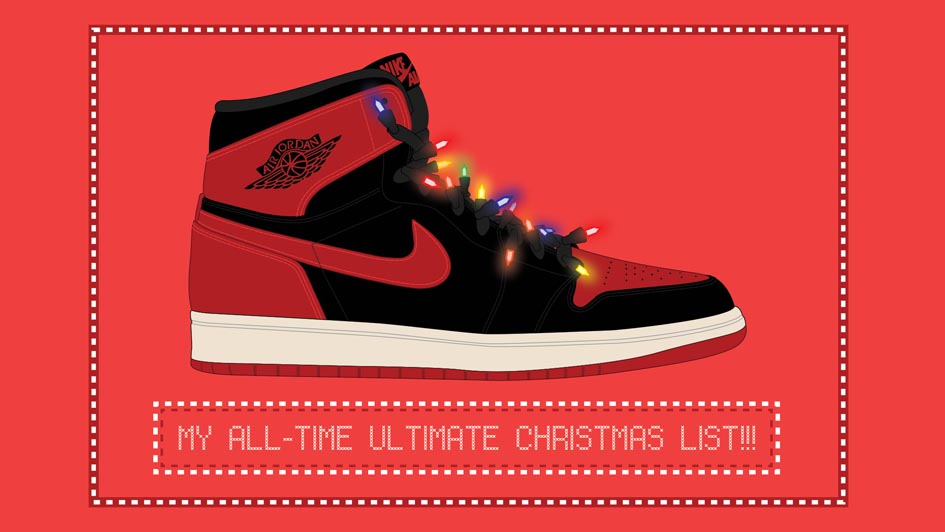 Christmas time is upon us, and I thought it would be fun to give you a look at my ultimate Christmas list from every year of my life. I chose to do every year because what is popular now was popular when I was an infant. It's not one of those cases that history repeats itself, I think it actually represents how iconic these products are because they are just as relevant now as they were back then. For every year, I chose to give you a toy, a piece of apparel and a sneaker – just to give you an idea of what I was really into.
1984
Toy: Blanket. I was three months old, I just wanted to sleep.
Apparel: Again I am an infant, so give me a onesi, but make it dope. Black and Red or something.
Sneaker: Air Jordan I Black/Red. The most influential sneaker of all time, it gets no better.
1985
Toy: Crayons and paper. I don't need any coloring books to create.
Apparel: Could care less at this age, I actually enjoyed the wrapping paper more.
Sneaker: I'll take another pair of Air Jordan 1s. This time, I am rolling Black/Royal though, blue was more of my childhood color anyway.
1986
Toy: Pound Puppies. Call it lame, but I loved those things as a child.
Apparel: Anything with a dinosaur on it.
Sneaker: Realistically, it was the white Chuck Taylor shoes with dinosaurs screen-printed on them, but now I would select the White/Red Air Jordan II Low. Love that shoe. 
1987
Toy: Tonka Trucks. I loved playing with these in my sandbox.
Apparel: Corduroy Bibs. My mom's choice.
Sneaker: I bet you think I am going to choose the Air Jordan III. YOU ARE WRONG. Air Safari, my friends.
1988
Toy: A flippin' Nintendo Entertainment system! I played Tetris for hours that year.
Apparel: I had this monster truck shirt that I absolutely loved. I would take that again.
Sneaker: Air Jordan III. MJ didn't win the Slam Dunk title until '88 folks. First white shoe I ever fell in love with.
1989
Toy: All Ninja Turtles everything.
Apparel: Again, all Ninja Turtles everything.
Sneaker: Air Jordan IV Black/Red/Cement Grey. The shot on Ehlo! 
1990
Toy: Wrestling figures. In particular, the Ultimate Warrior.
Apparel: Wrestling themed again. The Million Dollar Belt. I would still take that today!
Sneaker: Air Flight '89. I actually had this that year, and I loved them so much. First shoe I cleaned frequently. If I could go back, I would consider the Air Max 90.
1991
Toy: I was still obsessed with wrestling, but now I want the ring. The figures have to battle it out in the squared-circle!
Apparel: Some sort of Nike windbreaker, preferably an obnoxious color.
Sneaker: My mom got me a pair of Pumas for school this year, which was kind of cool. I was always appreciative to have decent shoes year in and year out, but what I really wanted were some Air Jordan VIs! That's why you don't start school shopping late. Christmas was the perfect opportunity for her to make up for this. It didn't happen, but I survived.
1992
Toy: Super Nintendo, B! Not even a question. Or, Wrestlemania VIII tickets. It was in my home state that year!
Apparel: This was the year I realized I was getting clothes for Christmas, and I was not a happy camper.
Sneaker: Air Force 180 Low. It had a midfoot strap…so dope! I actually had the Air Raid though, in the Peace/Graffiti colorway, which was pretty fresh to me.
1993
Toy: Shaq Attaq toys. I, like the rest of youth in 1993, was completely enamored with the new face of the NBA. Sadly, I still have these toys and can't get rid of them. Any buyers?
Apparel: Jordan jersey–home or away–didn't matter. And a Starter jacket. The Charlotte Hornets. I got the White/Teal one and the Black/Teal the following year.
Sneaker: Air Jordan VIII. This shoe and particularly 1993 began my sneaker obsession.
1994
Toy: At this point, I am not so much into toys anymore, but I am into basketball cards. This would be the year my grandma got the 1992 Topps Stadium Club Beam Team of Michael Jordan. It was worth a $100 then. My first thing of real value. Still have it, along with 3,000+ other Jordan cards, in their original cases. Again, any buyers?
Apparel: Fab 5, Fab 5, Fab 5. I wanted their Nike edition shorts so bad. The home color. That hue of yellow was so beautiful!
Sneaker: The Air Unlimited. The ultimate Huarache shoe. I could never find them in youth sizes, though, so my mom hooked me up with the Jordan IX. My first Air Jordan. 1994 was a good year. 
1995
Toy: Basketball cards. That's all I wanted in life.
Apparel: Chris Webber jersey. I suddenly became a Warriors' fan.
Sneaker: Air Jordan X. But, my heart was always in Chicago.
1996
Toy: I still wanted a Super Nintendo, this time for Mortal Kombat 3.
Apparel: Black/Red Jordan Jersey, the authentic one! I needed those red stripes, but I settled for the Black one without them. Neither parent was dropping $200 on a jersey for me.
Sneaker: Air Jordan XI Concord. Not even question.
1997
Toy: Could careless about them at this point. All I wanted were shoes.
Apparel: Ken Griffey Jr. jersey. After that Griffey for president campaign that summer and the Mariners knocking out the Yankee's two years earlier in the playoffs, how could I not support that man? Name another year baseball was that dope. You can't.
Sneaker: Air Jordan XII. In particular, the Obsidian/White! 
1998
Toy: See below.
Apparel: Chicago Bulls Sleeveless Shooting Shirt, but see below.
Sneaker: By this time in life, I am in full-fledged adult sizes, so the odds of me getting a signature shoe were rare. They were just too expensive. So, I was willing to pool my gifts to get one expensive one, the Air Jordan XIII. I have spoken before how important this shoe was to me, inspiring my future path to becoming a designer. I didn't get it that year, but it didn't matter, I still loved it and still do. I did get a pair of Pippen IIs that year, also still one of my favorite shoes of all time.
1999
Toy: I wanted a Dreamcast. Thank God my parents didn't get me that though, or that would have been my last gaming system they ever purchased for me.
Apparel: I was in high school, clothes were important, but I could care less about anything Abercrombie. All I wanted was Jumpman23 product.
Sneaker: Air Jordan XIV Low. I now had a job and was buying my own product. I purchased the White/Columbia colorway and the Navy/White pair, so my mom hooked me up with the Ginger pair for Christmas. I still have all three in pristine condition. 
2000
Toy: Playstation 2! Revolutionary. I had to sell my Nintendo 64 and Playstation 1 to help pay for part of it, but I was well on my way to getting one of the greatest gaming systems ever.
Apparel: Just give me a gift card to American Eagle. Current Brett really regrets that request.
Sneaker: The Jordan Trunner. I loved that shoe and still do. One of the best products to come from the launching of the Jordan Brand. Plus, I already had bought the Concord and Space Jam myself. 
2001
Toy: See below.
Apparel: See below.
Sneaker: True story here: I befriended a receptionist at a competitor shoe catalog simply because he saw how many preorders I had made on my account for up-coming retro product (back when you could still do that if you knew the product number). So, he gave me his direct line to order stuff and even gave me a heads up on product for when it was available for preorder. The relationship grew to where he had flagged my house as a troubled neighborhood, so I got free overnight shipping, and he gave me his discount, 50%! Needless to say, we ordered all my gifts through him that year. Fossil Carbon watch, check! Jumpman23 Leather Bomber Jacket, check! Air Jordan XI Black/Red, check! He was eventually fired though, and that fun little run ended. 
2002
Toy: Not really a toy, but I wanted multiple copies of the Sole Provider: 30 Years of Nike Basketball book. One to keep, one to cut up, and one to use for reference at design school.
Apparel: Pea Coat… I had to start growing up at some point.
Sneaker: Air Jordan XVIII. Mercy!
2003
Toy: iPod.
Apparel: Nike Epic 1 Backpack. Dopest bag ever made!
Sneaker: Air Jordan XII Black/White Retro. 
2004
Toy: Prismacolor Markers. I was heavy into Viscom classes in design school.
Apparel: Paper Denim & Cloth jeans. "Ye influence starts now…."
Sneaker: LeBron II. Best LeBron to date. 
2005
Toy: Herman Miller Aeron chair. Didn't get it, and I still don't have one for home.
Apparel: I was obsessed with the Jordan tees that had the technical drawings of the sole units on them and Tinker's sketches. Either one of them would do.
Sneaker: Huarache 2K5, first Nike basketball shoe with a Kobe logo. 
2006
Toy: I got a set of tools from my dad this year, which proved to be incredibly helpful as I graduated college that coming spring and became an adult.
Apparel: Some Polo product. I needed interview clothes.
Sneaker: LeBron IV. Visually, this is still my favorite LeBron. 
2007
Toy: Macbook Pro.
Apparel: Anything streetwear. In particular, the Hundreds and Diamond.
Sneaker: I just started my job at New Balance in Boston. My future wife and I could afford nothing. So, I was pooling money to save for the Air Jordan XX3 in February. One of the greatest basketball shoes ever created.
2008
Toy: Not really a toy, but the Glow In The Dark book was something I wanted and still am inspired by today.
Apparel: I really started getting into Nike Sportswear this year. I loved the tech approach to the construction.
Sneaker: One of my favorite shoes of all time, the Nike LunaRacer. Simply, iconic. 
2009
Toy: Moleskins. I became obsessed with them that year, and I still am.
Apparel: A pair of Burberry jeans. I thought they were dope because they tailored them to fit me.
Sneaker: Kobe V. I stayed up until they were available to order on Christmas day on NikeID. Made mine all yellow with a black midsole and white outsole. I still break them out from time to time. 
2010
Toy: I really wanted a new car this year, a Cadillac CTS Wagon. I didn't get it, but I got it a year later!
Apparel: A pair of A.P.C.s, still wear those bad guys.
Sneaker: Nike LunarEclipse, one of the most underrated sneakers.
2011
Toy: Apple TV. Changed my life forever.
Apparel: Just give me a J.Crew gift card, and make life easy on all of us.
Sneaker: Air Jordan XI Concord. Didn't get them though. I don't really regret it, which sounds odd, but I didn't need them. 
2012
Toy: Jawbone Jambox. I still want one. Wish I would have got the Supreme one from this past summer.
Apparel: Another pair of A.P.C.s. I have a newfound love of well-executed denim.
Sneaker: KD V in the DMW colorway. My wife picked them up for me without me knowing. That's how I know she loves me.
2013
Toy: I want a house for my family. It is coming, we just have to find the right one.
Apparel: I don't need much this year. I am looking at grabbing another Nike TechPack hoodie and some more Supreme Hanes tees. These, plus my A.P.C.s are pretty much my go-to outfit.
Sneaker: Air Jordan 1 Black/Red. Funny how things come full circle. But real is real, and this is an iconic shoe. I pretty much only buy product these days that I can see myself wearing five years from now. That is also why I buy a lot of FlyKnit. But, these 1s are a must have. They started the culture. While I still wear my pair from 2001 from time to time, I will be grabbing two pairs of this release. One to keep, and one might just be ending up in JBF Custom's hands…we shall see. 
Other posts by Brett Golliff:
Brett Golliff, footwear extraordinaire, is founder of BrettGolliff.com, contributor for Complex, and has previously designed for New Balance. Check him out on Twitter and Instagram.