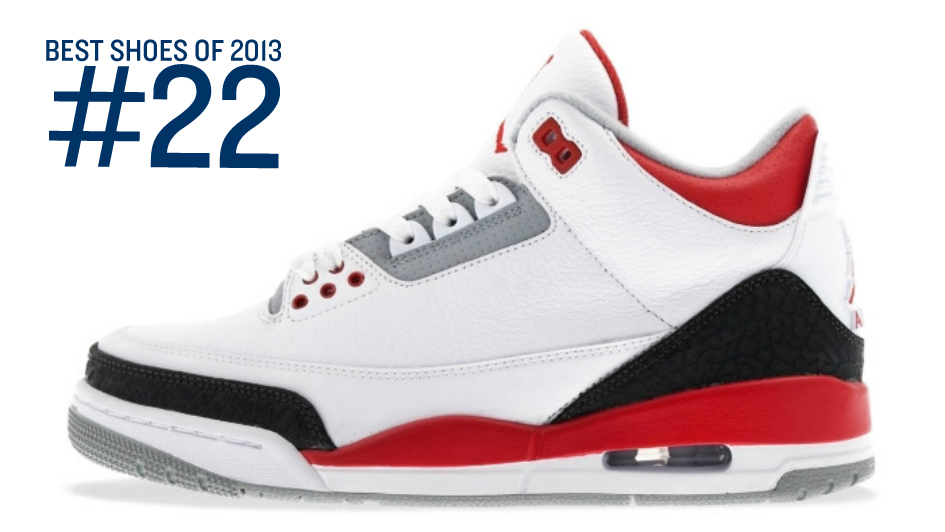 What were your favorite shoes that came out in 2013? We asked all of our Sneak Geeks the same question. Based off each of their rankings, Finish Line has equated an official Best Shoes of 2013 countdown. Stay tuned throughout the month of December as we get closer to the #1 spot.
#22 – Air Jordan III "Fire Red"
"The best Jordan of all time in a classic Bulls colorway." – @EricMatenaer
"Some may ask, 'How is this shoe not ranked higher, it's a III right?' Well, right, but I'm not sure it would have made my list at all if it wouldn't have been for the fact that MJ was wearing this shoe when he pulled off one of my all time favorite dunks of his—when he rolled over Kelly Tripucka and the Charlotte Hornets. Still gives me goosebumps…" – @krvanch
#23 – ASICS Gel Lyte III "Urban Camo"
#24 – Nike Kobe VIII "Area 72"
#25 – Air Jordan 5 "Fear"
Let us know which was your most coveted pair of the year in the comments, and if you agree the picks.