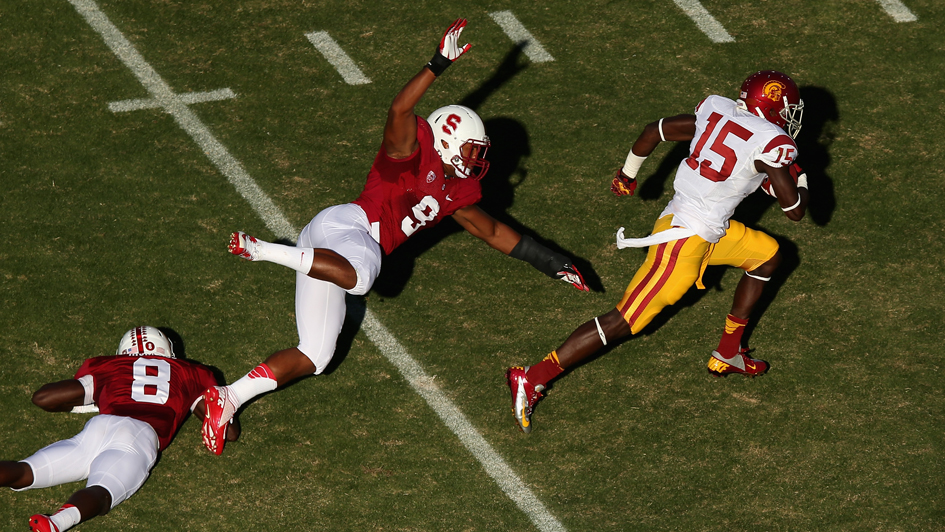 [Photo: Ezra Shaw/Getty Images Entertainment/Getty Images]
The BCS received another shake-up last week when Stanford dominated Oregon at home on The Farm with a true statement win. The big games will just keep coming the next three weeks as rivalry games heat up and teams in the national title race strive to stay unbeaten. Take a look below at some of the favorite match-ups for this week.
Auburn has quickly become one of the most surprising teams in college football this year. After a winless SEC campaign a year ago, first year coach Gus Malzahn has the Tigers back as one of the premier teams in college football. The Bulldogs of Georgia haven't lived up to the lofty expectations in Athens but have the opportunity to finish the year well. That begins Saturday with Auburn. The plains are never an easy place to play, so look for Auburn to control the tempo early with their running game that ranks third nationally.
2. Oklahoma State vs Texas
Texas needed overtime last week in Morgantown to outlast a feisty West Virginia team and keep their undefeated conference record intact. This week will provide an even bigger test as Oklahoma St. comes calling to Austin in a showdown that will see the loser's shot at the Big 12 title take a major hit. The Cowboys can score in bunches, and if this Texas defense cannot rise to the occasion, this one might not be as close as some might suggest. 
3. Michigan St vs Nebraska
Sparty possesses one of the nation's premier defenses, which has helped propel them to an 8-1 start. Allowing only 11.6 points per game, Michigan State has given fits to nearly ever team it has played, and the Huskers might struggle as well come Saturday. The inconstant Cornhuskers have been far from spectacular on offense in the past few weeks, and that trend should continue despite playing at home in front of one of the nation's most passionate fan bases.
This USC team is better than most people give them credit for, and if there is any sort of hangover from the monster win against Oregon, Stanford could find themselves in an interesting place come Saturday night in front of a national audience on ABC. With the departure of Lane Kiffin, this USC team has started to play to the talent level that it possesses. Stanford will try and run the ball and win the game in the game in the trenches, just like they did against Oregon. That is their style of play, and they wouldn't want it any other way.