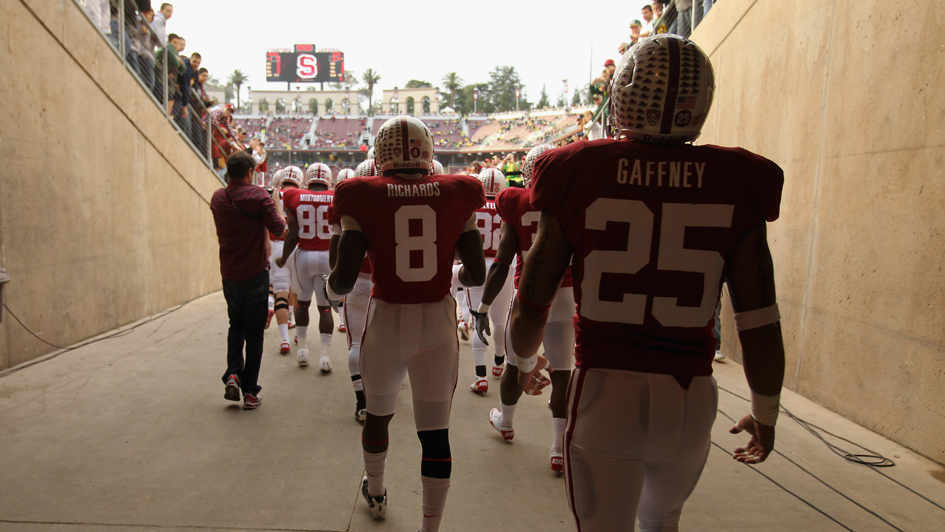 [Photo: Ezra Shaw/Getty Images Entertainment/Getty Images]
November is the most defining month for college football and for the teams still in the race to play in the BCS National Championship game. There is absolutely no room for error. Five undefeated teams from power conferences remain, and every one has to be impressive down the stretch if they want to play for the title. Two match-ups take place Thursday night that involve both teams ranked in the top 10, something rarely, if ever, seen during a weekday. It will certainly be worth the time. Tune in.
Last year, the Cardinal stole one from the Ducks in Eugene, dashing their hopes for a national title game appearance. Thursday night the Ducks will head to The Farm with revenge on their mind, but they also face the task of needing to do it in impressive fashion. The Seminoles of Florida State jumped the Ducks in the latest BCS rankings, and Oregon will need to dispatch the Cardinal in a dominating style if they hope to regain the #2 spot. 
All year long most of the football world has questioned Baylor's legitimacy. Now Baylor and their 7-0 record and NCAA leading 63.9 PPG average will host the Sooners in Waco. This match-up is certain to be the biggest test they have faced. Despite being undefeated, Baylor's quest for a BCS title game appearance begins Thursday night. A loss here would certainly dash any hopes of living up to every college football team's dream of "playing for it all".
Two programs with a rich history will meet Saturday afternoon in Ann Arbor. Despite neither team being ranked, these are two quality teams that will produce one heck of a game. Michigan will look to rebound from its performance last week against the Spartans that produced ~48 yards of rushing. The return home to the Big House and one of the best environments in college football should produce the boost they need to give the program a win it badly needs.
Nick Saban. AJ McCarron. Les Miles. For the past few years, this has been one of the most anticipated match-ups. This year is no different. Despite the two losses LSU has suffered, they are certainly capable of going in to Tuscaloosa and getting a win. A lot will be asked of QB Zach Mettenberger against this stout Alabama defense. His play will make or break the Tigers chances. Expect a lot more offense this time around in Tuscaloosa than the battle of the field goal kickers from a couple years ago.