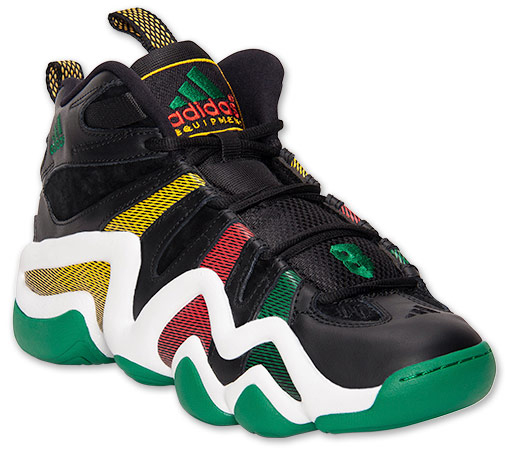 As one of the adidas Basketball's premier players, Serge Ibaka has received a special Player Edition colorway of one of adidas' most popular models, the Crazy 8. Here are the details behind this exclusive new colorway:
Serge Ibaka is one of the NBA's most dominant big men, earning the title as the number one shot blocker last season as well as for the 2011-'12 NBA season, with 3.0 and 3.7 blocks per game. His teammates on the Oklahoma City Thunder have even dubbed him Air Congo, Serge Protector, and Iblocka for his incredible defensive and shot blocking skills.
Serge was born in Brazzaville, the capital city of the Republic of the Congo. The color schemes used on this PE pay homage to his home country. Dressed in the same colors as the Congolese national flag (green, yellow and red), this Crazy 8 is unlike any other. The upper of the shoe is mostly coated in black, while the adidas 3 Stripe logo is located on both the medial and lateral sides of the sneaker. The Congolese national colors also grace the Crazy 8 and adidas basketball logo on the tongue and outsole.
You will notice that the Serge Ibaka has a tribal-inspired print you will not find on other Crazy 8 models. If you recognized the print to be familiar, that's probably because it is the same print that made Dikembe Mutombo's adidas signature model so famous. There are also more premium materials used on this Crazy 8 PE than typical versions, such as the smooth leather that graces the toe box and side paneling, as well as the suede used on other panels.
Wondering why adidas used Kobe Bryant's signature model for a Serge Ibaka PE? It's probably because the Crazy 8 is still an on-court favorite for many adidas NBA athletes. The Patented Torsion System provides excellent support for players big and small, and the super sticky outsole provides excellent traction on the hardwood. So whether you choose to lace up your Serge Ibaka Crazy 8 PE for the court or for the streets, you'll be good to go.
Stay tuned in upcoming weeks for more info on exclusive adidas Crazy 8 PEs, including ones that pay respects to Jrue Holiday's high school as well as Iman Shumpert and the New York Knicks.