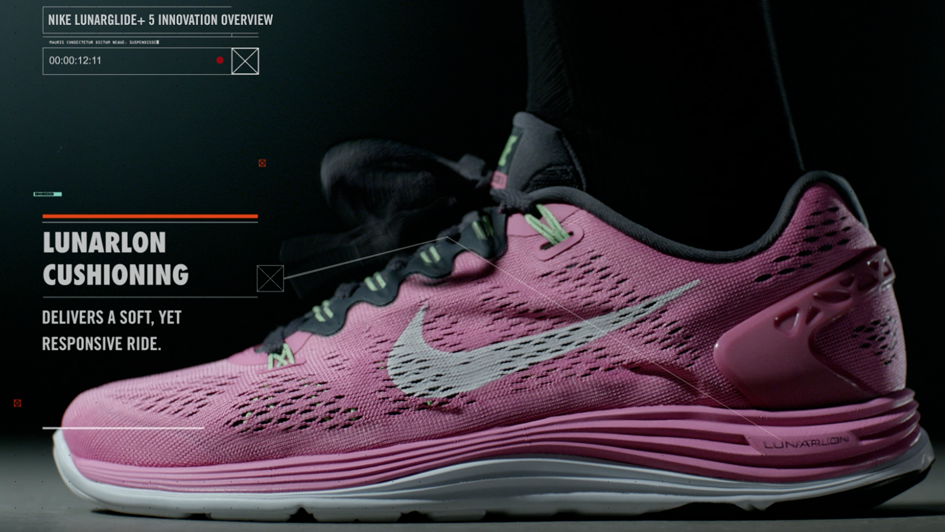 Stylish shoes aren't up to par on the performance side, and souped-up sneakers just don't deliver on the looks end of the spectrum. However, judging by the features of the Nike Lunarglide+ 5 this preconception gets reevaluated.
With 5 kicks into it, Nike has put in the work to get to where they've gotten with the Lunarglide. Jogging your memory back to the Lunarglide 1, frankly, the technology was all Lunarlon, and not much else. It wasn't until the Lunarglide 2 that Nike excelled beyond that.
The second time around marked the introduction of Dynamic Flywire, an update of the Lunarlon sole. This time it was more rugged in appearance and durability.
The third time was a charm, so Nike went back to the drawing board and streamlined the model. They gave it the crossover appeal that would solidify the sneaker as a staple series in the Nike Lunar Line.
Piggybacking off of the success of its predecessor, the Lunarglide 4 dropped all lines from its upper to go with an even further streamlined silhouette, wrapping itself in a sleek, one-piece mesh jacket.
With 4 successful iterations in the bag, the Nike design team embarked on refining the popular performance runner, going the extra mile to craft the Lunarglide+ 5. The Nike Lunar Series had built up a legacy that required the 5 to go further by shedding weight from ditching the traditional lacing system.
With a decreased weight, Lunarlon midsole, mesh upper, and Dynamic Flywire technology, the Lunarglide+ 5 is without a doubt, a top performer. When it comes to Lunarlon, it's the standard for comfort, cushioning and response. The technology utilized in only the best of the Nike performance line.
An overall sleek look is achieved, marking the aesthetic checkbox as well. Whether you want to live the age of the flashy lifestyle with a fun pattern, or want to tone things down with a conservative color option, there are style options for all personalities.
As far as Nike is concerned, form and function don't have to be separate entities. Colliding the worlds of comfort and style, the new Nike Lunarglide+ 5 is the best of both.