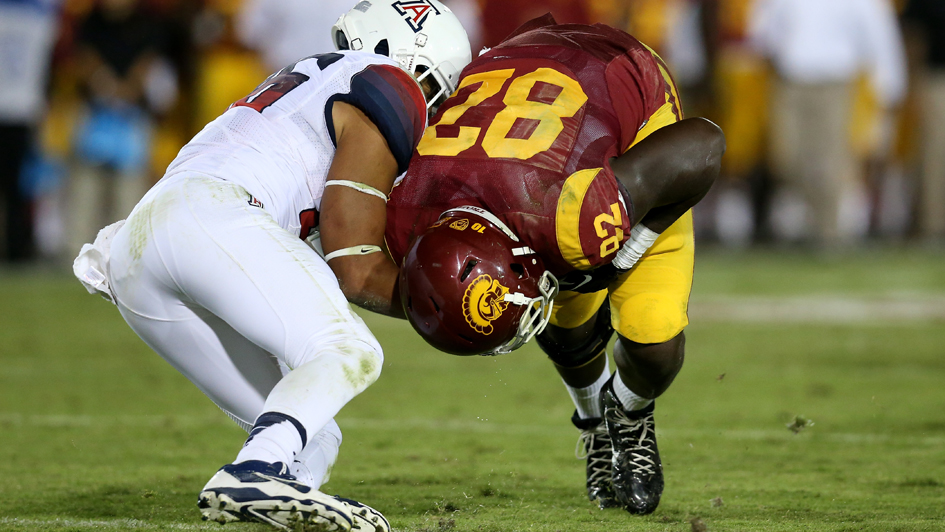 [Photo: Stephen Dunn/Getty Images Sport/Getty Images]
Here are the games this week you don't want to miss, and we're giving them to you every Monday.
Just a few weeks into the college football season, and expectedly things are heating up. So far, no major upsets have occurred, so there's still much to be expected in the coming months.
1. Arizona at USC
This should be an interesting matchup, given the fact that USC just lost their head coach, Lane Kiffin. In the past, this may not have been a situation where Arizona would have a chance, but given the recent events, this one should prove to be quite a game.
2. Oklahoma/Texas
The Red River Shootout is back again this year, as Texas and Oklahoma will meet halfway to battle it out in Dallas. Oklahoma has dominated things lately, but this game will nonetheless be a barn burner.
3. Nebraska at Purdue
Big Ten rivals clash this weekend as they try to position themselves in the conference. The top spot is accounted for, but there's still much football to be played. Should be interesting to see how things all play out.
4. Florida at LSU
This is the SEC matchup of the week, and it's sure to be one to watch. Aside from Bama and Georgia, the SEC stills possesses quite a few powerhouses and its always interesting to see their big programs go up against each other.
5. Oregon at Washington
As the #2 team in college football, Oregon pretty much has a clear path to the national championship, especially since they've had no problem steamrolling opponents. Washington won't be a cakewalk though, so it'll be interesting to see how the Ducks perform.
Whose side are you on? Say it proud with your fan gear from FinishLine.com.