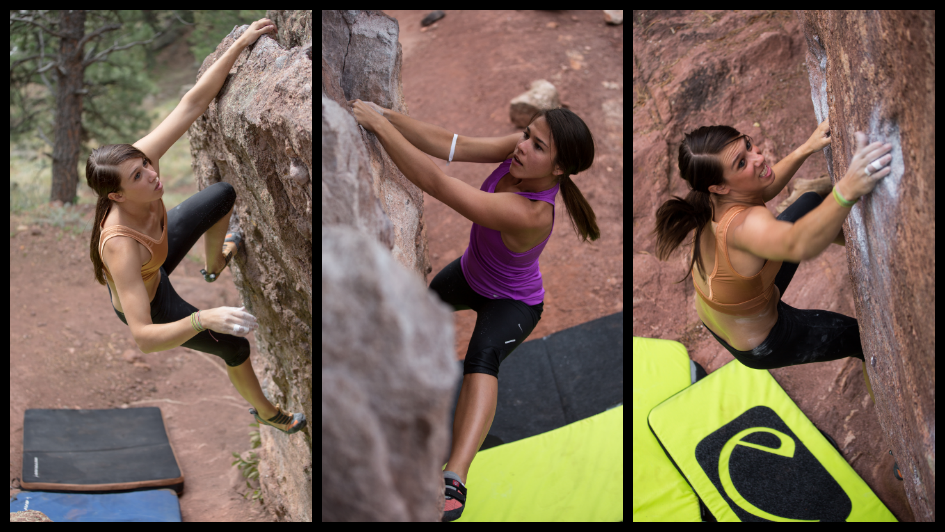 Yay! Mindless lateral pull-downs at the gym! Psych.
With bouldering, "You have to figure out how to climb the rock. The mental aspect and problem solving is very stimulating. You never get bored." Faith Winter, who's taken 4th at the American Bouldering Series [ABS] Local Competition, 5th at the Spot Bouldering Series Competition, and who has also competed at the ABS National Climbing Championships, where she's ranked 35th, says this is why she climbs boulders.
With Faith as my instructor, here is the breakdown from my first lesson.
Bouldering: No specific routes, instructions, or ropes, just an end goal of reaching the top.  It's up to you on how you get there with your only support being your climbing partner and the thin pad below the boulder.
Why you should try it: Bouldering has the muscle burning of lateral pull-downs, pull-ups and squats, but adds a mental element. The uncertainty of this form of climbing supersedes the monotonous nature of a traditional workout.
Muscles used: "There is a big focus on back muscles, pectorals, deltoids, and shoulders. Your laterals are used predominately, as well as your abdominals, obliques, and finger muscles and tendons. All of these muscles work together to enable balancing."
Highlights: The mental strain of working out is naturalized with camaraderie built with your climbing partner—think of that exercise where you fall backwards and someone catches you, but at a deeper level.
Calories burned: 136-545 per hour depending on the rigor of the climb (to get a more accurate account of measuring calories based on your weight, check CalorieLab).

 
Equipment needed: (1) Crash pads (2) chalk, to keep hands dry so you don't slide off the rock, and (3) climbing shoes—vital because the sticky rubber enhances the foot's grip, allowing your whole body to change directions with a tiny toe movement.
Hurdles: There's a steep learning curve with bouldering, but once you get the hang of it, you'll quickly reap the benefits.

 
Other Exercise Awesomes:
Stay tuned for next week's post: no soap on a rope. If you have an Exercise Awesome idea, let me know in the comments below and I'll do my best to feature it.