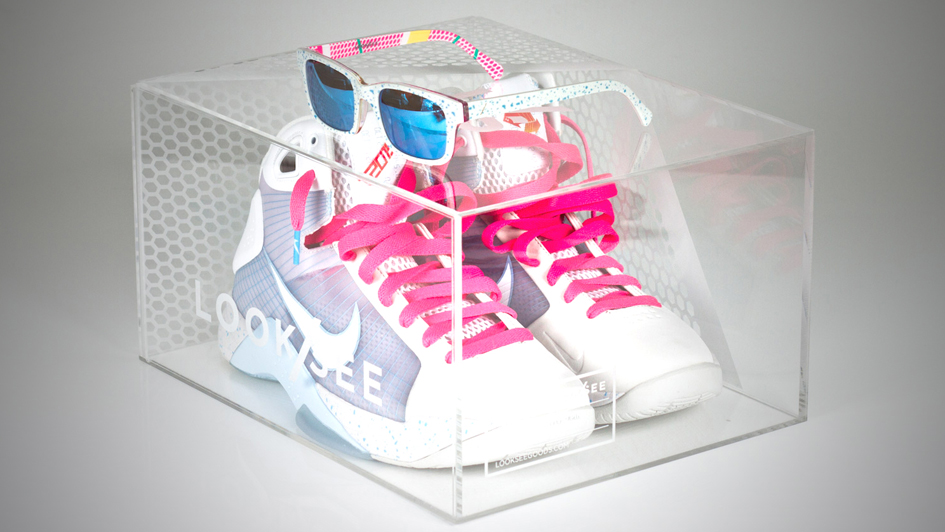 Big congrats to our lucky winner Jason S. on winning the McFlys and LOOK/SEE sunglasses. Have fun rocking them all sumer long!
If you consider yourself a sneakerhead, then you understand it's not just about your kicks, it's about making sure the rest of your look highlights the gold on your feet. No one understands this better than Kyle Yamaguchi, the Founder & CEO of LOOK/SEE, a sunglasses company that creates shades to pair with the best sneakers in the game. Learn about LOOK/SEE and then make sure to check out what they hooked us up with to give away!
ABOUT LOOK/SEE: 
Before you start thinking he's just another guy trying to profit from the retro craze, you need to understand his background and passion for sneakers. Kyle spent over five years working at Nike creating some of the most sought-after limited edition and exclusive sneakers. He worked on products designed for their elite team including Kobe, LeBron, and Kevin Durant.  If you want to talk sneakers with Kyle, you better know what you're talking about, because he sure does.
One might ask, why did he leave one of the best jobs on Earth to make sunglasses? Straight from Kyle himself, "I had one of the coolest jobs you could imagine. You could say it was a dream job. Now I've left that dream job and built on that experience to pursue a dream of my own…that's what LOOK/SEE is all about. LOOK/SEE is a product of my professional experience coupled with my passion for bringing fun and energetic stories to life through the creation of beautiful products."
Now that we understand the driving force behind LOOK/SEE, let's dive deeper into the product. The brand is known for their collaborations such as with San Francisco based Artist Aaron De La Cruz, their GIJoe line, Sole Collector, and Michael Williams from the "Wire".
Currently available at Finish Line are classics such as the L/S1 Cement/Cement-White sunglasses which pair well with not only Retros but with other Jordans including the latest shoe from CP3. The L/S1 Grape colorway Sunglasses pair is the perfect compliment to the recent Retro 5 "Grapes" Collection as well as the Grape Flight Club 91s, and then there's the signature L/S1 Bred Elephant print Sunglasses that pair well with any Jordan, especially the latest Spizike.
Check out the full collection of LOOK/SEE Sunglasses currently available at FinishLine.com.
WIN THE MCFLYs:
Yeah, seriously. LOOK/SEE has generously hooked us up with a pair of size 9 Nike Hyperdunk Supreme 2015 "Marty McFly" sneakers and a fresh new pair of LOOK/SEE "Stealth/Cyan-Vivid Pink" sunglasses to give away. Released in July of 2008, there were a total of 350 pairs of McFlys made to celebrate the retail debut of the Hyperdunk. Needless to say, they sold out instantly and are extremely rare.
For your chance to win these sneaks and matching sunglasses, answer the question: "If you could get your hands on any past release to hook with a pair of LOOK/SEE Sunglasses, what release would it be?" with a comment below this post. You have until 10:00 pm EST on Friday, May 24 to enter. You'll get an email from us if you're the lucky winner. Good luck!