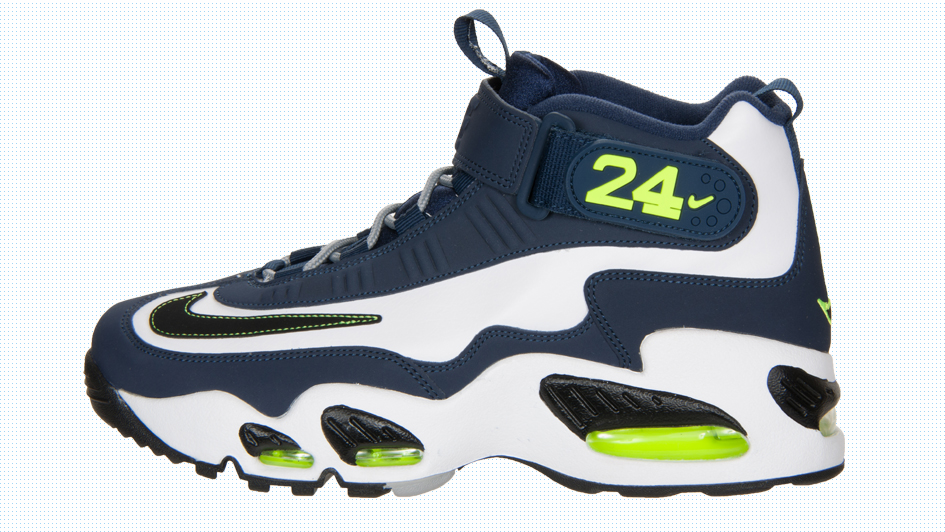 When thinking of Nike and baseball, there is usually only one shoe that comes to peoples' minds. While some of you may only be familiar with the Nike Air Griffey Max 1 when it returned in retro form in 2009, many of us remember watching one of the greatest players to ever step foot on the diamond slug homers and dive for fly balls in the iconic sneaker.
Ken Griffey Jr. set a new standard for MLB players during the mid '90s, not only by becoming the benchmark outfielder and winning 10 consecutive Golden Gloves, but also by becoming the first MLB athlete to receive a signature shoe from Nike.
The Nike Air Griffey Max 1 first released in 1996 during Ken Griffey Jr.'s seventh season in the league. Thanks to the shoe's unique and aggressive styling along with Ken Griffey Jr.'s elite status in the MLB, the Nike Air Griffey Max 1 became an instant classic for shoe enthusiasts and Griffey fans alike. 
The most popular color schemes of the Griffey Max 1 were the "Emeralds" and "Freshwaters", both matching the first team he was with, the Seattle Mariners. Even years later after the Griffey Max 1 first released and Ken Griffey Jr. was playing for the Cincinnati Reds, he still often times laced up in a pair of the shoes in a red and black colorway. 
There are a handful of sneakers from the '90s that have defied the odds and still captivate the hearts of many today, and the Nike Air Griffey Max 1 is certainly one of those shoes. Although Ken Griffey Jr. has since retired and is no longer in the MLB spotlight, his first signature shoe from Nike remains a classic and staple within the sneaker subculture, and it will be that way for many more years to come.