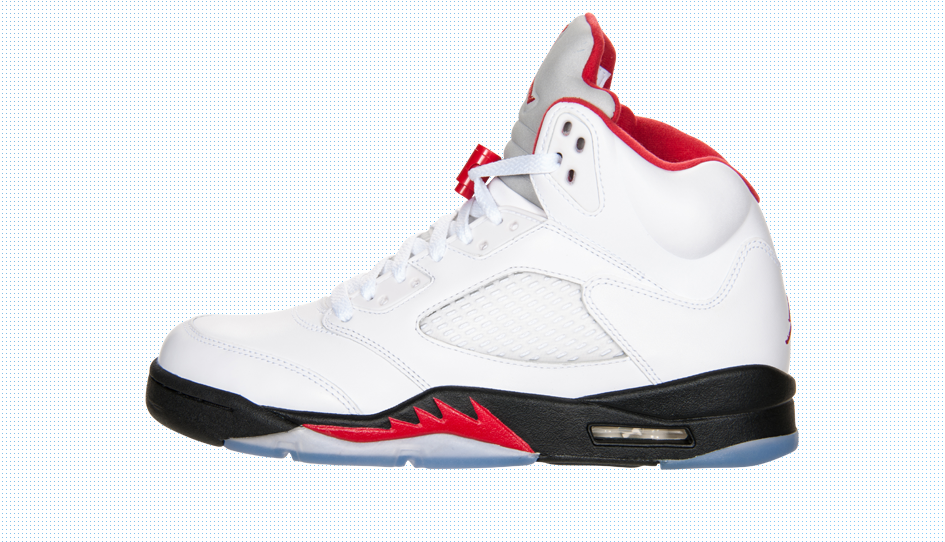 Was it because Michael was in his prime? Or was it the shoes? While we may never know the answer to this question, we do know that Michael Jordan played some of his best games in the 89-90 season while wearing the Air Jordan 5. Statistically, it was one of the best seasons of his career, averaging more than 33 points per game with a field goal percentage of over 52%. With the upcoming release of the Air Jordan 5 Retro White/Black/Fire Red, we figured it would be an appropriate time to give a run down of some of Your Airness' greatest games whilst wearing the shoe.
On April 20th, 1990, Michael Jordan put up some very high numbers against the Boston Celtics. Without his arch nemesis Larry Bird on the floor, Michael put up a whopping 45 points with 9 assists and 8 boards against a helpless Celtics team. Perhaps more amazingly, MJ shot 72% from the field.
It was March 20th, 1990, and the opponent was none other than the New York Knickerbockers. During this incredible game, Michael scored himself a double-double with 49 points and an outstanding 12 rebounds. He dominated on both sides of the floor that night, and also conjured up 4 dimes and 5 steals for the stat books.
In MJ's best statistical game ever, the greatest of all time ran up and down a defenseless Cleveland Cavaliers team on March 28th, 1990. Jordan put on a show, scoring an amazing 69 points along with snagging 18 rebounds over the course of the game. He also dished out 6 assists and had 4 steals in this breathtaking performance.
Some unknown force caused MJ to dominate opponents during this incredible season, and we have a hunch that it just might have been the shoes. Although we may never know for sure, one thing is for sure, Michael put on a show that season, and his feet looked great while doing it. So if you want to fly like Mike, or just be fly, don't miss out on the nostalgic release of the Air Jordan 5 Retro White/Black/Fire Red dropping January 26th on FinishLine.com.