We don't know about you, but the first thing that comes to mind when you put the words "extra-terrestrial" and "basketball" in the same sentence is the movie Space Jam. For the guys working at Nike, they had a little something different in mind.
Going red or blue has been the tradition when deciding on what colors to go with when tricking out signature sneakers, but Nike has taken a different approach the past couple of years, going out of this world with space-inspired colorways. This time around, they've dubbed the collection, including the LeBron X and the KD V, the "Extraterrestrial Pack", eschewing the former norm.
With arguably the best baller in the Western Conference, Nike has taken Kevin Durant's KD V and draped the upper in a lime green hue reminiscent of pretty much every alien movie that featured alien guts. The midsole is a darker, yet still eye-catching, green that fades into the black abyss toward the front of the shoe. For a little splash, Nike chose  orange for the outsole and laces and an inner lining that maps out the universe's constellations. You know Nike had to represent on the swoosh, so they elected to make it a texture that dares you and makes you believe it's genuine alien-hide.
For LeBron James, Nike went with a colorway that matches his flashy style of play for his All-Star LeBron X. If you thought it was hard to pull off purple and pink, don't worry, LeBron's got it covered. Or rather, this LeBron X All Star Weekend is covered in it. What makes this one stand out is Nike's use of unique patterns on the upper and midsole that scream space-exploration and pay homage to meteorite surfaces.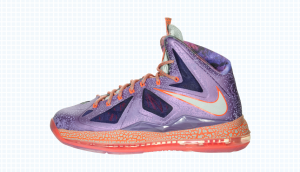 This time, Nike is decking out their top signature shoes with some truly never before seen colorways for an All Star Weekend of out of this world proportions. Check them out this weekend on the court, or right here on FinishLine.com