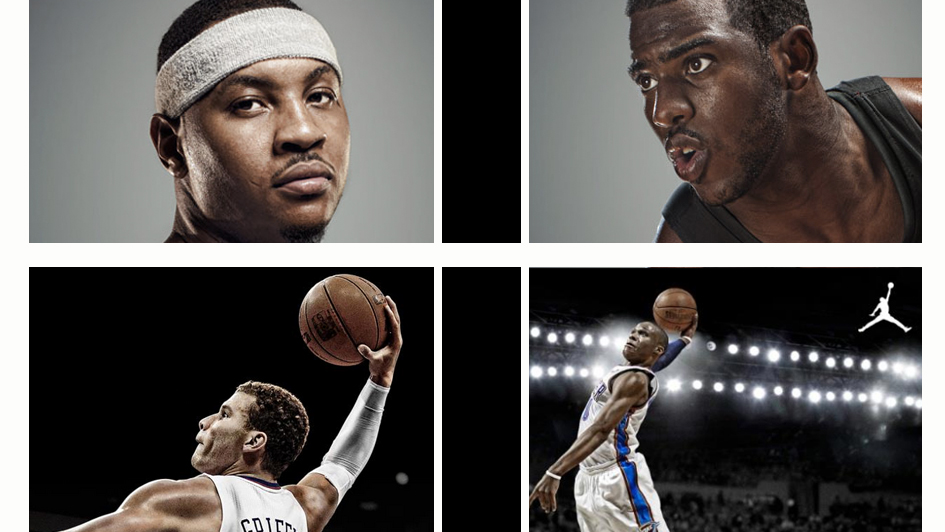 Both the starting lineups and the reserves have been selected for the 2013 NBA All Star Game in Houston, Texas on February 17th. One of the most exciting things about the All Star game every year is seeing what shoes the players are going to be rocking. It seems as though the brands cook up some exciting new colorways every year for the big game, and the ones from Jordan Brand are always some of the favorites.
Unfortunately for the East, Carmelo Anthony is the only officially sponsored Jordan Brand athlete. We have seen Paul George lace up in a pair of Jordans various times this season, but we can expect him to rock Nikes for the All Star game, him being a Nike sponsored athlete. Nevertheless, we think it is a shame that there are so many great Jordan Brand sponsored basketball players in the Eastern Conference. Although Joe Johnson isn't having the best season of his career, he has put up solid numbers and could have been selected as a shooting guard for the back court, considering they have 2 point guards on reserve and no shooting guards. Also, who can forget about veteran Ray Allen? He isn't in his prime, but he still can knock the three ball down any time his team needs one.
For the West, starters Chris Paul and Blake Griffin have more than just playing for the Clippers in common, they both are Jordan Brand athletes. JB athlete Russell Westbrook got picked for a backcourt reserve spot, and we have a hunch he might rock the new Air Jordan 28 for the ASG. Considering there really aren't too many Jordan Brand athletes in the Western Conference, we think that all the ones who got picked were well deserving. Jordan Brand-er Stephen Jackson for the San Antonio Spurs is definitely an all around likable guy and solid role player, but he doesn't quite play a large enough role for an All Star selection.
So what can we expect to see on the player's feet? Well, we figure that Carmelo will have a All Star colorway of the new Jordan Melo M9, and the same goes for Chris Paul with the new Jordan CP3 VI. As stated earlier, we expect to see Russell Westbrook in a pair of Air Jordan 28s, and it will be interesting to see that shoe in an All Star colorway. We've seen Blake Griffin lace up in the Jordan Aero Flight as well as the Superfly, so we are kind of expecting to see JB provide him with an ASG colorway of one of those, but he might surprise us with something entirely different altogether. One thing's for sure about the 2013 All Star Game, and that is that we can expect to see the Jordan Brand athletes lace up in some sick colorways on February 17th.