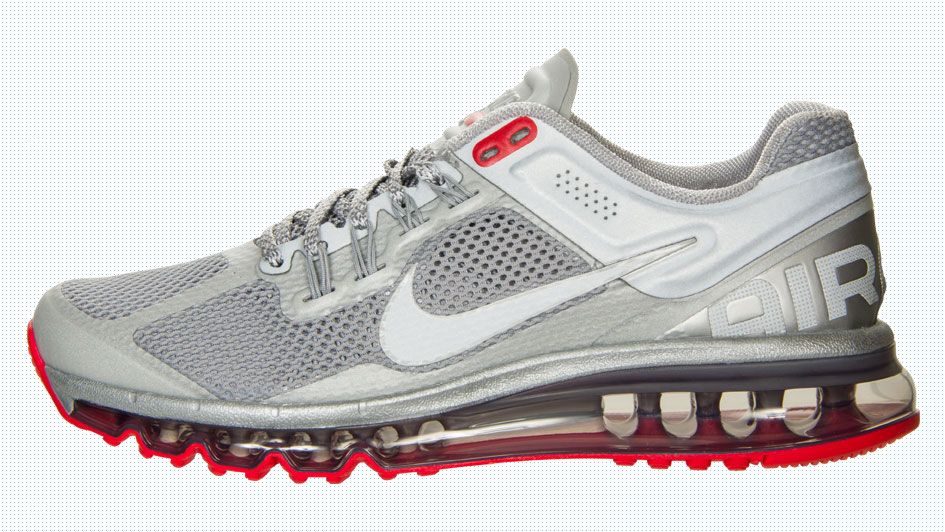 Over two decades have passed since Nike released the very first shoe from the Air Max line, and on January 17 we will see the release of the Air Max 2013. The team over at Nike gave this model a revamp, and it is undoubtedly the highest performance runner from the Air Max line to date.
Similar to the Free Run line, the Air Max 2013 incorporates natural motion to its design, which strengthens the foot and lower legs. Amazingly, Nike was able to redesign the full length Air Max unit to be compatible with the newly designed flexible sole. The results of the new sole and midsole create an Air Max shoe that has a softer and more comfortable ride than ever before.
The sole is not the only aspect that Nike changed on the shoe this time around, and they gave it a whole new upper composed of lighter weight materials. Comprised of Hyperfuse material and mesh, the upper of this new model is highly ventilated as well as comfortable.
Nike also didn't forget about the guts of the shoe, improving on the shoe's overall fit and stability. A notched inner sleeve sits inside of the shoe that wraps the foot for increased stability. The molded collar fits nicely against the ankle, and Nike wanted to ensure that this model felt seamless when on the foot.
It is no doubt that Nike took their time and gave it their all when designing the newest edition to the Air Max family, the Air Max 2013. Its design is revolutionary from a technical aspect, but not to be forgotten, the shoe has a unique and sleek look that is very aesthetically appeasing.