After a long month of quality submissions, a week long of intense voting and several hours of deliberation we have carefully selected the winner of the Rose 3.0 Inspired contest. Straight from the Garden State Joe MacDonald and his adiMac submission takes the cake. Joe and a special guest of his choice will be flown to Chicago for a VIP experience at a Bulls game.
Here's Joe's official entry-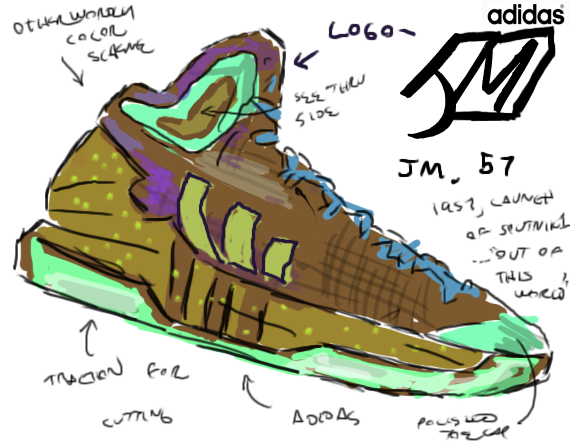 Joe's attention to detail and clear explanation of his inspired design made him a definitive choice as the winner. New to the game of Basketball Joe made sure his newly inspired spirit shined through in his design but what really stood out to the judges was Joe's ability to relate space to his desire to dunk someday.
After notifying Joe that he had won the contest, we felt inspired by his response so we decided it was worth getting to know the guy behind the winning submission.
Finish Line– Where do you call home? 
Joe– Ocean County, New Jersey where we just went through Hurricane Sandy, where many people lost everything. My family was very lucky.
What was the inspiration behind your design?
The inspiration behind my design was the idea of achieving success in any way, even if it's only a small goal. My dream is to be able to dunk, and I've been practicing hard for a few summers perfecting my form, and now at 6'0 I can touch the rim.
Also, my logo has JM 57 embedded into it, 57 symbolizing 1957, when Sputnik I, the first satellite was launched into space. This can be seen as a symbol of my academic advancements as well as the "gravity defying" slams I love to see during a basketball game.
Why did you decide to enter the contest? 
I had just recently gotten into digital art, and I've always been a sneaker fanatic since my first pair of basketball shoes. I was browsing the Facebook page for FNL and saw the contest… It only felt right to try. And it paid off!
Why is Derrick Rose is one of your favorite basketball players? 
He's worked very hard to get to where he is. What amazes me even more, is that he has powered through his injury in a inspiring way, and will be back better than ever helping his team work their way into the playoffs. He isn't that big or tall, yet he is powerful around the net and that defines me as a player as well.
Here's a drawing Joe did around  his favorite player.
You recently started playing basketball, what factor finally pushed you into playing and what do you like most about basketball? 
My relatives always have been basketball fans, so it only took me a while to get curious. In those 2 years, I watched so many highlight reels, retro games, you name it… and became attached to a few teams along the way. I never understood why people got so emotional over a sport, until my team lost the playoffs. It really made me realize, that I must really enjoy this.
My favorite thing about basketball is playing pickup games or shooting around. You can tune your skill and you can spend time with your team members or friends which develops a good relationship, on and off the court.
What are you looking forward to most with your trip to Chicago? 
I've heard they have good food, good entertainment, and good people… but I'm most excited to walk into the United Center. Stepping out of a limo at a venue like that is some big time boasting rights.
Have you ever seen an NBA game live before? 
Yes! And although I had poor seats, it was a great experience for me- the first play being an alley-oop as I walked down to my seat seconds after tipoff. Things like that make me remember why basketball is my favorite sport.
Who are you going to bring, and why? 
My brother, because he recently underwent surgery, and has seen better days without all this pain he's dealing with. I hope this whole experience can cheer him up and make us become closer.
Congratulations Joe and have fun in Chicago!