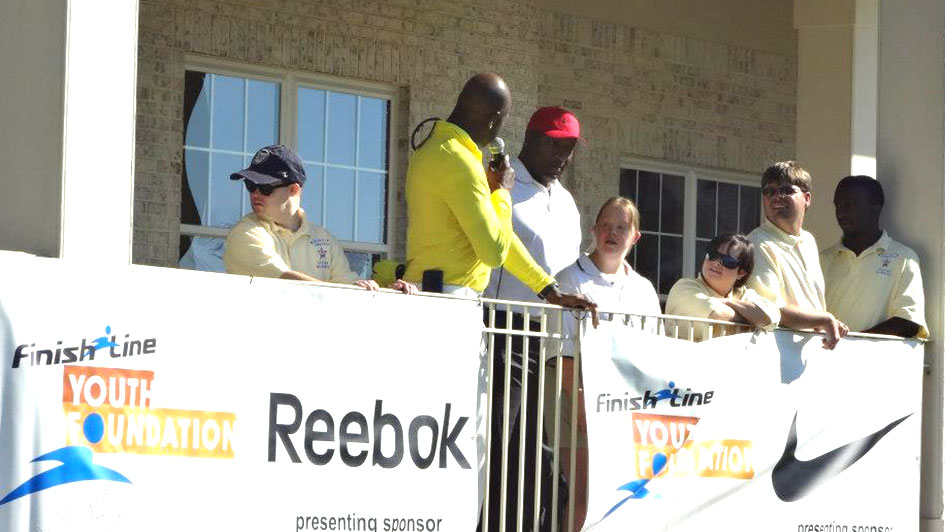 A day of golfing in the beautiful Indy weather helped the Finish Line Youth Foundation to raise more than $350,000 for its many programs and grants. The 10th annual Finish Line Youth Foundation Golf Outing brought out such big names as Jerry Rice and Bo Jackson, who teed off alongside many Finish Line vendors, business partners and associates at The Bridgewater Club in Westfield, Ind. on Wednesday, September 11.
As the morning sun rose at the golf outing, hundreds gathered to watch Rice, a retired NFL wide receiver and Jackson, a dual professional NFL and Major League Baseball player, get the festivities started. The day included many inspiring, humorous and downright fun moments as the group hit the links to raise money for the Foundation and its many initiatives.
The Finish Line Youth Foundation supports a number of qualified non-profit organizations that offer community-based access to athletics for kids under the age of 18, including a number of camps that give kids the chance to get out there and be active, as well as the Special Olympics. Finish Line and the Foundation have a multi-year partnership with Special Olympics and continue to support their efforts in supplying active services to kids who are disabled. The Foundation raises money through fun annual events like the golf outing, as well as through donations throughout the entire year.
Thanks to everyone who made the 10th annual golf outing a shining success! The Foundation and Finish Line look forward to seeing everyone out again next year.
For more information about the Youth Foundation and how you can get involved or continue your support please visit www.finishline.com/youthfoundation. You can also follow the Foundation on Twitter at @FinishLineYF.